16 Powerful Stats on the Value of Trade Shows
August 17, 2013
TSNN decided to start off 2014 with one of the most popular blog posts from last year. Enjoy! We love Mike's work!
Looking for statistical justification that trade shows are a great marketing medium? Or numerical inspiration to guide your trade show program? You've come to the right place.
At EXHIBITOR 2013 this year, Skyline hosted a game show called "Staggering Trade Show Stats" in our trade show booth. These stats were shared with show attendees to help them justify and maximize their trade show marketing. You can use these 16 stats to help guide your program, too:
B2B exhibitions were 39.2% of B2B marketing budgetsin 2011, the largest amount of any other marketing channel. That number has held fairly steady over the past several years, demonstrating the resilience of trade shows. Source: CEIR: The Spend Decision: Analyzing How Exhibits Fit Into The Overall Marketing Budget
81% of trade show attendees have buying authority. Which means more than 4 out of 5 people walking the aisles are potential customers for exhibitors. Source: CEIR: The Spend Decision: Analyzing How Exhibits Fit Into The Overall Marketing Budget
78% of trade show attendees travel more than 400 milesto attend an exhibition, which means you are getting a national audience at many trade shows. Source: CEIR report ACRR 1153.12
99% of marketers said they found unique value from trade shows they did not get from other marketing mediums. Their 3 most valued aspects of trade shows were: 60% of exhibitors said they value the ability to see lots of prospects and customers at the same time; 51% of exhibitors said they value face-to-face meetings with prospects and customers, and 47% said they value the ability to meet with a variety of players face to face, such as customers, suppliers, resellers, etc. Source: CEIR: The Changing Environment of Exhibitions
The top 3 goals for exhibitors at trade shows are brand awareness, lead generation, and relationship building. Source: Skyline Exhibits market research
The average attendee spends 8.3 hours viewing trade show exhibits at a showor exhibition. That gives you plenty of opportunity to connect with your target audience. Source: Exhibit Surveys, Inc.
About 50% of the largest 200 shows in the USA take place in just 3 cities: Las Vegas, Chicago, and Orlando. Source: TSNN.com, The Trade Show News Network
Average drayage rates have increased 488% from 1982 to 2010. Average drayage rates have gone from $12.68 per hundredweight in 1982 to $74.54 in 2010 – a 488% increase. Meanwhile, the % of Exhibit Design on the average budget has gone from 21% of the overall budget in 1982 to only 10% in 2010. The savings on drayage, (and shipping, storage, I&D, and refurbishing) from modular exhibit systems (that weight 60% less than traditional custom exhibits) and portable displays have helped keep trade shows affordable for many exhibitors. Source: CEIR / E2MA
83% of exhibitors agreed that "Building, expanding brand awareness" is a high-priority marketing-related objective for trade shows. The next two objectives tied at 63%: "New product promotions, launches" and "Brand awareness reinforcement." Source: CEIR Changing Environment Study
The top 3 sales-related objectives at trade shows are related to relationship management and engagement. Above all else, exhibitors want to meet with existing customers, key customers, and prospective customers. Source: CEIR Changing Environment Study
67% of all attendees represent a new prospect and potential customer for exhibiting companies. This means trade shows are always rich in new business targets for you. Source: Exhibit Surveys, Inc.
45% of attendees visit only one exhibition per year. So when you exhibit at a show you will find unique prospects there you can't reach at other trade shows. Source: CEIR Report ACRR 1152.12
The #1 reason for attending (not exhibiting) trade shows is to see new products. 92% of trade show attendees say they are looking for new products. It has been the number one reason to attend for 25 years! So trade shows are a great place to introduce or feature your newest products. Source: CEIR: The Role and Value of Face to Face
46% of trade show attendees are in Executive or Upper Management. That's a lot of valuable attendees with top titles walking trade shows. They certainly have authority to make buying decisions! Source: CEIR: The Role and Value of Face to Face
Shanghai, China is going to open a 5 million square foot show hall in 2015. This means for exhibitors there will be even more potential large shows to exhibit at in China. Source: News media
84% of exhibitors say "High quality of attendees" is the most important factor when deciding whether to exhibit or expand booth size. Also, 54% say "favorable return-on-investment," is an important factor when deciding to exhibit or expand booth size, while 50% consider "Positive past performance" and important factor. Source: CEIR: The Changing Environment of Exhibitions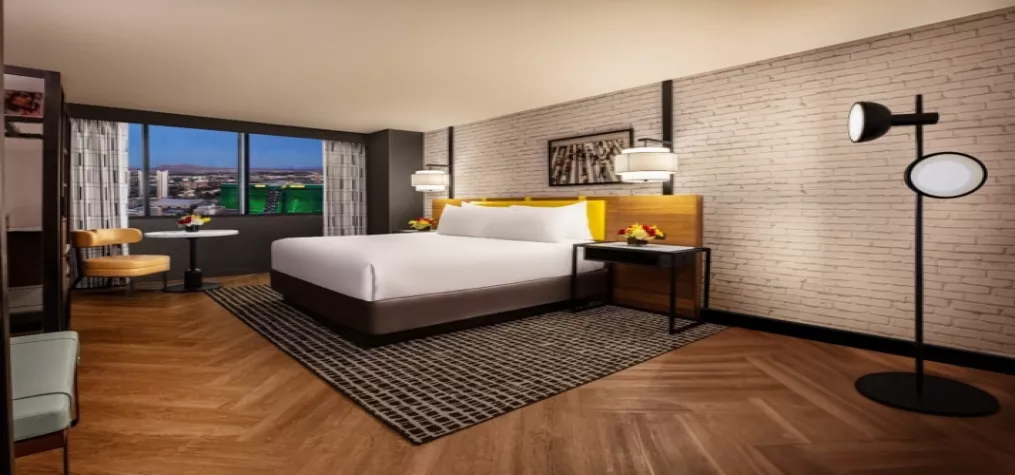 Just when it seems like Las Vegas can't get any bigger, brighter or more exciting for groups, MGM Resorts raises the bar again. The company continues to invest and innovate across its portfolio of Las Vegas resorts, with new attractions and upgraded experiences for attendees of all interests.  Remodeled Guest Rooms MGM Grand is the largest single hotel in the world with over 5,000 guest rooms and an 850,000-square-foot conference center. It is home to the newly remodeled MGM Grand Studio Tower—700 reimagined guest rooms with a fun mid-century vibe. Nearby, the iconic New York-New York Las Vegas Hotel & Casino recently completed a $63M redesign and remodel of its 1,830 guest rooms and 155 suites. Down the street, Bellagio Las Vegas is sporting renovated rooms in the Spa Tower with sunrise-inspired decor and luxurious soaking tubs in Premier King rooms after a $110-million transformation. Reinvented Luxury Experiences The Luxury Meetings District, made up of Bellagio Las Vegas, ARIA Resort & Casino, Vdara Hotel & Spa, The Cosmopolitan of Las Vegas, Park MGM and NoMad Las Vegas, is now more connected than ever before. A new interior walkway opened this October for a seamless attendee experience – connecting Vdara, Bellagio, and The Cosmopolitan of Las Vegas, guests can now walk from Park MGM to Bellagio in around 15 minutes. New on the scene in the Luxury Meetings District is Cathedrale at ARIA, TAO Group's upscale establishment specializing in exquisite French-Mediterranean cuisine offering elevated private dining experiences that opened in May. Heralded by World's Best 50 Restaurants, GQ and VOGUE, LPM at The Cosmopolitan of Las Vegas is opening this fall and will deliver its signature spontaneity and imaginative celebration of France's Mediterranean cuisine, art, and culture to the unique luxury resort in impeccable fashion.  A "New Wave  for Mandalay Bay A new wave of enhancements and experiences has arrived at Mandalay Bay Resort and Casino, including Flanker Kitchen + Sports Bar, an 8,445-square-foot restaurant that opened this June, perfect for pre- and post-game eats and drinks. Event planner's favorite, Chef Michael Mina's StripSteak, received a full renovation and now includes one of the largest private dining rooms on The Strip. Retro by Voltaggio debuts a one-year residency with a fun take on pop culture of the 80s and 90s with classic American dishes. An exciting addition planned for 2024 is Swingers, a 40,000-square-foot oasis of street food, miniature golf and art at Mandalay Bay. Most exciting for meeting planners, the 2.1 million-square-foot Mandalay Bay Convention Center  is undergoing a complete refresh, with lightened space, added eye-catching art, and improved technology infrastructure for even more flexible space. Energy-efficient digital signage now leads the way with faster internet speeds and new AV options. From renovated guest rooms and meeting spaces to celebrated dining options and dedicated teams, MGM Resorts is dedicated to delivering exceptional and innovative meeting experiences.