4 Surefire Ways to Keep Exhibitors Coming Back
December 7, 2013
When I talk to show managers about their biggest event challenges the recurring theme is: How to grow attendance, getting more exhibitors, getting more attendees, Building event traffic and attracting a larger number of quality attendees.

It is all about attendance.


1. Make Sure Newbies Know the Basics: As a show organizer, your goal is to have exhibitors return each year. Get new exhibitors off on the right foot. Some may know the ropes, but don't assume that they all do. Here are a few of the basics.


• Signage: Make certain exhibitors' signage makes it clear what they are selling. Seems like a given, right? You would be amazed how many companies assume attendees know who they are and what they do. When attendees cruise down an aisle, exhibitors have only a few seconds to engage them.


• Up-Beat and Interactive: There should be no physical barrier between exhibit staff and attendees. Nix the six-foot table that cuts off access. Stand, don't sit. Smile and be welcoming.


• Business-like Atmosphere: Having fun is part of the typical trade show experience, but exhibits should appear business-like. An exhibit isn't a place for making phone calls, snacking or looking unprofessional. During show hours an exhibit should never be without a staff member.


2. Introduce Exhibitors Each Another: This is something that many show organizers overlook. As an exhibitor, I would welcome the opportunity to be personally introduced to other exhibitors within my industry. Exhibitors who do not compete can be an exceptionally good source of leads and references.


3. Make It Easy for Exhibitors to Retrieve and Follow Up On Leads: One of the most important elements for retaining exhibitors is sales leads. If exhibitors get qualified leads, they will return. The primary goal of most exhibitors is to collect qualified leads.


• Quality over quantity is a concept we all understand, but do not always embrace. Yes, we may feel satisfaction knowing we have more of something, but in the end, more can just mean, well, more useless junk. While traffic is important, face it, most trade show attendees are not interested in the all of the products at any given show. An exhibitor is not trying to appeal to everyone at your event, just those with the need for and the ability to buy its products.


It is vital for exhibitors to identify quality leads. Help them by gathering this information on your registration forms. They need to be able to contact interested attendees. If you fail to encode contact (email and phone) information on your badges, you will alienate exhibitors. Another essential is demographic information, such as the attendee's buying interests and level of decision-making authority.


Without more background on your attendees, what your exhibitors are doing amounts to nothing more than a blind date.


4. Make it a Show to Remember: A successful show continues to generate buzz even after it has ended. One creative way to stand out and leave a lasting impression is to produce and circulate a video collage of all the exhibits at the show. Not only is it creative and fun, but it is a great technique for capturing the attention of attendees and exhibitors. It is also a catchy way for people to remember your event. Let's face it; everyone loves to see their faces on the big screen!


How can you ensure that your event uses new and emerging trends to meet the preferences of event participants? Stay up to date effortlessly; download "The Future of Tradeshows" here.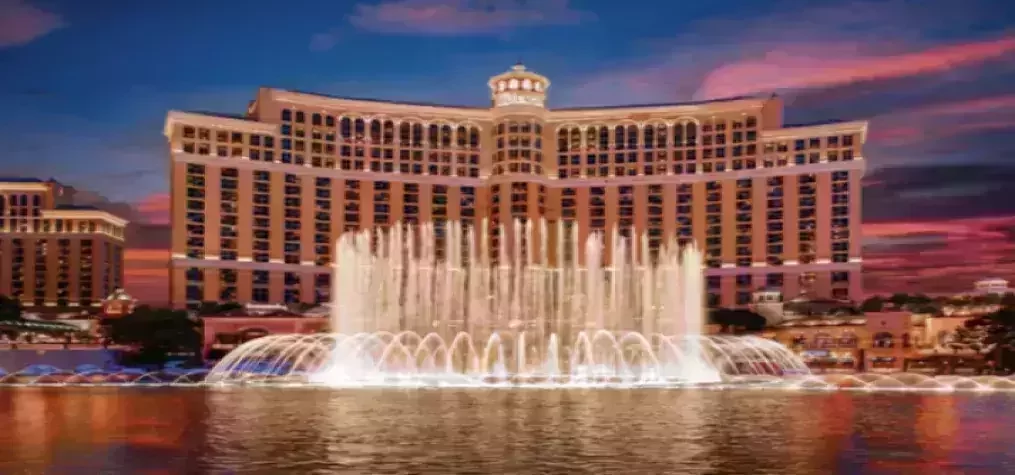 HERE, hosting responsible meetings and caring for our communities are top priorities. Through its 'Focused on What Matters: Embracing Humanity and Protecting the Planet' philosophy, MGM Resorts commits to creating a more sustainable future, while striving to make an impact in the lives of employees, guests, and the communities in which it operates. Water Stewardship Efforts MGM Resorts understands the importance of using water efficiently, especially in the desert destination of Las Vegas. Conserving water has always been part of the mission, but MGM Resorts has expanded its ambition into water stewardship. In 2022, MGM Resorts President and CEO Bill Hornbuckle signed the CEO Water Mandate—a UN Global Compact initiative mobilizing business leaders to advance water stewardship. MGM Resorts International was the first gaming company to take this important step. MGM Resorts replaced 200,000 square feet of real grass with drought-tolerant landscaping in Las Vegas. MGM Resorts pledges to reduce water withdrawal intensity by 33% by 2025 and by 35% by 2030. From 2007-2021, use of more than 5.6 billion gallons of water was avoided because of conservation efforts. Caring for One Another MGM Resorts' Food Donations Program collects and preserves unserved food from conventions held at MGM Resorts properties, then safely donates to food insecure people in the community. Since the program's launch in 2016, more than 3.7 million meals toward a 2025 goal of 5 million meals have been donated into the community. Donations include: Unserved perishable prepared foods from events Perishable unprepared food from MGM Resorts' kitchens Nonperishable food items from minibars and warehouses The collaboration with Southern Nevada's primary food bank, Three Square, has developed the infrastructure needed to safely collect, transport, and store food from MGM Resorts properties in Las Vegas, reducing food waste while serving the community. Fostering Diversity and Inclusion To MGM Resorts, a diverse and talented workforce is essential to success. By cultivating innovative strategies that consider multiple perspectives and viewpoints, the company creates an inclusive workplace culture that benefits its employees and community. MGM Resorts takes pride in being a welcoming home for veterans, individuals with disabilities, people from diverse backgrounds, LGBTQ+ community members, and more. This commitment to inclusion is reflected in the company's recruitment and hiring practices and its social responsibility initiatives. From the workplace to the community, MGM Resorts' commitment to diversity, equity and inclusion remains unwavering, and its efforts continue to create a more equitable and sustainable world for all. MGM Resorts understands its responsibility to contribute to the social and economic progress of the communities in which it operates. HERE, we embrace humanity.