6 Real-Life Learnings from Digital Event Experts to Make Your Events Better
August 4, 2020
Many trade show and conference producers have found themselves in unchartered territory as they've made the in-person to online event pivot over the past several months. These professionals have been reading about best practices, researching new vendors, consulting with industry peers and otherwise learning as they go. Meanwhile, there's another group of industry professionals—a subset of Freeman called Freeman Digital Ventures—that has been producing digital events since 2015. I asked three of the strategists that align with this group, Mark Fein, Stacy O'Connell and Tyler Day, to share what they've learned from strategizing, planning and marketing digital events that could inform and/or inspire the rest of us. Here were my top takeaways.
Little things make big things happen.

 
One of our clients was producing a digital version of an exclusive, in-person event for VIPs. The shelter-in-place orders were new, and they wanted to wow the audience with this digital launch. In addition to the quality of the content, we put extra emphasis on production values — ensuring speakers had proper mics, lighting and camera settings. The speakers commented about how much the attention to detail, as well as the value of the rehearsals, enhanced their showing. Over the past several months, the level of production that's expected by audiences has continued to rise. We're trying to shift our thinking from, "how can we create a good online webinar?" to "how can we replicate the quality of the experience MasterClass or even Netflix provides?" A flawless, professional production can go a long way toward engaging our audiences. 
Content may be king, but our subjects have short attention spans.

 
The Freeman Attendee Pulse survey lists learning as the top driver for participants attending online events as well as a preference for shorter event days and session times. With this in mind, we asked one of our clients, "Do you really need all this content?" We worked with them to develop an agenda with shorter days that better aligned with digital audiences' desires and adult attention spans in general. We remind our clients regularly that it's not just about a transfer of information; it's about creating experiences that entertain and inspire. 
Memorable moments can combat online event fatigue.

 
Building on the reality of shorter attention spans, we are working with one client to incorporate well-timed breaks that include elements of surprise and delight. Instead of jumping right into a cocktail reception, for instance, we're starting with a 10-minute tutorial from an expert mixologist. The next morning, we will be complementing the coffee break with an option for a 15-minute yoga session. Another one of our clients invited a musician to entertain the audience during the virtual happy hour. A word of caution with this: Be careful not to overwhelm the audience, overfill the agenda and extend the event longer than it needs to be. 
Create different paths to connection. 
For many of our clients, creating meaningful connections is of equal or greater importance than the learning aspect of an online event. With that in mind, we've been creating a variety of opportunities to accommodate for the different ways in which people like to connect. In addition to basics like chat functions in an education session, we're building in themed photo booths, social media integrations, expert-led discussion groups, direct one-on-one video chats, sponsored coffee breaks and more. 
Remember the bells and whistles.

 
One of our corporate clients was exhibiting at an event that was shifting from physical to digital. The sponsorship package the event organizer offered had a few bells, but no whistles. Mapping back to our client's objectives, we developed a digital game activation in which attendees completed various activities aligned with the client's objectives — they could watch videos, download collateral/content, chat with a rep and more. They were even able to see a real-time leaderboard tied to valuable giveaways. This activation went far beyond what the producer was offering, provided a deeper brand experience to booth visitors and far exceeded our client's lead-gen goals. 
Testing, testing, 1, 2, 3. 
Although we've been at this a long time, we still believe in testing, testing and more testing. We've been experimenting with different marketing messages and tactics, session lengths, formats, etc. We're using analytics to see where we're getting high levels of engagement and then applying those on the fly and using them to package top trending topics for on-demand packages. "Agility" truly is the name of the game when it comes to digital events.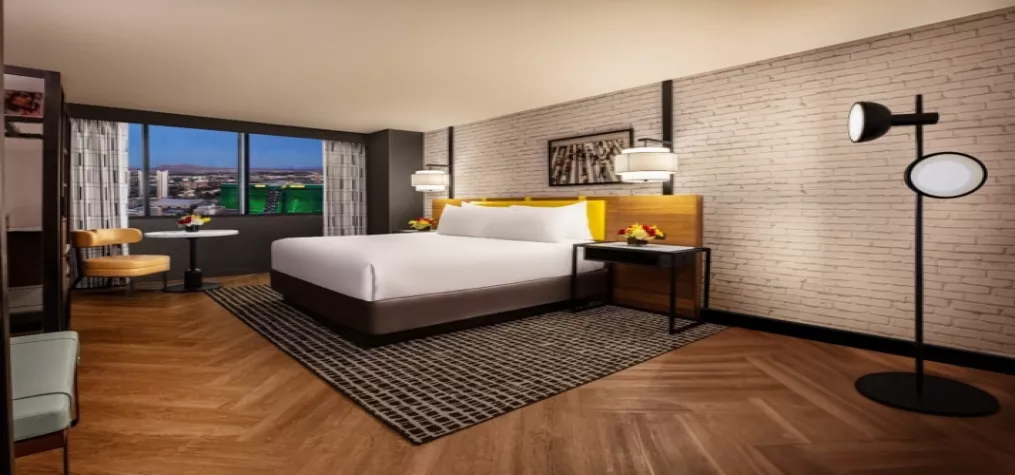 Just when it seems like Las Vegas can't get any bigger, brighter or more exciting for groups, MGM Resorts raises the bar again. The company continues to invest and innovate across its portfolio of Las Vegas resorts, with new attractions and upgraded experiences for attendees of all interests.  Remodeled Guest Rooms MGM Grand is the largest single hotel in the world with over 5,000 guest rooms and an 850,000-square-foot conference center. It is home to the newly remodeled MGM Grand Studio Tower—700 reimagined guest rooms with a fun mid-century vibe. Nearby, the iconic New York-New York Las Vegas Hotel & Casino recently completed a $63M redesign and remodel of its 1,830 guest rooms and 155 suites. Down the street, Bellagio Las Vegas is sporting renovated rooms in the Spa Tower with sunrise-inspired decor and luxurious soaking tubs in Premier King rooms after a $110-million transformation. Reinvented Luxury Experiences The Luxury Meetings District, made up of Bellagio Las Vegas, ARIA Resort & Casino, Vdara Hotel & Spa, The Cosmopolitan of Las Vegas, Park MGM and NoMad Las Vegas, is now more connected than ever before. A new interior walkway opened this October for a seamless attendee experience – connecting Vdara, Bellagio, and The Cosmopolitan of Las Vegas, guests can now walk from Park MGM to Bellagio in around 15 minutes. New on the scene in the Luxury Meetings District is Cathedrale at ARIA, TAO Group's upscale establishment specializing in exquisite French-Mediterranean cuisine offering elevated private dining experiences that opened in May. Heralded by World's Best 50 Restaurants, GQ and VOGUE, LPM at The Cosmopolitan of Las Vegas is opening this fall and will deliver its signature spontaneity and imaginative celebration of France's Mediterranean cuisine, art, and culture to the unique luxury resort in impeccable fashion.  A "New Wave  for Mandalay Bay A new wave of enhancements and experiences has arrived at Mandalay Bay Resort and Casino, including Flanker Kitchen + Sports Bar, an 8,445-square-foot restaurant that opened this June, perfect for pre- and post-game eats and drinks. Event planner's favorite, Chef Michael Mina's StripSteak, received a full renovation and now includes one of the largest private dining rooms on The Strip. Retro by Voltaggio debuts a one-year residency with a fun take on pop culture of the 80s and 90s with classic American dishes. An exciting addition planned for 2024 is Swingers, a 40,000-square-foot oasis of street food, miniature golf and art at Mandalay Bay. Most exciting for meeting planners, the 2.1 million-square-foot Mandalay Bay Convention Center  is undergoing a complete refresh, with lightened space, added eye-catching art, and improved technology infrastructure for even more flexible space. Energy-efficient digital signage now leads the way with faster internet speeds and new AV options. From renovated guest rooms and meeting spaces to celebrated dining options and dedicated teams, MGM Resorts is dedicated to delivering exceptional and innovative meeting experiences.