7 Tips for Expo Sales Success
November 7, 2019
Since 2014, the Urgent Care Association of America manages over 1,200 exhibiting companies for their annual UCAOA Urgent Care Convention & Expo. I had the chance to sit down with Jackie Stasch, Senior Manager of Corporate Relations at UCAOA and an expo sales expert, to learn her secrets for successfully selling booth space and sponsorship opportunities.
Here are Jackie's 7 Tips for Expo Sales Success:
1. Create Opportunities That Sell Themselves
Jackie says: "Make sure you upload good images and provide a solid description – You don't need to send out 27 emails to sell an opportunity because it's all there at the point of sale. If it's valuable, it practically sells itself."
Jackie makes it easy for her exhibitors to understand exactly what she is selling, what the benefit is, and she presents these opportunities right at the point of sale. 
2. Launch Booth & Sponsorship Opportunities 

Simultaneously
"It's absolutely vital that opportunities are built out before booth sales go live – You want to deliver opportunities at a time when exhibitors are ready and willing to invest. Exhibitors often rarely come back to purchase more."
Jackie knows that exhibitors are ready to spend money when they're purchasing booth space. If they are not presented with sponsorship items at that exact moment, she knows that she's lost her chance to present them with valuable opportunities. 
3. Include Multiple Assets
"Include multiple images, schematics, and anything else to make the opportunity as appealing as possible, and give them all the tools they need to sell the value to finance and leadership."
This is marketing and sales 101. Jackie wants to make her offers as attractive as possible and easy to understand. 
4. Avoid Selling From a Menu
"Don't sell from a menu of items – Communicate the value of an opportunity to a potential sponsor. Quoting app usage, for example, is a great way to sell an App Splash Screen Ad position. Our app's usage is in the 80-90% range, so exhibitors know they're going to reach a big audience with this kind of purchase."
Jackie communicates the value of her offerings by sharing app analytics. This is a great way to get instant buy-in.
5. Coach Your Exhibitors
"Coach exhibitors on best practices so they get maximum ROI from an investment – For example, if a sponsor purchases a linkable ad on the mobile app, I try to coach clients to 'speak' to UCAOA membership needs. Personalization is key and a link to www.I'm-A-Big-Corporation.com isn't going to cut it."
Jackie takes the role of consultant with her clients. She wants them to receive the highest ROI from exhibiting at UCAOA, so she delivers best practices and helps her clients achieve their goals.
6. Treat Your Sponsors Like Partners
"Understand your client's needs – Ask lots of questions and find out what the budget is, what the goals are, and suggest opportunities that fit into their unique needs. Explain why the opportunities you have to offer make a good partnership with their organizational goals."
Jackie sees sponsorship as more than a business transaction. She wants to see clients coming back year after year, so she does her best to get to know their organizational goals and develop strong partnerships that have mutual benefit.
7. Reach Out At the Right Time
"Remind exhibitors of sponsorship opportunities – don't hound them, but a few weeks before the event ask them if they still have money in the budget to invest and try to pair that budget with an opportunity that meets their specific goals. Sometimes their budgets open up again right before the event. Remember to link to the exhibitor service center so that it's very easy for them to review options and make a selection."
Jackie has taken the time to understand her clients' buying cycle. She doesn't want to be overbearing, but she does want to deliver opportunities when they're thinking about their presence at the UCAOA trade show. 
Jackie's list is quite impressive, but we know there is other great advice out there. Leave a comment below and tell us what you do to increase exhibitor ROI while maximizing your revenue. 
Don't miss any event-related news: Sign up for our weekly e-newsletter HERE and engage with us on Twitter, Facebook, LinkedIn and Instagram!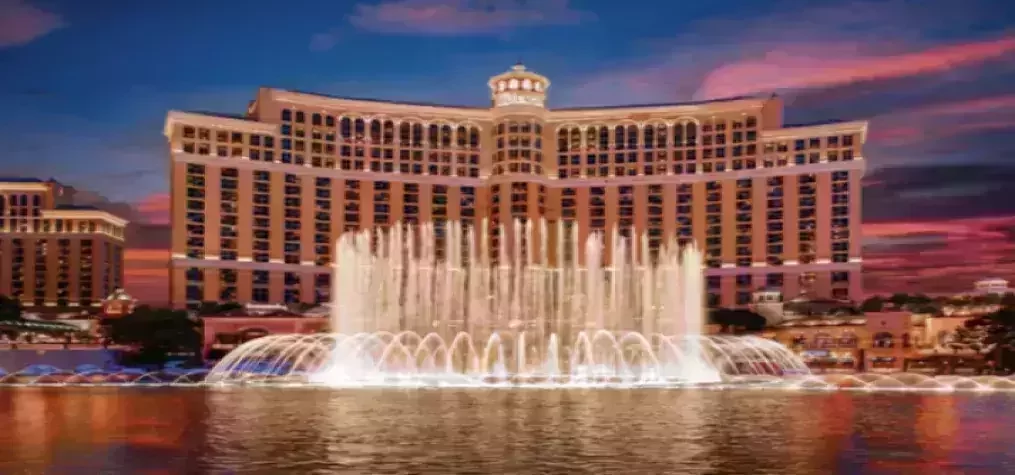 HERE, hosting responsible meetings and caring for our communities are top priorities. Through its 'Focused on What Matters: Embracing Humanity and Protecting the Planet' philosophy, MGM Resorts commits to creating a more sustainable future, while striving to make an impact in the lives of employees, guests, and the communities in which it operates. Water Stewardship Efforts MGM Resorts understands the importance of using water efficiently, especially in the desert destination of Las Vegas. Conserving water has always been part of the mission, but MGM Resorts has expanded its ambition into water stewardship. In 2022, MGM Resorts President and CEO Bill Hornbuckle signed the CEO Water Mandate—a UN Global Compact initiative mobilizing business leaders to advance water stewardship. MGM Resorts International was the first gaming company to take this important step. MGM Resorts replaced 200,000 square feet of real grass with drought-tolerant landscaping in Las Vegas. MGM Resorts pledges to reduce water withdrawal intensity by 33% by 2025 and by 35% by 2030. From 2007-2021, use of more than 5.6 billion gallons of water was avoided because of conservation efforts. Caring for One Another MGM Resorts' Food Donations Program collects and preserves unserved food from conventions held at MGM Resorts properties, then safely donates to food insecure people in the community. Since the program's launch in 2016, more than 3.7 million meals toward a 2025 goal of 5 million meals have been donated into the community. Donations include: Unserved perishable prepared foods from events Perishable unprepared food from MGM Resorts' kitchens Nonperishable food items from minibars and warehouses The collaboration with Southern Nevada's primary food bank, Three Square, has developed the infrastructure needed to safely collect, transport, and store food from MGM Resorts properties in Las Vegas, reducing food waste while serving the community. Fostering Diversity and Inclusion To MGM Resorts, a diverse and talented workforce is essential to success. By cultivating innovative strategies that consider multiple perspectives and viewpoints, the company creates an inclusive workplace culture that benefits its employees and community. MGM Resorts takes pride in being a welcoming home for veterans, individuals with disabilities, people from diverse backgrounds, LGBTQ+ community members, and more. This commitment to inclusion is reflected in the company's recruitment and hiring practices and its social responsibility initiatives. From the workplace to the community, MGM Resorts' commitment to diversity, equity and inclusion remains unwavering, and its efforts continue to create a more equitable and sustainable world for all. MGM Resorts understands its responsibility to contribute to the social and economic progress of the communities in which it operates. HERE, we embrace humanity.