The Five C's of Reliable Wireless Internet: Coverage (part 2 of 6)
October 6, 2012
This is the second part of a six-part series on WiFi at events. Let's explore the topic of WiFi coverage, as this is a topic that most people are somewhat familiar with as it is similar to coverage for cell phones.
To connect via WiFi, your device (be it a computer, cellular phone or tablet) must connect to a wireless access point or router. As with all wireless connections, the further away from the source you are, the weaker the received signal. But distance is not the only factor that affects how far a signal can travel.
It turns out that water is a great absorber of radio frequency (RF) signals, and guess what people are primarily made up of? You guessed it, WATER – approximately 60 percent! So it is no surprise that when you get thousands of warm bodies (full of water) crammed onto a show floor, the signal does not travel terribly far.
Layer on top of that reinforced concrete columns and walls, which are also great at squashing signals, and you have a recipe for bad reception. Worst of all, tablets and phones, which are becoming ever more popular ways to connect to the internet, tend to have the weakest receiving antennas, significantly less powerful than the antennas installed in laptops.
Now, coverage is a relatively straightforward problem to solve. All one needs to do is increase the density of WiFi access points throughout the event so that no one is ever too far away from an access point. But what constitutes "too far"? 200 feet? 400 feet? As it turns out, there is a science to it.
Since there is no standard definition of "four bars", network engineers measure signal strength in terms of the amount of power received. The unit of measurement is decibels relative to a milliwatt or dBm, and the higher the number, the better the signal.
Now, to complicate things, signal strength is expressed as a negative number. A good rule of thumb is your signal strength reading should be greater than -65 dBm in every room to ensure a strong WiFi signal. Anything below -65 dBm (i.e. -70, -80, -90) may be too weak a signal to reliably connect your cell phones and tablets.
I have a feeling you might be saying to yourself, "That's great, but I'm not a network engineer. How am I supposed to know what the dBm readings are throughout the venue?"
The good news is you don't have to be a network engineer. Your venue's IT department should be able to provide a visual map of the wireless signal coverage called a "heat map".
If your venue won't provide a heat map for you, an independent network consultant can be called in to produce one. Heat maps can be constructed with predictive or actual data, and should always take into account the construction of the facility including the composition of pillars, walls, windows, and any fixed obstacles through which a WiFi signal may travel. (Keep in mind that once your event fills up people will alter the coverage scenario and their devices will raise the noise floor in the room.)
A heat map visually depicts each access point and the corresponding WiFi coverage bubble that emanates from it.
Procuring a heat map of the venue will ensure that no areas are "in the dark". If there are WiFi dead zones on your heat map, you can always ask the venue to add additional access points to cover these areas.
That said, while increasing the density of access points will definitely help provide better coverage, it won't solve all of your problems. In addition to having sufficient coverage, you must ensure you have adequate capacity – a topic we'll explore in the next installment of this series.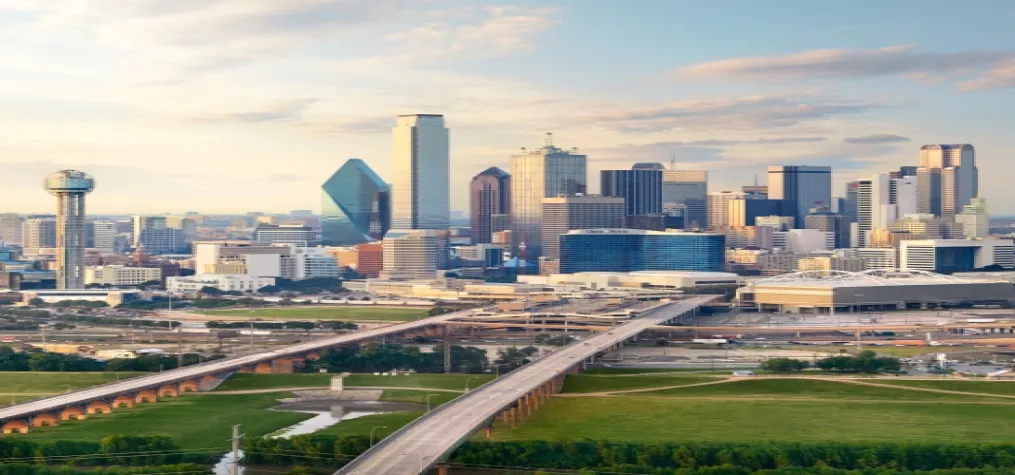 Dallas already boasts 35,000 hotel rooms, award-winning global cuisine, and a walkable downtown. But we are just getting started. Visit Dallas is thrilled to announce that the city of Dallas is doubling down with a massive new convention center and entertainment district. Featuring 800,000 square feet of exhibit area, 260,000 square feet of meeting rooms, and 170,000 square feet of ballroom. The center will connect business travelers with dining and shopping options in the popular Cedars District means more places to get down to business, and even more ways to unwind. "Dallas is already a great meetings and conventions destination, with the accessibility of two major airports, affordable labor, and an outstanding hotel product," said D. Bradley Kent, Visit Dallas senior vice president and chief sales officer. "The new center and Convention Center District will enhance Dallas' competitive position and are exactly what our customers' need and have been asking for." What's New – AT&T Discovery District Located in the heart of Downtown Dallas, this new district on the AT&T corporate campus is tailor-made for groups of all sizes. It boasts a multi-sensory experience, including outdoor event space, the AT&T Theater, and multiple dining outlets including JAXON Beer Garden and The Exchange, a bustling food hall. Hotels Coming Soon Names like the JW Marriott (Downtown), lnterContinental Dallas (Uptown), and Hotel Swexan (Uptown) are adding luxury amenities and bountiful event spaces. The projects will debut in 2023 and beyond. JW Marriott This new, 15-story, 283-room hotel will open in the heart of the city's downtown Arts District this year. The property features a 25,000-square-foot grand ballroom, as well as a spa, restaurant, lobby bar, fitness center, and a rooftop pool deck and bar. InterContinental Dallas  Located in Cityplace Tower in Uptown, InterContinental Dallas will feature sweeping panoramic views of the Dallas skyline. Guests will enjoy spacious, high-end rooms and amenities, including more than 21,000 square feet of event space.   Hotel Swexan Hotel Swexan, a new, 22-story luxury property, is rising in Uptown's Harwood District and will make its mark on the Dallas skyline. Opening this year, it is a sculptural building with cantilevered upper floors, as well as a 75-foot rooftop infinity-edge swimming pool and a hidden underground lounge.