Getting Non-Attendees to Your Trade Show Booth
November 16, 2017
Being at the correct trade show is one of the most opportunity-rich environments a company can participate in to secure face-to-face time with potential customers. In addition, trade shows provide the platform to highlight new products, special services and enhanced branding. Your team is also on-point to conduct demonstrations and proclaim the benefits of your company.
At a trade show, the number of attendances can range from a few hundred to many thousand. But what if you could provide your message from the trade show to millions of people, all of which are not at the exhibition? In addition, imagine that you could reach these non-attendees in real-time without adding any expense to the trade show you are already attending? Is this possible?
With nothing more than a cellphone, a social media account, a willing presenter and a WiFi/Cellular Internet connection, you can tell your story to the world. The following is a real-world example.
In July of 2017, a national cooperative public procurement company, NPPGov embarked on a way to show case their vendors and their vendors' new products to NPPGov's tens of thousands of members who could not attend the Fire Rescue International (FRI) trade show in Charlotte, NC. Yes, bringing their members to the tradeshow floor without leaving their fire district!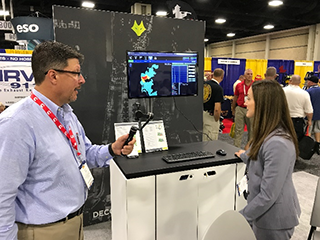 Preparation: In advance of the trade show, the NPPGov trade show team prepared a plan to identify those vendors who will be exhibiting at the trade show and who would have new and exciting products that their members would enjoy seeing. A list of eight vendors was selected and time was made available during trade show hours to live-stream product demonstrations for those eight vendors. You heard me correct, live-stream their vendors message in real-time to their members who were not at the show.
Each vendor selected their best representative to highlight the newest product they were exhibiting. Times were established with each vendor to conduct the interview and live-stream the video. Below is a picture of NPPGov's vendor Deccan International (providers of EMS & Fire Service planning) being live-streamed on Facebook via NPPGov's account.
Equipment: The live-streaming was accomplished via an iPhone 7 Plus and a gyroscopic gimble ($110). The social media venue was Facebook and its Facebook Live feature. For a data connection to Facebook, we used the cellular data services through the iPhone.
After each live-stream, the video was shared on each vendor's own social media platforms (Facebook, Twitter and LinkedIn). The videos were also boosted to other Facebook members who were not part of FRGPO's original member list, based on demographics and areas of interest.
Metrics: When conducting marketing efforts, if you cannot measure the results, is it worth doing it? Because this was the first time we conducted live-streaming, we were not sure how the streaming would be received. One of the advantages of using social media is that analytics are available in real-time. During and after our first streaming session, we could watch our followers joining the stream. They would click "like" during the video when they liked something and they were also posting questions. The interaction was something we did not expect! To better understand the analytics available during and after the streaming we have provided a few screen shots as examples.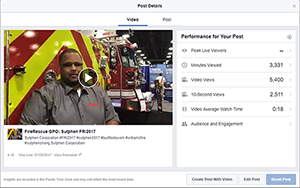 For this video, Sutphen Corporation, which builds fire apparatus, had 5,400 views for a total of 3,331 minutes. How many sales calls would an individual salesperson need to make to achieve that number of minutes in front of customers?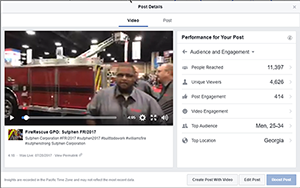 From a continued review of the analytics, there were 4,626 unique viewers with 414 post engagements.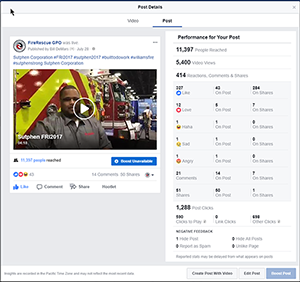 The above analytics show the engagement our viewers had with the video.
Summary: For a minimal investment in planning and execution, you can enhance your trade show experience and ROI. In addition to the benefits of pushing their vendors' message to their members via social media, there was also an increased sense of partnership between NPPGov and their partners.
​​​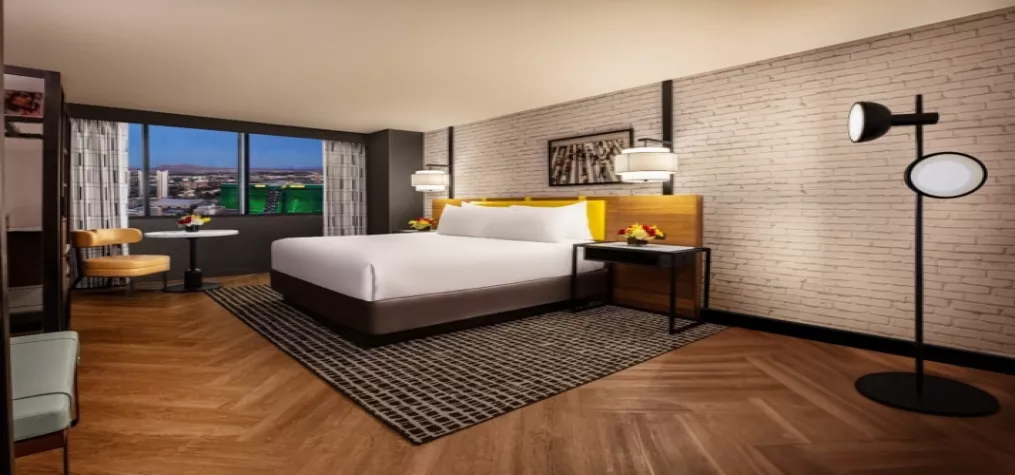 Just when it seems like Las Vegas can't get any bigger, brighter or more exciting for groups, MGM Resorts raises the bar again. The company continues to invest and innovate across its portfolio of Las Vegas resorts, with new attractions and upgraded experiences for attendees of all interests.  Remodeled Guest Rooms MGM Grand is the largest single hotel in the world with over 5,000 guest rooms and an 850,000-square-foot conference center. It is home to the newly remodeled MGM Grand Studio Tower—700 reimagined guest rooms with a fun mid-century vibe. Nearby, the iconic New York-New York Las Vegas Hotel & Casino recently completed a $63M redesign and remodel of its 1,830 guest rooms and 155 suites. Down the street, Bellagio Las Vegas is sporting renovated rooms in the Spa Tower with sunrise-inspired decor and luxurious soaking tubs in Premier King rooms after a $110-million transformation. Reinvented Luxury Experiences The Luxury Meetings District, made up of Bellagio Las Vegas, ARIA Resort & Casino, Vdara Hotel & Spa, The Cosmopolitan of Las Vegas, Park MGM and NoMad Las Vegas, is now more connected than ever before. A new interior walkway opened this October for a seamless attendee experience – connecting Vdara, Bellagio, and The Cosmopolitan of Las Vegas, guests can now walk from Park MGM to Bellagio in around 15 minutes. New on the scene in the Luxury Meetings District is Cathedrale at ARIA, TAO Group's upscale establishment specializing in exquisite French-Mediterranean cuisine offering elevated private dining experiences that opened in May. Heralded by World's Best 50 Restaurants, GQ and VOGUE, LPM at The Cosmopolitan of Las Vegas is opening this fall and will deliver its signature spontaneity and imaginative celebration of France's Mediterranean cuisine, art, and culture to the unique luxury resort in impeccable fashion.  A "New Wave  for Mandalay Bay A new wave of enhancements and experiences has arrived at Mandalay Bay Resort and Casino, including Flanker Kitchen + Sports Bar, an 8,445-square-foot restaurant that opened this June, perfect for pre- and post-game eats and drinks. Event planner's favorite, Chef Michael Mina's StripSteak, received a full renovation and now includes one of the largest private dining rooms on The Strip. Retro by Voltaggio debuts a one-year residency with a fun take on pop culture of the 80s and 90s with classic American dishes. An exciting addition planned for 2024 is Swingers, a 40,000-square-foot oasis of street food, miniature golf and art at Mandalay Bay. Most exciting for meeting planners, the 2.1 million-square-foot Mandalay Bay Convention Center  is undergoing a complete refresh, with lightened space, added eye-catching art, and improved technology infrastructure for even more flexible space. Energy-efficient digital signage now leads the way with faster internet speeds and new AV options. From renovated guest rooms and meeting spaces to celebrated dining options and dedicated teams, MGM Resorts is dedicated to delivering exceptional and innovative meeting experiences.