Incorporating On-Site Social Media Into Your Trade Show Exhibit
November 9, 2014
Are you looking for ways to improve your on-site strategy at your next trade show? Even if you have an outstanding trade show exhibit, with innovative displays that make your product almost jump off the shelf, compelling literature, and giveaways that everyone wants, your company will not get the most out of the show unless booth staffers are prepared to do a good job of selling for your company.
Preparing Your Booth Staffers
After all, that's why you have people in your booth – to sell. Even if you take no orders on the show floor, there are many sales functions that take place as staffers interact with potential customers. Anyone who works at shows should be aware of company goals for being there. They should participate in pre-show training, should know the products on display, and be prepared to answer basic questions about them. Most importantly, they should exhibit behavior that makes attendees feel welcome in the booth at all times.
What is proper booth etiquette? There are many lists on this topic about not eating, drinking, sitting, talking with booth staffers, and using technology devices. Any of these behaviors can make attendees keep walking past your trade show exhibit.
Perhaps the hardest rule to manage these days is using cell phones or other personal electronic devices while in your trade show booth, as these devices have such an abundant presence in the workplace. It is all too common for people to check their phone in the midst of a business conversation for new emails or text messages. On the show floor, this behavior is irritating and unacceptable … unless it is used correctly.
Managing Social Media at Trade Shows
For many companies, social media is a major part of the strategy in bringing people to the booth. Someone who is on the floor, in the booth, or walking around might be tweeting, posting information on Facebook or sending out an Instagram picture of items in the booth. Capturing the moment is important in social media, but how will an attendee know if someone in the booth is chatting or texting with a friend or conducting business?
Simply put, it is difficult to distinguish why booth workers are buried in their phones. If on-floor social media is to be an important part of your trade show presence, you must take several steps to make sure you're not sending the wrong signal or pushing your attendees away.
Making Social Media Part of Your Trade Show Exhibit
Having enough people to staff your booth is crucial. When traffic is slower, this may seem like a waste of personnel. But if you can have one of those people designated as the social media person, you will get more out of the show and likely more attention from attendees.
Make the social media posting an obvious part of your in-booth marketing. Designate a special part of the booth as a social media center. Pose with customers and prospects and ask them if you can post the picture online. Ask customers their opinions about your company's products and post favorable comments they make. If you're doing a demo of a product, as people what they think and use those comments as short testimonials. If you feel it would help you even more, post a video of your live demo and comment with people's reactions. You might even want to have a sign or lighted banner with your Facebook page, your twitter handle, and any other social media outlets you're using. This allows people to engage with your booth as well by incorporating your company's social media tags.
The social media posts that come from the show should be in line with your marketing strategy. Whoever is doing the postings should be prepared with some basic material to post that incorporates the official hashtags for the show. Even if you try to present your company as approachable, everything that is posted should be businesslike and correctly spelled. You can still be personable and professional in your social media posts. For more ideas and why social media is a great trade show strategy, read this.
Don't be afraid to post about your exhibit at the show either. Post your booth number, what's happening in the booth, and get people to stop by for a visit.
Personal cell phones and other electronic devices should never be used while staffing your booth. But careful and strategic planning can make them a perfect fit for on-site social media integration.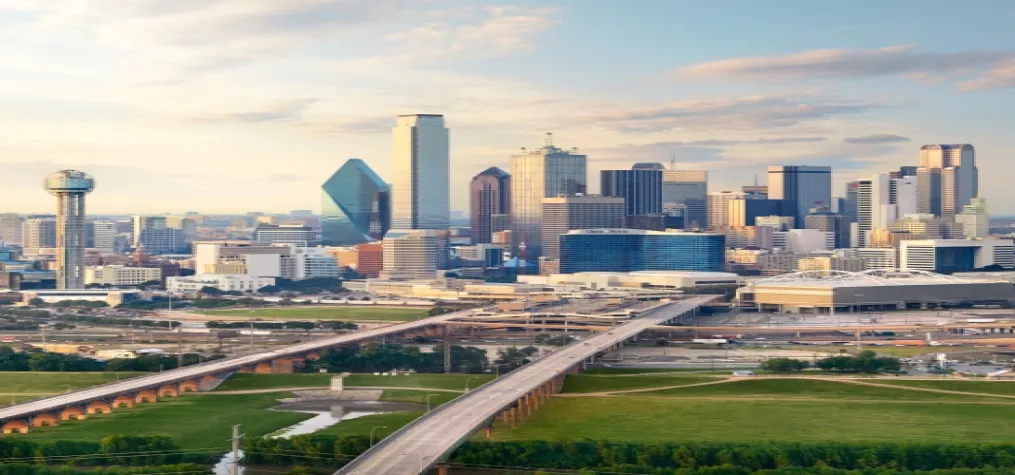 Dallas already boasts 35,000 hotel rooms, award-winning global cuisine, and a walkable downtown. But we are just getting started. Visit Dallas is thrilled to announce that the city of Dallas is doubling down with a massive new convention center and entertainment district. Featuring 800,000 square feet of exhibit area, 260,000 square feet of meeting rooms, and 170,000 square feet of ballroom. The center will connect business travelers with dining and shopping options in the popular Cedars District means more places to get down to business, and even more ways to unwind. "Dallas is already a great meetings and conventions destination, with the accessibility of two major airports, affordable labor, and an outstanding hotel product," said D. Bradley Kent, Visit Dallas senior vice president and chief sales officer. "The new center and Convention Center District will enhance Dallas' competitive position and are exactly what our customers' need and have been asking for." What's New – AT&T Discovery District Located in the heart of Downtown Dallas, this new district on the AT&T corporate campus is tailor-made for groups of all sizes. It boasts a multi-sensory experience, including outdoor event space, the AT&T Theater, and multiple dining outlets including JAXON Beer Garden and The Exchange, a bustling food hall. Hotels Coming Soon Names like the JW Marriott (Downtown), lnterContinental Dallas (Uptown), and Hotel Swexan (Uptown) are adding luxury amenities and bountiful event spaces. The projects will debut in 2023 and beyond. JW Marriott This new, 15-story, 283-room hotel will open in the heart of the city's downtown Arts District this year. The property features a 25,000-square-foot grand ballroom, as well as a spa, restaurant, lobby bar, fitness center, and a rooftop pool deck and bar. InterContinental Dallas  Located in Cityplace Tower in Uptown, InterContinental Dallas will feature sweeping panoramic views of the Dallas skyline. Guests will enjoy spacious, high-end rooms and amenities, including more than 21,000 square feet of event space.   Hotel Swexan Hotel Swexan, a new, 22-story luxury property, is rising in Uptown's Harwood District and will make its mark on the Dallas skyline. Opening this year, it is a sculptural building with cantilevered upper floors, as well as a 75-foot rooftop infinity-edge swimming pool and a hidden underground lounge.