Post-Event Marketing – A Valuable Tool for Next Year's Show
January 25, 2015
You've just wrapped up your show and it was a huge success: your attendance numbers were up, your attendees gave you positive feedback, several of your exhibitors have already re-signed for next year and your staff is enthused. Now what?
The critical time to start garnering interest for next year's event is during and immediately following your current event while the enthusiasm is fresh. The key is to create ways to connect with attendees throughout the year to extend the life of the interest generated by the show.
Here are 5 marketing tactics to include in the creation of your successful post-event marketing plan:
1. Provide Attendees with a Post-Event Exhibit Tracker
Send a post-event email to all attendees who visited exhibitor's booths on the show floor and had their badge scanned.
Include in the email: a complete listing of each exhibitor name and booth where the attendee's badge was scanned, the exhibitor's contact information, and a link to the exhibitor's website.
Today's empowered consumers also want an opportunity to influence future product enhancements and offerings. They want to meet with staff, designers or management who can listen to needs and influence the process that translates feedback into future offerings.
(Source: CEIR Report: Exhibition Floor Interaction: What Attendees Want)
2. Design a Post-Registration Site for Exhibitors
Provide your exhibitors with their own post-registration site to look up which registrants they invited that were verified and attended the show.
This resource provides exhibitors with the ability to follow up, and also gives them the opportunity to market to attendees who used the exhibitor's online invitation link but did not visit their booth.
3. Utilize QR Codes
Post QR Codes on your current event's signage and follow-up materials with a link for attendees to sign up to receive an email when registration for the next year's event opens.
4. Update Social Media
Keep the conversation going about your show by engaging your attendees in a discussion about the educational sessions, speakers and show floor.
Share event content. Highlight speakers and sessions. The more content you have, the more interaction you generate.
Attendees want information they can digest later. There is always so much to see and do at an exhibition that a constant challenge for attendees is simply keeping up with what they learned. Collecting information for later reading is still an important aspect of exhibitions.
(Source: CEIR Report: Exhibition Floor Interaction: What Attendees Want)
5. Create Videos
Don't underestimate the power of videos. Create and post videos of the show on your website to continue and extend the excitement surrounding your event.
Use customer testimonials in your videos to promote the value of your show.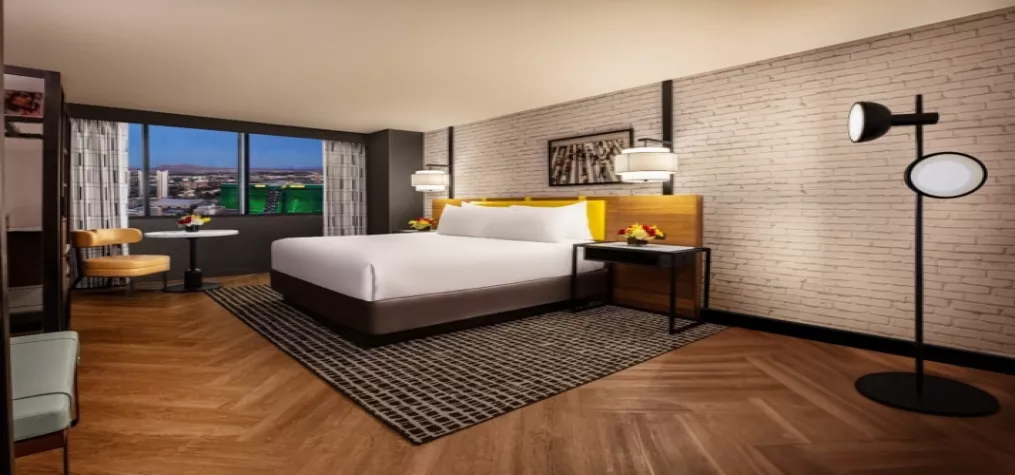 Just when it seems like Las Vegas can't get any bigger, brighter or more exciting for groups, MGM Resorts raises the bar again. The company continues to invest and innovate across its portfolio of Las Vegas resorts, with new attractions and upgraded experiences for attendees of all interests.  Remodeled Guest Rooms MGM Grand is the largest single hotel in the world with over 5,000 guest rooms and an 850,000-square-foot conference center. It is home to the newly remodeled MGM Grand Studio Tower—700 reimagined guest rooms with a fun mid-century vibe. Nearby, the iconic New York-New York Las Vegas Hotel & Casino recently completed a $63M redesign and remodel of its 1,830 guest rooms and 155 suites. Down the street, Bellagio Las Vegas is sporting renovated rooms in the Spa Tower with sunrise-inspired decor and luxurious soaking tubs in Premier King rooms after a $110-million transformation. Reinvented Luxury Experiences The Luxury Meetings District, made up of Bellagio Las Vegas, ARIA Resort & Casino, Vdara Hotel & Spa, The Cosmopolitan of Las Vegas, Park MGM and NoMad Las Vegas, is now more connected than ever before. A new interior walkway opened this October for a seamless attendee experience – connecting Vdara, Bellagio, and The Cosmopolitan of Las Vegas, guests can now walk from Park MGM to Bellagio in around 15 minutes. New on the scene in the Luxury Meetings District is Cathedrale at ARIA, TAO Group's upscale establishment specializing in exquisite French-Mediterranean cuisine offering elevated private dining experiences that opened in May. Heralded by World's Best 50 Restaurants, GQ and VOGUE, LPM at The Cosmopolitan of Las Vegas is opening this fall and will deliver its signature spontaneity and imaginative celebration of France's Mediterranean cuisine, art, and culture to the unique luxury resort in impeccable fashion.  A "New Wave  for Mandalay Bay A new wave of enhancements and experiences has arrived at Mandalay Bay Resort and Casino, including Flanker Kitchen + Sports Bar, an 8,445-square-foot restaurant that opened this June, perfect for pre- and post-game eats and drinks. Event planner's favorite, Chef Michael Mina's StripSteak, received a full renovation and now includes one of the largest private dining rooms on The Strip. Retro by Voltaggio debuts a one-year residency with a fun take on pop culture of the 80s and 90s with classic American dishes. An exciting addition planned for 2024 is Swingers, a 40,000-square-foot oasis of street food, miniature golf and art at Mandalay Bay. Most exciting for meeting planners, the 2.1 million-square-foot Mandalay Bay Convention Center  is undergoing a complete refresh, with lightened space, added eye-catching art, and improved technology infrastructure for even more flexible space. Energy-efficient digital signage now leads the way with faster internet speeds and new AV options. From renovated guest rooms and meeting spaces to celebrated dining options and dedicated teams, MGM Resorts is dedicated to delivering exceptional and innovative meeting experiences.