The Power of Live: The Benefits of Incorporating Video into Your Events
October 14, 2016
Storytelling, User-Generated Content, Virtual Reality... The global event series, Social Media Week is known for covering a range of exciting topics of relevance to our industry. Video, however, is one trend that really seemed to jump out at me as part of the London installment.
Many of the speakers, including representatives from brands such as Facebook and National Geographic, stressed that incorporating video into social is the way of the future. It's an effective tool for the events industry, as it enables us to promote our client's events in an engaging way before the fact, broadcast these experiences to their communities in real time, and package up event highlights for people to enjoy post-event.
Below are a selection of tips and tricks from some of the speakers around how you can create winning social video content that truly engages consumers.
Video for Mobile
Ian Crocombe, regional head of Creative Shop at Facebook sees a world that is video-first, and notes that video sits at the heart of all of Facebook's apps and services — the company only recently launched its Instagram Stories functionality, after all.
He notes that consumers behave differently on smartphone devices — on average they spend just 1.7 seconds per content item on mobile, and 80% of these users' watch videos without sound. How then, can we cut through the clutter to connect with our increasingly mobile savvy audiences?
Crocombe offered a range of insights, including: add stylized text overlays — an effective tool for pre and post-event videos where there is time to edit — as this will draw users in even where there is no sound. It's also important to consider the key creative messages and ideas around your client's event, and focus on incorporating captivating imagery that reflects this into the video. Questions are also a great way to spark curiosity.
Content Across Multiple Platforms
Nadine Heggie, vice president, global partnerships, National Geographic Partners Europe & Africa explained that video plays an important role in the brand's social media strategy, and summed this up with a great statement: "Relevant, relatable and timely content always wins the day."
She explained that the brand regularly publishes YouTube videos that showcase its journalists and photographers out in the field, which are then broken up into snackable content pieces for sharing across the video functionalities of Facebook, Instagram and Snapchat. Footage of our own events can re-purposed in much the same way — a longer-form highlights video can be edited down with respect to the different social channels in which we want to feature.
Live video presents another unique opportunity for National Geographic Partners, at it enables audiences to access unique locations across the globe in real-time, so that they feel as though they are right there beside the brand's journalists and photographers. In the world of events, social tools such as Facebook Live and Periscope are similarly an effective way to broadcast what is happening live, however it's important to be authentic, keeping in mind the client's messaging around the event.
The New Brand Channels
Eric Fulwiler, executive director at VaynerMedia London likens the smartphone to television. In other words, just as TV surpassed radio as the place for brand advertising in the 1950s and 1960s, mobile is fast becoming the place for brands to connect with their audiences.
He explained that if the mobile phone is the new television, social networks are the new brand channels. This means as event organizers, we need to work with our clients to ensure the footage of their live experiences is packaged up for social video, so that their 'stories' become the new hit shows.
Video isn't a new medium per se, yet the ways that we as event organizers can embrace it to extend the reach of our events has changed dramatically in recent years. Thanks to social media, not only can we stream our events to global communities in real time, we can package this information up into bite-sized pieces for consumers to enjoy across multiple channels. As our attention spans get shorter, the need for visual, snackable content has never been so important.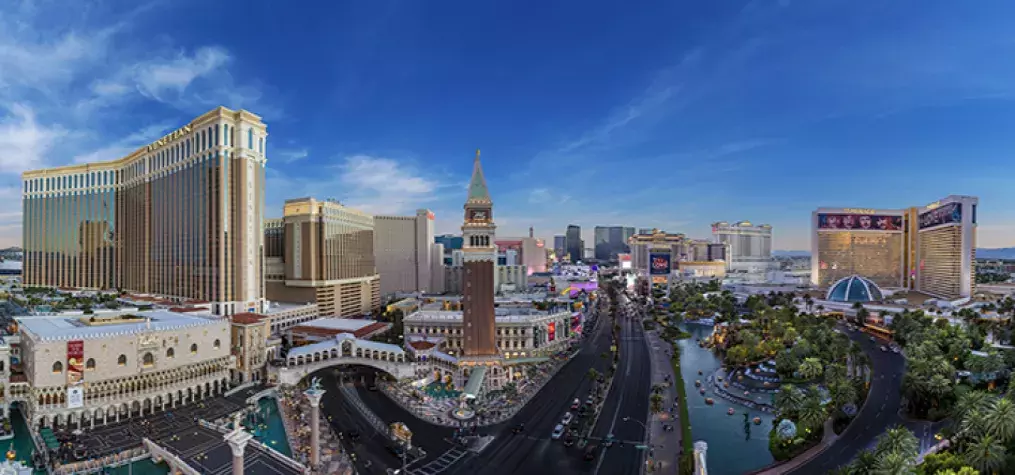 Less than six months ago, Lisa Messina joined the Las Vegas Convention and Visitors Authority (LVCVA) as the first-ever chief sales officer after leading the sales team at Caesars Entertainment. A 12-year Las Vegas resident, Messina is a graduate of Cornell University's School of Hotel Administration and serves on MPI International's board of directors. TSNN had a chance to catch up with this dynamic leader and talk to her about her vision for the new role, current shifts in the trade show industry, creating more diversity and equity within the organization, and advice to future female leaders. Lisa Messina, Chief Sales Officer, LVCVA With Las Vegas becoming The Greatest Arena on EarthTM, what are some of the things you're most excited about in your role? Our team was at The Big Game's handoff ceremony earlier this month, and I couldn't help but think, "We're going to crush it next year!" These high-profile events and venues not only drive excitement, but also provide unmatched opportunities for event planners. Allegiant Stadium hosts events from 10 to 65,000 people and offers on-field experiences. Formula 1 Grand Prix will take place in Las Vegas in November, after the year-one F1 race, the four-story paddock building will be available for buyouts and will also offer daily ride-along experiences that will be available for groups. And, of course, the MSG Sphere officially announced that it will open in September, ahead of schedule, with a U2 residency. It's going to be the most technologically advanced venue as far as lighting, sound, feel, and even scent, and it will be available for buyouts and next-level sponsorships inside and outside. There's no ceiling to what you can do when you're doing events in Las Vegas. Allegiant Stadium As the trade show and convention business returns to the pre-pandemic levels, what shifts are you noticing and how do you think they will impact the industry going forward? Our trade show organizers are very focused on driving customer experience. Most of our organizers are reporting stronger exhibitor numbers and increased numbers of new exhibitors, with trade shows proving to be almost or above 2019 levels. Now our organizers are really doubling down on driving attendance and focusing on the data to provide that individualized, customized experience to help attendees meet their goals and get the best value. Some companies continue to be cautiously optimistic with their organizational spend when it comes to sending attendees, but I think it will continue to improve. As the U.S. Travel Association makes more progress on the U.S. visa situation, we also expect a growing influx of international attendees. What are some innovative ways the LVCVA helps trade show and convention organizers deliver the most value for their events? We focus on customer experience in the same way that trade show organizers are thinking about it. We got rave reviews with the West Hall Expansion of the Las Vegas Convention Center (LVCC), so over the next two years, we will be renovating the North and the Central halls, which will include not just the same look and feel, but also the digital experiences that can be leveraged for branding and sponsorship opportunities. Vegas Loop, the underground transportation system designed by The Boring Company, is also a way we have enhanced the customer experience. Vegas Loop at the LVCC has transported more than 900,000 convention attendees across the campus since its 2021 launch. Last summer, Resorts World and The Boring Company opened the first resort stop at the Resorts World Las Vegas , with plans to expand throughout the resort corridor, including downtown Las Vegas, Allegiant Stadium and Harry Reid International Airport. The LVCVA also purchased the Las Vegas Monorail in 2020, the 3.9-mile-long elevated transportation system that connects eight resorts directly to the convention center campus. This is the only rail system in the world that integrates fares directly into show badges and registration. For trade show organizers, these transportation options mean saving time, money and effort when it comes to moving groups from the hotels to LVCC and around the city. Also, the more we can focus on building the infrastructure around the convention center, the more it supports the customer experience and ultimately supports our trade show organizers. Scheduled to debut in Q4, Fontainebleau Las Vegas will offer 3,700 hotel rooms and 550,000 square feet of meeting and convention space next to LVCC. What are some of the plans for advancing DEI (diversity, equity and inclusion) within your organization? We're currently partnering with instead of working with a leading consulting firm, to lay the foundation and create a solid DEI plan and be the leader when it comes to DEI initiatives. The heart of that journey with the consulting firm is also talking to our customers about their strategic approaches to DEI and driving innovation in this space. What are your favorite ways to recharge? My husband and I have an RV and we're outdoorsy people. So, while we have over 150,000 world-class hotel rooms and renowned restaurants right outside our doorstep, one of my favorite things to do is get out to Red Rock Canyon, the Valley of Fire, and Lake Mead. Five of the top national parks are within a three-hour drive from Las Vegas, so there's a lot you can do. We love balancing the energy of Las Vegas with nature, and we're noticing that a lot of attendees add activities off the Strip when they come here. Valley of Fire What advice would you give to women following leadership paths in destination marketing? I think it's about being laser-focused on what you want to accomplish; building a team around you that lifts you and helps you achieve your goals; and being humble and realizing that you do it as a group. No one gets this done alone. Thankfully, there are a lot of women in leadership in this organization, in our customers' organizations, and in this city that we can be really proud of. We're a formidable force that is making things happen. This interview has been edited and condensed. This article is exclusively sponsored by the Las Vegas Convention & Visitors Authority. For more information, visit HERE.