Date
2018-12-07 - 2018-12-09
Event contact title
Contact
Event contact first name
Stewart
Event contact last name
Promotions
Email
info@stewartpromotions.com
Event contact telephone number
502-456-2244
Description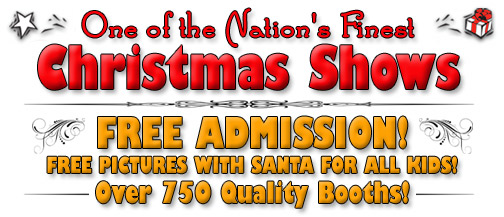 Stewart Promotions' Christmas Gift & Decor Show features over 750 High Quality Exhibitor Booths and Over 50,000 attendees each year.  This FREE ADMISSION event is one of the premier Christmas Shows in the Nation, featuring acres of gift items and ideas for anyone and everyone.  For over 30 years, the Christmas Gift & Decor Show has been a Louisville fixture during the holiday season.  Make your plans to attend and join the fun!  And each year...ALL KIDS GET A FREE PICTURE WITH SANTA!
Exhibitor information
We are always looking for quality vendors to set up at our Christmas Gift & Decor Show.   Even if you don't sell holiday related merchandise, the show includes just about any items that could be purchased as Christmas Gifts....so feel free to apply! 
Annual attendance for the Christmas Gift & Decor Show is approximately 50,000+, making it the premier FREE ADMISSION Christmas Show in the Nation!   Since 1987, shoppers have packed the aisles, often bringing the entire family to this incredible event. 
Booth space is in heavy demand and product categories are very limited, as we are sold out each and every year.  Don't be one of the vendors that applies too late and can't get in.
Apply early and reserve your booth space today!