Guide to Incorporating Tech in Trade Show Networking
November 1, 2023
Creating a network of valuable trade show contacts requires a holistic approach. Preparation and follow-up are equally vital as on-site performance. Networking at trade shows works in the same way it does in other aspects of life. The only difference is that you have a true ally on your side during the trade show: a fantastic display with convincing booth workers. 
Trade shows exhibits have always been essential for industry professionals to forge valuable connections, promote products and expand business horizons. Success hinges on innovation and efficiency, and networking at trade shows is no exception. Seasoned industry experts already understand the significance of networking, but what if there was a way to enhance your networking experience even further? 
Embracing the Power of AR and VR
Gone are the days of static pamphlets and videos to showcase your products. Augmented Reality (AR) and Virtual Reality (VR) revolutionize marketers' engagement with their audiences. Here are the benefits of incorporating AR and VR into your trade show strategy: 
Dynamic product showcases with AR

Immersive experiences through VR

Increased foot traffic to your booth

Boosted brand exposure

Foster genuine enthusiasm
By using AR and VR at trade shows, you position yourself as a forward-thinking industry expert capable of delivering captivating and memorable experiences to your audience. 
Leveraging Mobile Apps and Social Media for Seamless Networking
When you embrace mobile apps and social media, you take your trade show networking to a new level. It's not just about connecting with potential clients during the event. It's about nurturing those relationships and fostering business growth all year round. Here are the practical benefits of incorporating these tools into your trade show strategy: 
Effortless data collection with mobile apps

Seamless networking with social media

Building lasting relationships

Maximizing networking opportunities

Real-time engagement
AI-Powered Efficiency with Chatbots and Intelligent Systems
AI is the game-changer at trade shows, empowering smart decision-making. A smart registration system fueled by AI curates personalized content and suggests relevant sessions based on attendees' data, such as demographics and interests, enhancing meaningful interactions. Benefits include: 
Personalized content recommendations

Streamlined communication with AI chatbots

Anticipate attendee needs

Optimized event planning 
Ensuring Cybersecurity and Data Privacy
Addressing cybersecurity and data privacy concerns is essential as technology becomes more ingrained in the trade show experience. With valuable information circulating in digital spaces, safeguarding sensitive data is paramount. Trade show organizers should implement robust cybersecurity measures to protect attendee information and maintain their trust.
Enhance Your Trade Show Experience with Tech Advancements
As industry experts, you grasp the significance of networking at trade shows. Embrace cutting-edge techs like AR, VR, mobile apps, social media and AI chatbots. Engage attendees, gather data, build connections and optimize event planning. Stay ahead by utilizing these powerful tools for an unforgettable trade show journey.

Don't miss any event-related news: Sign up for our weekly e-newsletter HERE, listen to our latest podcast HERE and engage with us on Twitter, Facebook and LinkedIn!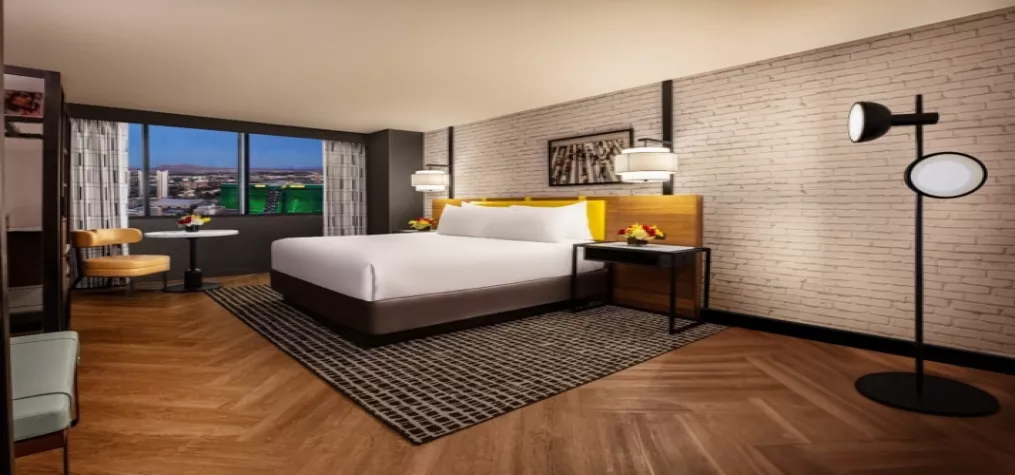 Just when it seems like Las Vegas can't get any bigger, brighter or more exciting for groups, MGM Resorts raises the bar again. The company continues to invest and innovate across its portfolio of Las Vegas resorts, with new attractions and upgraded experiences for attendees of all interests.  Remodeled Guest Rooms MGM Grand is the largest single hotel in the world with over 5,000 guest rooms and an 850,000-square-foot conference center. It is home to the newly remodeled MGM Grand Studio Tower—700 reimagined guest rooms with a fun mid-century vibe. Nearby, the iconic New York-New York Las Vegas Hotel & Casino recently completed a $63M redesign and remodel of its 1,830 guest rooms and 155 suites. Down the street, Bellagio Las Vegas is sporting renovated rooms in the Spa Tower with sunrise-inspired decor and luxurious soaking tubs in Premier King rooms after a $110-million transformation. Reinvented Luxury Experiences The Luxury Meetings District, made up of Bellagio Las Vegas, ARIA Resort & Casino, Vdara Hotel & Spa, The Cosmopolitan of Las Vegas, Park MGM and NoMad Las Vegas, is now more connected than ever before. A new interior walkway opened this October for a seamless attendee experience – connecting Vdara, Bellagio, and The Cosmopolitan of Las Vegas, guests can now walk from Park MGM to Bellagio in around 15 minutes. New on the scene in the Luxury Meetings District is Cathedrale at ARIA, TAO Group's upscale establishment specializing in exquisite French-Mediterranean cuisine offering elevated private dining experiences that opened in May. Heralded by World's Best 50 Restaurants, GQ and VOGUE, LPM at The Cosmopolitan of Las Vegas is opening this fall and will deliver its signature spontaneity and imaginative celebration of France's Mediterranean cuisine, art, and culture to the unique luxury resort in impeccable fashion.  A "New Wave  for Mandalay Bay A new wave of enhancements and experiences has arrived at Mandalay Bay Resort and Casino, including Flanker Kitchen + Sports Bar, an 8,445-square-foot restaurant that opened this June, perfect for pre- and post-game eats and drinks. Event planner's favorite, Chef Michael Mina's StripSteak, received a full renovation and now includes one of the largest private dining rooms on The Strip. Retro by Voltaggio debuts a one-year residency with a fun take on pop culture of the 80s and 90s with classic American dishes. An exciting addition planned for 2024 is Swingers, a 40,000-square-foot oasis of street food, miniature golf and art at Mandalay Bay. Most exciting for meeting planners, the 2.1 million-square-foot Mandalay Bay Convention Center  is undergoing a complete refresh, with lightened space, added eye-catching art, and improved technology infrastructure for even more flexible space. Energy-efficient digital signage now leads the way with faster internet speeds and new AV options. From renovated guest rooms and meeting spaces to celebrated dining options and dedicated teams, MGM Resorts is dedicated to delivering exceptional and innovative meeting experiences.