How to Determine If You Should Invest in Virtual During Your Next Trade Show
November 16, 2022
People are returning to the trade show floor—in person, that is. There is a certain excitement that gets lost when attendees cannot touch, feel or physically interact with brands, so it's no wonder people were ready for the return. The 2022 Kitchen & Bath Industry Show and International Builders' Show brought in 70,000 attendees and 1,200 exhibitors, making it one of the largest shows to occur since live events went dormant due to COVID-19.
While in-person show attendance is rising, virtual or hybrid can make more sense in some cases. Take a virtual trade show booth. It holds the potential to enhance reach via not just live broadcast demos but also on-demand streaming. It also provides professionals who would not otherwise attend (i.e., lower-level employees, non-department members, those outside the region, etc.) to experience the trade show.
Benefits of a Virtual Element
Virtual does not just expand reach. It can also complement the physical experience in many ways. Virtual reality (VR) and augmented reality (AR) are more than passing trade show technology trends. Both can improve the brand experience and the visualization of a product or service.
Should you equip the floor with video conferencing tools, attendees can take meetings with those attending virtually. Then, the event is not just about watching demos, reading digital brochures or listening to speeches for virtual attendees. They have the option to interact directly with whoever is on the trade show floor. And depending on the platform used, those not present can pose questions, discuss pain points and obtain solutions via live Q&A functionalities.
Qualities of a Successful Hybrid Show
For the most part, the qualities of a successful hybrid show mirror those of in-person trade shows. Remember, having a virtual component adds another layer to the event. You will need the right internet connectivity, speed requirements, technology platforms and other associated tools to accommodate both in-person and virtual attendees. That additional layer will come at a cost, but with the right budget and planning, it can be accounted for.
Then there are the staffing requirements of hybrid events. You will need dedicated staff assigned to each virtual component—and that's on top of the staffing needs for in-person attendees. Those manning virtual elements will require tech and trouble-shooting skills in addition to the traditional skills of communication, sales and so on.
Deciding When to Invest in Virtual
With all the trade show technology trends, it can be difficult to decide whether virtual elements make sense for your brand. Before jumping into the hybrid realm, it is important to assess your needs by thinking through a few questions. The benefits should always outweigh the additional costs. Here are some questions to consider:
1. How well does a product or service translate to a virtual presentation?
One of the first things to consider is how a presentation might translate online. Simpler and higher-familiarity products and services work well virtually. A unique or more complicated message could get lost in translation if not communicated in person. Determining the complexity and newness of what you are trying to communicate will help you decide whether to present that information virtually or at your trade show booth.
2. Is brand awareness a main objective?
Building brand awareness is a process already done digitally, so a virtual component will broaden your visitor base. Leads may not improve, however, as virtual attendees are not always qualified (i.e., not the decision-maker or authority to purchase).
3. Who and where are your customers?
If most sales go to existing customers and many are unable to attend due to proximity, a virtual component makes sense. Using a virtual trade show booth allows you to inform customers about new features and generate excitement in the process.
4. Will you offer a tiered pricing model?
Consider strategic pricing of virtual attendance versus those attending in person. Perhaps it costs less to attend via video chat.
5. Should you work with an experiential agency?
If you are wondering how a virtual trade show works, experiential agencies have the expertise to provide the answer, as well as assess the effort and costs associated with virtual components. Discuss your plans and reasons for adding a virtual component. Your partner can help implement the right solution and keep you from buying into those trade show technology trends that fail to deliver the desired results.
Ultimately, determining your needs and then conducting a cost-and-benefit analysis will be the best way to proceed. You want to ensure all elements provide value and drive attendees further down the sales funnel.
Don't miss any event-related news: Sign up for our weekly e-newsletter HERE, listen to our latest podcast HERE and engage with us on Twitter, Facebook and LinkedIn!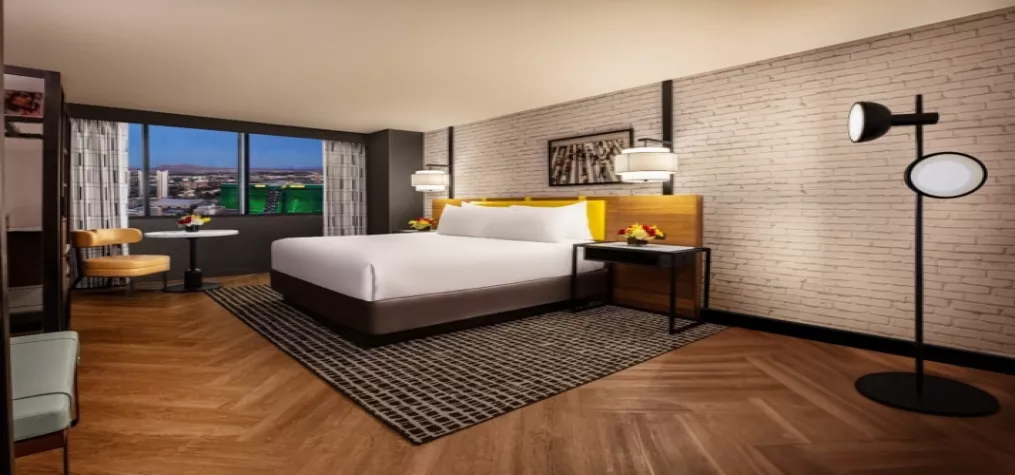 Just when it seems like Las Vegas can't get any bigger, brighter or more exciting for groups, MGM Resorts raises the bar again. The company continues to invest and innovate across its portfolio of Las Vegas resorts, with new attractions and upgraded experiences for attendees of all interests.  Remodeled Guest Rooms MGM Grand is the largest single hotel in the world with over 5,000 guest rooms and an 850,000-square-foot conference center. It is home to the newly remodeled MGM Grand Studio Tower—700 reimagined guest rooms with a fun mid-century vibe. Nearby, the iconic New York-New York Las Vegas Hotel & Casino recently completed a $63M redesign and remodel of its 1,830 guest rooms and 155 suites. Down the street, Bellagio Las Vegas is sporting renovated rooms in the Spa Tower with sunrise-inspired decor and luxurious soaking tubs in Premier King rooms after a $110-million transformation. Reinvented Luxury Experiences The Luxury Meetings District, made up of Bellagio Las Vegas, ARIA Resort & Casino, Vdara Hotel & Spa, The Cosmopolitan of Las Vegas, Park MGM and NoMad Las Vegas, is now more connected than ever before. A new interior walkway opened this October for a seamless attendee experience – connecting Vdara, Bellagio, and The Cosmopolitan of Las Vegas, guests can now walk from Park MGM to Bellagio in around 15 minutes. New on the scene in the Luxury Meetings District is Cathedrale at ARIA, TAO Group's upscale establishment specializing in exquisite French-Mediterranean cuisine offering elevated private dining experiences that opened in May. Heralded by World's Best 50 Restaurants, GQ and VOGUE, LPM at The Cosmopolitan of Las Vegas is opening this fall and will deliver its signature spontaneity and imaginative celebration of France's Mediterranean cuisine, art, and culture to the unique luxury resort in impeccable fashion.  A "New Wave  for Mandalay Bay A new wave of enhancements and experiences has arrived at Mandalay Bay Resort and Casino, including Flanker Kitchen + Sports Bar, an 8,445-square-foot restaurant that opened this June, perfect for pre- and post-game eats and drinks. Event planner's favorite, Chef Michael Mina's StripSteak, received a full renovation and now includes one of the largest private dining rooms on The Strip. Retro by Voltaggio debuts a one-year residency with a fun take on pop culture of the 80s and 90s with classic American dishes. An exciting addition planned for 2024 is Swingers, a 40,000-square-foot oasis of street food, miniature golf and art at Mandalay Bay. Most exciting for meeting planners, the 2.1 million-square-foot Mandalay Bay Convention Center  is undergoing a complete refresh, with lightened space, added eye-catching art, and improved technology infrastructure for even more flexible space. Energy-efficient digital signage now leads the way with faster internet speeds and new AV options. From renovated guest rooms and meeting spaces to celebrated dining options and dedicated teams, MGM Resorts is dedicated to delivering exceptional and innovative meeting experiences.