How to Emphasize the "Wow" Factor at Your Next Trade Show or Event
October 25, 2023
The live events industry is roaring back to life, but this trend is more than just the post-pandemic surge in attendance. Customers don't want the typical massive trade show or small business conference. They are increasingly demanding an experience. 
Attendees are craving uniqueness, such as concierge service, VIP booths, gourmet food, virtual check-ins, mobile apps and much more. But how do you make your conference or corporate event stand out from the noise?
As the CEO of a major California event rental company, I oversee a company that services more than 12,000 annual events, and we've seen these trends coming for years. Event customization, sociable areas, technology, connectivity and creativity are still evolving and improving. Here's what we see through 2023, 2024 and beyond. 
Immersive Activities
Today more than ever, the attendee takes center stage at events. The value of an event lies in its ability to deliver a fresh and immersive experience. We have seen a major trend of photo booths being set up either for professional headshots or fun group photos with colleagues. We have also set up giant paint-by-the-number boards that encourage each guest to partake in a unique painting. This year's South by Southwest (SXSW) conference in Austin, Texas, was a prime example of this trend. The 10-day conference was full of immersive experiences, from designing and creating unique personalized SXSW merchandise to live podcasts, panels and performances presented by Audible. 
Interactive Service
At corporate events and trade shows, we are seeing companies bring in third-party interactive services to create that "wow" factor at every touchpoint for attendees. Service and entertainment can work together to get guests talking. This can be anything from roaming dancers to thematically dressed servers to aerial performances.
Luxurious Ambiance
Achieving the luxurious feel at your event can be easier than you think. Even a small change, such as replacing foldable chairs with loungers, can go a long way. At the U.S. Open, held in June at the Los Angeles Country Club, lavish indoor and outdoor seating areas and structures, along with luxe food service and premium seating, made the experience seem more like a luxury hotel or resort rather than a hot, crowded golf tournament where fans elbowed each other to see the players and the scoreboard.
A Defining "Wow" Moment

 
While attendees are looking for a captivating experience from start to finish, there should be at least one standout "wow" moment. This can be a classic light show, fireworks display, dance performance or something more unique like a custom drone show with the company logo.

With a focus on customer experience, practical technology and a fusion of the best elements from the entertainment business, there is every reason to be optimistic about the future evolution and prosperity of the event production and event rentals industry for many decades to come.

Don't miss any event-related news: Sign up for our weekly e-newsletter HERE, listen to our latest podcast HERE and engage with us on Twitter, Facebook and LinkedIn!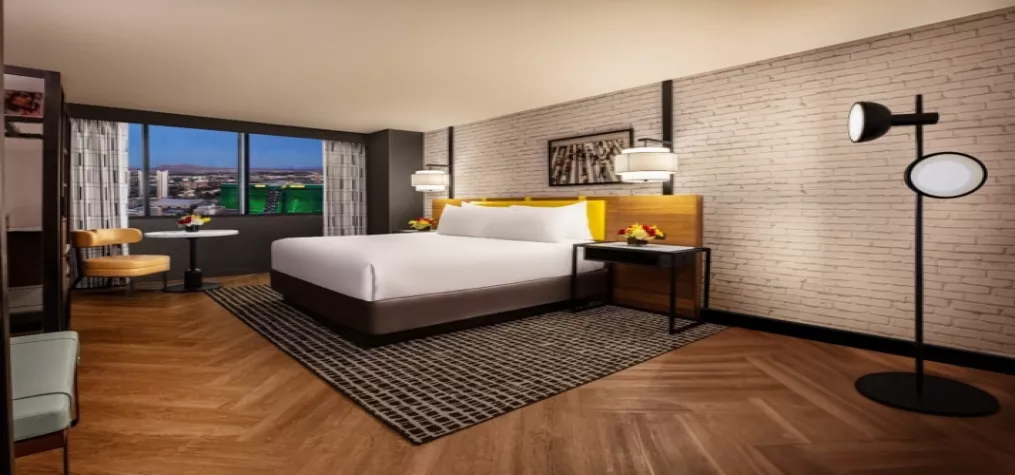 Just when it seems like Las Vegas can't get any bigger, brighter or more exciting for groups, MGM Resorts raises the bar again. The company continues to invest and innovate across its portfolio of Las Vegas resorts, with new attractions and upgraded experiences for attendees of all interests.  Remodeled Guest Rooms MGM Grand is the largest single hotel in the world with over 5,000 guest rooms and an 850,000-square-foot conference center. It is home to the newly remodeled MGM Grand Studio Tower—700 reimagined guest rooms with a fun mid-century vibe. Nearby, the iconic New York-New York Las Vegas Hotel & Casino recently completed a $63M redesign and remodel of its 1,830 guest rooms and 155 suites. Down the street, Bellagio Las Vegas is sporting renovated rooms in the Spa Tower with sunrise-inspired decor and luxurious soaking tubs in Premier King rooms after a $110-million transformation. Reinvented Luxury Experiences The Luxury Meetings District, made up of Bellagio Las Vegas, ARIA Resort & Casino, Vdara Hotel & Spa, The Cosmopolitan of Las Vegas, Park MGM and NoMad Las Vegas, is now more connected than ever before. A new interior walkway opened this October for a seamless attendee experience – connecting Vdara, Bellagio, and The Cosmopolitan of Las Vegas, guests can now walk from Park MGM to Bellagio in around 15 minutes. New on the scene in the Luxury Meetings District is Cathedrale at ARIA, TAO Group's upscale establishment specializing in exquisite French-Mediterranean cuisine offering elevated private dining experiences that opened in May. Heralded by World's Best 50 Restaurants, GQ and VOGUE, LPM at The Cosmopolitan of Las Vegas is opening this fall and will deliver its signature spontaneity and imaginative celebration of France's Mediterranean cuisine, art, and culture to the unique luxury resort in impeccable fashion.  A "New Wave  for Mandalay Bay A new wave of enhancements and experiences has arrived at Mandalay Bay Resort and Casino, including Flanker Kitchen + Sports Bar, an 8,445-square-foot restaurant that opened this June, perfect for pre- and post-game eats and drinks. Event planner's favorite, Chef Michael Mina's StripSteak, received a full renovation and now includes one of the largest private dining rooms on The Strip. Retro by Voltaggio debuts a one-year residency with a fun take on pop culture of the 80s and 90s with classic American dishes. An exciting addition planned for 2024 is Swingers, a 40,000-square-foot oasis of street food, miniature golf and art at Mandalay Bay. Most exciting for meeting planners, the 2.1 million-square-foot Mandalay Bay Convention Center  is undergoing a complete refresh, with lightened space, added eye-catching art, and improved technology infrastructure for even more flexible space. Energy-efficient digital signage now leads the way with faster internet speeds and new AV options. From renovated guest rooms and meeting spaces to celebrated dining options and dedicated teams, MGM Resorts is dedicated to delivering exceptional and innovative meeting experiences.