Why You Should Think of Your Trade Show Booth Like a Website
February 12, 2015
A common question I hear when speaking to customers is, "How do I make our trade show booth representative of our brand?" My answer is to think of your booth like a website. Think about it – companies today rely on their Web site to do two things: attract new visitors, and then turn those visitors into paying customers. Shouldn't your trade show booth serve the same function?
At a busy event, people constantly are passing your booth, in search of something to fit their needs – not unlike online consumers searching Google. Once you've got them to stop at your booth, it's the job of the representative to extract information from them, and in that exchange eventually convert them into leads. Your website should essentially follow the same process: enticing visitors in and, once they've arrived, leading them down a sales funnel.
Let's look at a few ways we can take that website mindset and turn it into actionable trade show success:
Drive the Right Traffic to Your Space
Organic traffic (those who find your website through online search) and paid traffic (those who find you through services like Google Adwords) help companies funnel the right prospects to their website at the right time. Campaigns can be built around many different metrics, like the keywords searched, the consumer's location, and even the time of day they're searching – and getting these metrics right ensures that the best potential customer visits your website. Traffic is only helpful if it's interested traffic!
A trade show is no different. It's critical to research your active customer base and understand where they'll be hanging out. It may be an industry show that's already on your radar, but it could also be an adjacent industry that shares the same customer base. Find out where your competitors are exhibiting and spending their marketing dollars – there's no need to re-create the wheel.
The good news: there are thousands of trade shows to choose from each year, and resources to help you choose the best ones.
Create a Value Proposition They Can't Ignore
Crafting a Unique Value Proposition (UVP) is a huge part of having a successful web presence. Your site needs to convey who you are as a business, what product or service you provide, and why you're a better option than the competition. Studies show that you have less than 10 seconds to address the needs of your visitors when they first see your site.
The same can be said for your trade show exhibit. Attendee traffic at trade shows moves fast, so how do you grab your perfect customer when they have hundreds (if not thousands) of other companies vying for their attention? With the right type of exhibit visuals and messaging that rapidly shows them the most important selling points. Think hard about the center of your booth (typically the branded back wall) as if it were your homepage. How can you explain why your company is the best in just a few words?
Conversion Is King
Over the past decade, a cottage industry has grown up around the concept of online conversion (and conversion metrics). If you want your site to eventually lead to sales, it's critical to convert your website visitors when they arrive. At a trade show, companies will frequently offer a giveaway in an effort to attract and convert these leads.
Unfortunately, too often the giveaway is something unrelated to the company's industry, like an iPad. As a result, the representatives leave the show with a slew of leads, but very few of them are qualified to be potential clients of the business. Remember, they were only qualified to want an iPad.
You should certainly focus on converting visitors to leads, but do it by offering something that peaks the interest of a potential customer. Many of our clients have had success with providing white papers and free webinars. Yes, your lead pool post-show will be smaller – but the percentage of people willing to engage in a follow-up conversation will be much larger.
Your business probably put a lot of time and effort into designing a website that will attract visitors, inform them, and funnel them toward a conversion or sale. It's time well spent to focus on those goals with your trade show strategy as well.
The nuts and bolts may be different between Web site and trade show, but you will need to plan thoughtfully to get the most out of your trade show experience – and thinking of your website can help focus your planning on the messaging and methods that are most likely to lead to success.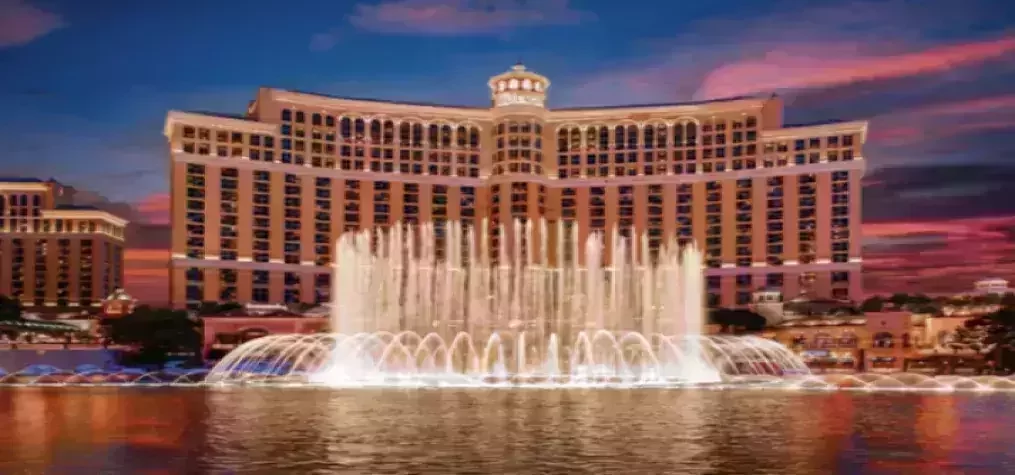 HERE, hosting responsible meetings and caring for our communities are top priorities. Through its 'Focused on What Matters: Embracing Humanity and Protecting the Planet' philosophy, MGM Resorts commits to creating a more sustainable future, while striving to make an impact in the lives of employees, guests, and the communities in which it operates. Water Stewardship Efforts MGM Resorts understands the importance of using water efficiently, especially in the desert destination of Las Vegas. Conserving water has always been part of the mission, but MGM Resorts has expanded its ambition into water stewardship. In 2022, MGM Resorts President and CEO Bill Hornbuckle signed the CEO Water Mandate—a UN Global Compact initiative mobilizing business leaders to advance water stewardship. MGM Resorts International was the first gaming company to take this important step. MGM Resorts replaced 200,000 square feet of real grass with drought-tolerant landscaping in Las Vegas. MGM Resorts pledges to reduce water withdrawal intensity by 33% by 2025 and by 35% by 2030. From 2007-2021, use of more than 5.6 billion gallons of water was avoided because of conservation efforts. Caring for One Another MGM Resorts' Food Donations Program collects and preserves unserved food from conventions held at MGM Resorts properties, then safely donates to food insecure people in the community. Since the program's launch in 2016, more than 3.7 million meals toward a 2025 goal of 5 million meals have been donated into the community. Donations include: Unserved perishable prepared foods from events Perishable unprepared food from MGM Resorts' kitchens Nonperishable food items from minibars and warehouses The collaboration with Southern Nevada's primary food bank, Three Square, has developed the infrastructure needed to safely collect, transport, and store food from MGM Resorts properties in Las Vegas, reducing food waste while serving the community. Fostering Diversity and Inclusion To MGM Resorts, a diverse and talented workforce is essential to success. By cultivating innovative strategies that consider multiple perspectives and viewpoints, the company creates an inclusive workplace culture that benefits its employees and community. MGM Resorts takes pride in being a welcoming home for veterans, individuals with disabilities, people from diverse backgrounds, LGBTQ+ community members, and more. This commitment to inclusion is reflected in the company's recruitment and hiring practices and its social responsibility initiatives. From the workplace to the community, MGM Resorts' commitment to diversity, equity and inclusion remains unwavering, and its efforts continue to create a more equitable and sustainable world for all. MGM Resorts understands its responsibility to contribute to the social and economic progress of the communities in which it operates. HERE, we embrace humanity.