Taste Trends: Phil Evans, Executive Chef, Raleigh Convention Center
March 6, 2023
Oftentimes, the careers we imagine for ourselves as children aren't necessarily what we end up pursuing as adults. Ask Phil Evans about his path into the culinary arts and he'll tell you a similar story.
"My parents were the driving force for me to get into the culinary industry," Evans explains. "I actually wanted to be a schoolteacher, but I grew up in the kitchen cooking with my grandmother and then my mother, so it came to me naturally. I inevitably fell in love with cooking." 
Now, as executive chef at Sodexo Live!, Evans boasts an extensive background in fine dining, catering and hospitality, a successful career that began in the kitchen of France's three-Michelin-star Chef Marc Meneau. From there, he went on to serve as executive sous chef and executive chef at five-star and five-diamond resorts including The St. Regis resorts in Houston and Aspen, before landing in his current home of Raleigh, North Carolina, where he became known from his time as executive chef at the acclaimed Herons restaurant at The Umstead Hotel and Spa. 
"Working in the hospitality industry has led me all over the U.S. and to parts of the world I would not have seen if not for this career," Evans says. "Each day, working with food presents different experiences and opportunities to learn. No two days are alike."
In 2016, Chef Evans joined the Raleigh Convention Center (RCC) as executive sous chef before stepping into the role of executive chef in 2020, right in the middle of a global pandemic that left many in the food service industry scrambling to survive. But instead of viewing the shutdown as a calamitous disaster, the down-to-earth, creative chef saw a unique opportunity to explore how Sodexo could better stand out as a steward of North Carolina foods, flavors and hospitality. The result was Evans' latest award-winning menu, "A Seat At The Table: Southern Cuisine Featuring North Carolina's Women and BIPOC Farmers and Food Producers."
TSNN had the recent pleasure of speaking with Evans about this inclusive sustainability initiative, how his passion for supporting local, historically unrepresented farmers supports the RCC's progressive environmental initiatives, what he sees as the convention industry's biggest food and beverage trends, and how meeting and event planners can still provide delectable culinary experiences for their attendees without busting their F&B budgets.
What are the biggest and most exciting culinary trends you're seeing and executing at meetings and events these days?
Local, local, local! There's a big push to incorporate local into anything we can and the RCC is leading that charge. From Raleigh-made Bone Suckin' BBQ sauce to locally-made jams, produce, sauces and even garnishes, we are doing it. Prior to the pandemic, we even had success with a small hydroponic garden right here in the kitchen. Doesn't get much more local than that. 
At the RCC, locally minded cuisine isn't just limited to what's served on plates. Thinking local also means diverting our food waste and turning it into compost through our ongoing compost program. Since 2018, we've saved almost 250,000 pounds from the landfill and, in the past five years, we've donated compost – about 25,000 pounds at this point – to a nearby learning garden that supports families experiencing food insecurity. We donate excess food as much as possible and offer the "Share a Meal" program, where clients can purchase additional meals that are then matched by the RCC and donated to shelters, food banks and other neighboring organizations in need.
We are also well-positioned to capitalize on the "glocal" trend, which sounds like a cutesy hashtag but actually produces amazing, crowd-pleasing dishes. "Glocal" means taking local products and recipes and putting a global spin on them – something the chefs and bartenders of our colorful Capitol City have been experimenting with for years. There's a reason why Raleigh is regarded as an up-and-coming food destination, and we strive to reflect that excitement in the food we prepare for guests at the RCC as well. For example, North Carolina produces more sweet potatoes than any other state, so we give them an international flair in our Asian-inspired sweet potato salad with soy ginger vinaigrette.  
In line with this, please tell us about your 'A Seat at the Table' program at the Raleigh Convention Center. When and why did you launch this program?
During COVID, as we were looking toward reopening, we wanted to visit and reconnect with our local farmers, especially those from historically underrepresented groups such as female and BIPOC farmers. Our produce supplier already featured local, minority-based businesses and farms, but we had not personally connected with that part of the supply chain. So, as soon as we safely could, we went to work visiting as many farms as possible, and the meaningful connections I made along the way inspired me to dedicate an entire menu to those farmers and their products. And now we're revisiting the spirit of that menu and exploring how we can expand it to more of our offerings. 
The 'Seat at the Table' menu represents a large variety of what makes North Carolina agriculture so special. It gives us a tremendous palette with which to work – whether it's collards, sweet potatoes, peanuts or fantastic NC pork – all from smaller, family-owned locations where farming is a passion, not just a business.
Prior to COVID, dietary-conscious menus were a growing trend. Is this still true, and if so, do you foresee this accelerating in the future?
That trend is not going anywhere – in fact, it is getting bigger. We are also seeing a rise in requests for mocktails and low-ABV beverages, which means we must create delicious drinks that don't "hide" behind alcohol and can appeal to discriminating tastes.
During the pandemic, we learned to listen to our bodies and to eat more nutritiously. I've noticed that now even those who don't consider themselves to be particularly health-conscious are more mindful about what they're consuming. We offer a wide selection of options that can suit any dietary preference, and if it's not yet on the menu, we're always eager to work with clients to craft the perfect bite. 
Many event planners are now working with tighter budgets due to higher food and beverage costs. What are your top tips for overcoming this obstacle while still providing delicious fare for attendees? 
Two words: comfort foods. Some of the most traditional and delicious comfort foods are also the most affordable, and they hit the right mark without requiring a lot of costly ingredients. For example, take mac and cheese. A perfectly made mac and cheese doesn't need expensive cheeses or add-ins like lobster; a silky roux with sharp cheddar works just fine and you'll have clean plates all around. The same goes for things like meat – we will steer our budget-conscious clients away from filet mignon and lead them instead to the perfectly braised beef short rib. 
Part of our job as the Raleigh Convention Center's caterer is to work with clients to provide top-notch options. That often means elevating less expensive cuts of meat while maintaining the fantastic taste and luxurious entrée perception. This is the kind of work that challenges and rewards you as a chef. 
What are some of your favorite restaurants that event groups should make sure not to miss in Raleigh and why?
It would have to be Poole's Diner and their fabulous mac and cheese. Talk about comfort food! I have chefs visit me from all over the world and I tell them that they must go to Poole's and get Chef Ashley Christensen's Macaroni au Gratin before they leave town. You won't regret it – and it's just across the street from us, too!

Don't miss any event-related news: Sign up for our weekly e-newsletter HERE, listen to our latest podcast HERE and engage with us on Twitter, Facebook and LinkedIn!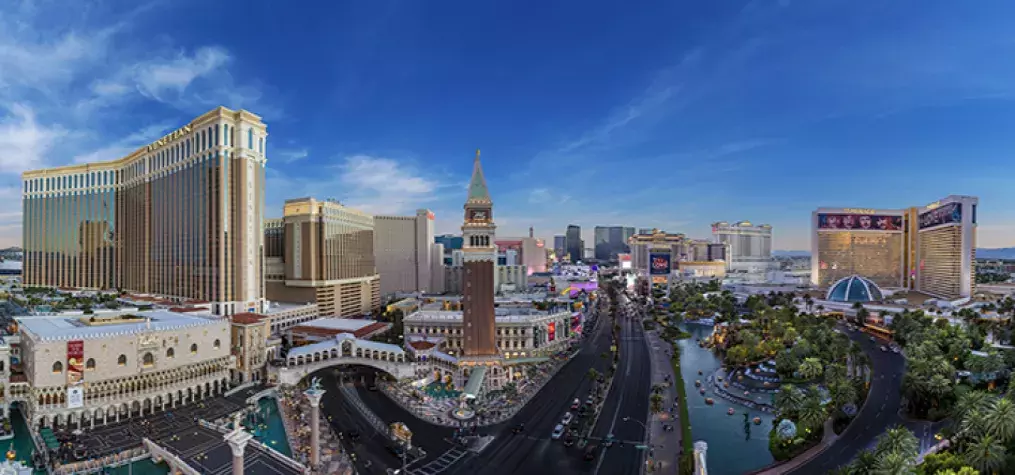 Less than six months ago, Lisa Messina joined the Las Vegas Convention and Visitors Authority (LVCVA) as the first-ever chief sales officer after leading the sales team at Caesars Entertainment. A 12-year Las Vegas resident, Messina is a graduate of Cornell University's School of Hotel Administration and serves on MPI International's board of directors. TSNN had a chance to catch up with this dynamic leader and talk to her about her vision for the new role, current shifts in the trade show industry, creating more diversity and equity within the organization, and advice to future female leaders. Lisa Messina, Chief Sales Officer, LVCVA With Las Vegas becoming The Greatest Arena on EarthTM, what are some of the things you're most excited about in your role? Our team was at The Big Game's handoff ceremony earlier this month, and I couldn't help but think, "We're going to crush it next year!" These high-profile events and venues not only drive excitement, but also provide unmatched opportunities for event planners. Allegiant Stadium hosts events from 10 to 65,000 people and offers on-field experiences. Formula 1 Grand Prix will take place in Las Vegas in November, after the year-one F1 race, the four-story paddock building will be available for buyouts and will also offer daily ride-along experiences that will be available for groups. And, of course, the MSG Sphere officially announced that it will open in September, ahead of schedule, with a U2 residency. It's going to be the most technologically advanced venue as far as lighting, sound, feel, and even scent, and it will be available for buyouts and next-level sponsorships inside and outside. There's no ceiling to what you can do when you're doing events in Las Vegas. Allegiant Stadium As the trade show and convention business returns to the pre-pandemic levels, what shifts are you noticing and how do you think they will impact the industry going forward? Our trade show organizers are very focused on driving customer experience. Most of our organizers are reporting stronger exhibitor numbers and increased numbers of new exhibitors, with trade shows proving to be almost or above 2019 levels. Now our organizers are really doubling down on driving attendance and focusing on the data to provide that individualized, customized experience to help attendees meet their goals and get the best value. Some companies continue to be cautiously optimistic with their organizational spend when it comes to sending attendees, but I think it will continue to improve. As the U.S. Travel Association makes more progress on the U.S. visa situation, we also expect a growing influx of international attendees. What are some innovative ways the LVCVA helps trade show and convention organizers deliver the most value for their events? We focus on customer experience in the same way that trade show organizers are thinking about it. We got rave reviews with the West Hall Expansion of the Las Vegas Convention Center (LVCC), so over the next two years, we will be renovating the North and the Central halls, which will include not just the same look and feel, but also the digital experiences that can be leveraged for branding and sponsorship opportunities. Vegas Loop, the underground transportation system designed by The Boring Company, is also a way we have enhanced the customer experience. Vegas Loop at the LVCC has transported more than 900,000 convention attendees across the campus since its 2021 launch. Last summer, Resorts World and The Boring Company opened the first resort stop at the Resorts World Las Vegas , with plans to expand throughout the resort corridor, including downtown Las Vegas, Allegiant Stadium and Harry Reid International Airport. The LVCVA also purchased the Las Vegas Monorail in 2020, the 3.9-mile-long elevated transportation system that connects eight resorts directly to the convention center campus. This is the only rail system in the world that integrates fares directly into show badges and registration. For trade show organizers, these transportation options mean saving time, money and effort when it comes to moving groups from the hotels to LVCC and around the city. Also, the more we can focus on building the infrastructure around the convention center, the more it supports the customer experience and ultimately supports our trade show organizers. Scheduled to debut in Q4, Fontainebleau Las Vegas will offer 3,700 hotel rooms and 550,000 square feet of meeting and convention space next to LVCC. What are some of the plans for advancing DEI (diversity, equity and inclusion) within your organization? We're currently partnering with instead of working with a leading consulting firm, to lay the foundation and create a solid DEI plan and be the leader when it comes to DEI initiatives. The heart of that journey with the consulting firm is also talking to our customers about their strategic approaches to DEI and driving innovation in this space. What are your favorite ways to recharge? My husband and I have an RV and we're outdoorsy people. So, while we have over 150,000 world-class hotel rooms and renowned restaurants right outside our doorstep, one of my favorite things to do is get out to Red Rock Canyon, the Valley of Fire, and Lake Mead. Five of the top national parks are within a three-hour drive from Las Vegas, so there's a lot you can do. We love balancing the energy of Las Vegas with nature, and we're noticing that a lot of attendees add activities off the Strip when they come here. Valley of Fire What advice would you give to women following leadership paths in destination marketing? I think it's about being laser-focused on what you want to accomplish; building a team around you that lifts you and helps you achieve your goals; and being humble and realizing that you do it as a group. No one gets this done alone. Thankfully, there are a lot of women in leadership in this organization, in our customers' organizations, and in this city that we can be really proud of. We're a formidable force that is making things happen. This interview has been edited and condensed. This article is exclusively sponsored by the Las Vegas Convention & Visitors Authority. For more information, visit HERE.