Women at the Helm: Laura Purdy, General Manager, Exhibition Place
March 13, 2023
The story of how Laura Purdy found a career in the exhibitions and meetings industry will be a familiar one for many event professionals: she fell into it – and never left. While in the process of building a marketing and retail management career at a prestigious commercial real estate firm in Toronto, Canada, Purdy had the chance to participate in new business development projects, including responding to RFPs for management contracts for global commercial real estate properties.  
One of those projects was for The National Trade Centre (now Enercare Centre), which was under construction at Exhibition Place and had issued an RFP seeking a third-party management company to open and run it. Purdy worked on the bid team with SMG (now ASM Global) on the RFP response and shortly after helping the company win the contract, was invited to take on the role of director of sales and marketing for what was to become Canada's largest exhibition and convention centre. With some hesitation, she agreed to take on the role for a year to get the building opened and start up the team. 
"It didn't take me long to fall in love with the convention and exhibition industry," Purdy says. "Last year I celebrated my 25th year at Exhibition Place and now lead the venue team as general manager. I love the dynamic nature of the events business. There is always a new challenge, and as a team, we are constantly learning and innovating. I still get that adrenalin rush with the signing of a new piece of business and watching delegates and exhibitors flow into the convention centre every day."
Now an accomplished leader in Canada's exhibition and event management industry, Purdy has been a part of the leadership team at the sprawling, 192-acre Exhibition Place campus throughout some of its most high-profile events, including the Pan American Games, the Papal World Youth Days and the G20 Summit.  
A strong believer in giving back and making a positive impact on the industry she loves, Purdy proudly sits on the board of various industry associations including the Canadian Association of Exposition Management (CAEM), Convention Centres of Canada and Meetings Mean Business Canada. A passionate advocate for sustainability, DEI and women's empowerment, she also co-founded the Women in Exhibitions North America Chapter.
TSNN had a chance to sit down with this inspiring industry leader to get her thoughts about gender and racial parity in the exhibition and meetings industry, what important lessons she has learned running Exhibition Place and its myriad venues, and what the events industry can do to help support more burgeoning women leaders as they forge a path to the C-suite. 
What can the meetings and events industry—and the women in it—do to help create more gender (and racial) parity in convention center leadership?
We should continue to support women's careers at every level; identify and challenge future leaders to expand their knowledge, even if it is outside of their current job function. Sometimes growth occurs within your organization, or through volunteerism in an industry association – either way, we need to encourage diversity, equity and inclusion to keep the convention and exhibition industry well-served for the future. The industry should continue to encourage flexibility in the workplace for hybrid work (role-appropriate), and support women to earn industry designations and training to expand their knowledge base.   
While gender diversity in the leadership roles within the events industry is moving in a more equitable direction, what do you see as the biggest challenges of being a women leader at this time in our industry?

 
In my experience, leadership has its challenges regardless of gender. Women leaders may approach challenges from their unique perspective, however encouraging diversity in the workplace at all levels increases collaboration, sparks innovation and improves organizational decision-making.  
What are the qualities that women bring to venue management that empower them to excel at their jobs?

 
I appreciate qualities such as intuitiveness, empathy and conscientiousness that women bring to venue management. These traits allow them to effectively connect and collaborate with their colleagues and apply those qualities to deliver a high level of customer service to their clients.  
During your time managing Exhibition Place, what have been your most important lessons and biggest successes? 

 
Some of the most important lessons have been around ensuring that we take the time to 'peel back the layers' when dealing with issues or crises. Often a problem presents itself one way and only after active listening, investigation and inquiry does the underlying issue reveal itself and in turn, we find our way to a solution. 
One of my biggest successes was my participation on the project team for Beanfield Centre, which is a beautiful LEED Silver conference centre that was thoughtfully designed to service our clients' and attendees' needs. I am proud of how we traversed the pandemic, turning our 1 million-square-foot convention centre into a film production studio. In fact, one of the more than 30 productions filmed here during the pandemic has just been nominated for two Oscars. Not only did we adapt during the pandemic and retained our incredible staff, who became film production experts, but our team also surpassed expectations as we re-opened to an incredible volume and pace of events last year. I am very proud to lead this team of high-performing convention centre professionals. 
What advice would you give to women in the events industry wishing to follow a leadership path?  
I would recommend that women should put their hand up more often to take on special projects – even if it doesn't have an immediate payback. It contributes to experience, awareness and a knowledge base that can be drawn upon in the future. The events industry is all about experiences and responding to new situations, and we benefit in unexpectedly positive ways by getting involved. I would also encourage women to connect with other women in the industry.  
During the pandemic, and in conjunction with industry leaders Martha Donato and Stephanie Selesnick, I had the honor of co-founding the North American chapter of Women in Exhibitions – a network to connect, support and empower women from all facets of the exhibition industry. Participating in WIEN, or volunteering for any one of our many industry associations, will help build a woman's network, grow her experience level and contribute to her community.   
Know of a dynamic woman leader in the meetings and events industry who deserves recognition? Reach out to lpsavas@tsnn.com.
Don't miss any event-related news: Sign up for our weekly e-newsletter HERE, listen to our latest podcast HERE and engage with us on Twitter, Facebook and LinkedIn!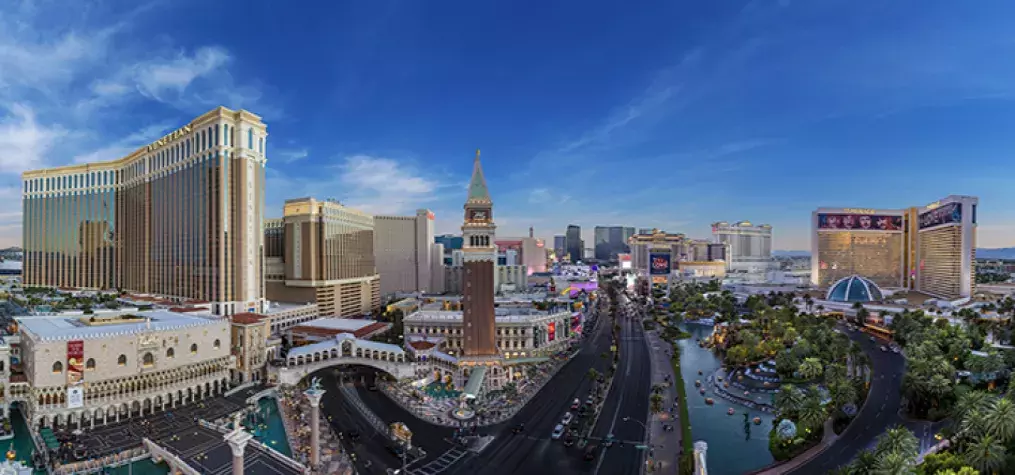 Less than six months ago, Lisa Messina joined the Las Vegas Convention and Visitors Authority (LVCVA) as the first-ever chief sales officer after leading the sales team at Caesars Entertainment. A 12-year Las Vegas resident, Messina is a graduate of Cornell University's School of Hotel Administration and serves on MPI International's board of directors. TSNN had a chance to catch up with this dynamic leader and talk to her about her vision for the new role, current shifts in the trade show industry, creating more diversity and equity within the organization, and advice to future female leaders. Lisa Messina, Chief Sales Officer, LVCVA With Las Vegas becoming The Greatest Arena on EarthTM, what are some of the things you're most excited about in your role? Our team was at The Big Game's handoff ceremony earlier this month, and I couldn't help but think, "We're going to crush it next year!" These high-profile events and venues not only drive excitement, but also provide unmatched opportunities for event planners. Allegiant Stadium hosts events from 10 to 65,000 people and offers on-field experiences. Formula 1 Grand Prix will take place in Las Vegas in November, after the year-one F1 race, the four-story paddock building will be available for buyouts and will also offer daily ride-along experiences that will be available for groups. And, of course, the MSG Sphere officially announced that it will open in September, ahead of schedule, with a U2 residency. It's going to be the most technologically advanced venue as far as lighting, sound, feel, and even scent, and it will be available for buyouts and next-level sponsorships inside and outside. There's no ceiling to what you can do when you're doing events in Las Vegas. Allegiant Stadium As the trade show and convention business returns to the pre-pandemic levels, what shifts are you noticing and how do you think they will impact the industry going forward? Our trade show organizers are very focused on driving customer experience. Most of our organizers are reporting stronger exhibitor numbers and increased numbers of new exhibitors, with trade shows proving to be almost or above 2019 levels. Now our organizers are really doubling down on driving attendance and focusing on the data to provide that individualized, customized experience to help attendees meet their goals and get the best value. Some companies continue to be cautiously optimistic with their organizational spend when it comes to sending attendees, but I think it will continue to improve. As the U.S. Travel Association makes more progress on the U.S. visa situation, we also expect a growing influx of international attendees. What are some innovative ways the LVCVA helps trade show and convention organizers deliver the most value for their events? We focus on customer experience in the same way that trade show organizers are thinking about it. We got rave reviews with the West Hall Expansion of the Las Vegas Convention Center (LVCC), so over the next two years, we will be renovating the North and the Central halls, which will include not just the same look and feel, but also the digital experiences that can be leveraged for branding and sponsorship opportunities. Vegas Loop, the underground transportation system designed by The Boring Company, is also a way we have enhanced the customer experience. Vegas Loop at the LVCC has transported more than 900,000 convention attendees across the campus since its 2021 launch. Last summer, Resorts World and The Boring Company opened the first resort stop at the Resorts World Las Vegas , with plans to expand throughout the resort corridor, including downtown Las Vegas, Allegiant Stadium and Harry Reid International Airport. The LVCVA also purchased the Las Vegas Monorail in 2020, the 3.9-mile-long elevated transportation system that connects eight resorts directly to the convention center campus. This is the only rail system in the world that integrates fares directly into show badges and registration. For trade show organizers, these transportation options mean saving time, money and effort when it comes to moving groups from the hotels to LVCC and around the city. Also, the more we can focus on building the infrastructure around the convention center, the more it supports the customer experience and ultimately supports our trade show organizers. Scheduled to debut in Q4, Fontainebleau Las Vegas will offer 3,700 hotel rooms and 550,000 square feet of meeting and convention space next to LVCC. What are some of the plans for advancing DEI (diversity, equity and inclusion) within your organization? We're currently partnering with instead of working with a leading consulting firm, to lay the foundation and create a solid DEI plan and be the leader when it comes to DEI initiatives. The heart of that journey with the consulting firm is also talking to our customers about their strategic approaches to DEI and driving innovation in this space. What are your favorite ways to recharge? My husband and I have an RV and we're outdoorsy people. So, while we have over 150,000 world-class hotel rooms and renowned restaurants right outside our doorstep, one of my favorite things to do is get out to Red Rock Canyon, the Valley of Fire, and Lake Mead. Five of the top national parks are within a three-hour drive from Las Vegas, so there's a lot you can do. We love balancing the energy of Las Vegas with nature, and we're noticing that a lot of attendees add activities off the Strip when they come here. Valley of Fire What advice would you give to women following leadership paths in destination marketing? I think it's about being laser-focused on what you want to accomplish; building a team around you that lifts you and helps you achieve your goals; and being humble and realizing that you do it as a group. No one gets this done alone. Thankfully, there are a lot of women in leadership in this organization, in our customers' organizations, and in this city that we can be really proud of. We're a formidable force that is making things happen. This interview has been edited and condensed. This article is exclusively sponsored by the Las Vegas Convention & Visitors Authority. For more information, visit HERE.