6 Reasons Attendees Don't Trust Your Booth Staffers
June 21, 2014
Why do B2B buyers continue to attend trade shows by the tens of millions, rather than make all their purchases online? Because they want to meet you face to face, to see for themselves what the people who work for your company are really like, and if your company is trustworthy enough to do business with.6-reasons
Well, attendees won't trust your company if your booth staffers do these 6 things:
1. Your staffers ignore attendees
It's hard to believe, but far too often attendees walk into a booth and are ignored by booth staffers – maybe even your booth staffers. This behavior exasperates attendees. If you ignore them in your booth, they would expect to be ignored as a customer. Which is why they are unlikely to ever become a customer.
2. Your staffers do not make eye contact
Attendees can't make a personal connection if your booth staffer doesn't pay close enough attention to even look them in the eye. They don't have to stare; they just have to demonstrate they are paying attention to your visitors, so the visitors feel valued.
3. Your staffers talk without listening
If your staffers are too intent on unloading the same talking points, rather than listen first to what each visitor is trying to achieve at the show, then your staffers' data dump will fall on deaf ears. Attendees want a dialog, not a diatribe.
4. Your staffers don't know what they are talking about
Thanks to all that product information on the Internet, today's trade show attendees are better informed than ever before. So if your booth staffers lack the product and industry knowledge to competently answer questions, attendees will take their business to someone who knows their stuff instead.
5. You hire booth babes instead of brand ambassadors
An assertive, friendly, knowledgeable booth staffer will create far more real opportunity with buyers than a booth babe that will intimidate some men, be avoided by some senior decision makers who don't want to look like they're hitting on women, and by many women who are offended by them. If you do not have enough capable booth staffer among your employees, you can hire brand ambassadors, and skip the booth babes.
6. Your staffers stand in front of a confusing or shabby trade show display
Attendees quickly judge how trustworthy your company is by how well your booth represents it. Does it quickly communicate how you can help them solve their problems? Does it show that you are a good company to work with? Or does it send conflicting messages, and look like it needs repair or replacement? Your exhibit will reflect well or poorly on your booth staff.
The goal of branding is to build trust with buyers. If they trust that you represent something they value and need, and can consistently deliver on that promise, then they will reward you with their business and their praise. Make sure your trade show booth staff and your trade show exhibit will help earn, not spurn, that trust.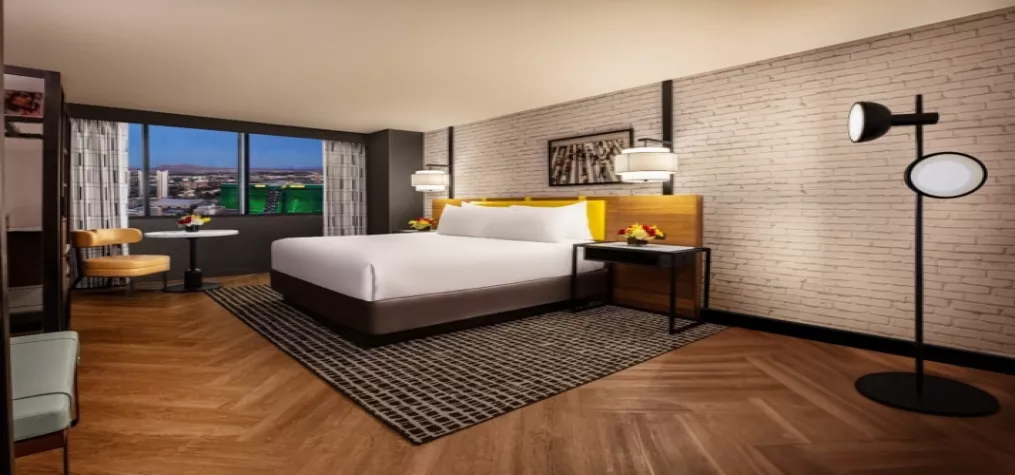 Just when it seems like Las Vegas can't get any bigger, brighter or more exciting for groups, MGM Resorts raises the bar again. The company continues to invest and innovate across its portfolio of Las Vegas resorts, with new attractions and upgraded experiences for attendees of all interests.  Remodeled Guest Rooms MGM Grand is the largest single hotel in the world with over 5,000 guest rooms and an 850,000-square-foot conference center. It is home to the newly remodeled MGM Grand Studio Tower—700 reimagined guest rooms with a fun mid-century vibe. Nearby, the iconic New York-New York Las Vegas Hotel & Casino recently completed a $63M redesign and remodel of its 1,830 guest rooms and 155 suites. Down the street, Bellagio Las Vegas is sporting renovated rooms in the Spa Tower with sunrise-inspired decor and luxurious soaking tubs in Premier King rooms after a $110-million transformation. Reinvented Luxury Experiences The Luxury Meetings District, made up of Bellagio Las Vegas, ARIA Resort & Casino, Vdara Hotel & Spa, The Cosmopolitan of Las Vegas, Park MGM and NoMad Las Vegas, is now more connected than ever before. A new interior walkway opened this October for a seamless attendee experience – connecting Vdara, Bellagio, and The Cosmopolitan of Las Vegas, guests can now walk from Park MGM to Bellagio in around 15 minutes. New on the scene in the Luxury Meetings District is Cathedrale at ARIA, TAO Group's upscale establishment specializing in exquisite French-Mediterranean cuisine offering elevated private dining experiences that opened in May. Heralded by World's Best 50 Restaurants, GQ and VOGUE, LPM at The Cosmopolitan of Las Vegas is opening this fall and will deliver its signature spontaneity and imaginative celebration of France's Mediterranean cuisine, art, and culture to the unique luxury resort in impeccable fashion.  A "New Wave  for Mandalay Bay A new wave of enhancements and experiences has arrived at Mandalay Bay Resort and Casino, including Flanker Kitchen + Sports Bar, an 8,445-square-foot restaurant that opened this June, perfect for pre- and post-game eats and drinks. Event planner's favorite, Chef Michael Mina's StripSteak, received a full renovation and now includes one of the largest private dining rooms on The Strip. Retro by Voltaggio debuts a one-year residency with a fun take on pop culture of the 80s and 90s with classic American dishes. An exciting addition planned for 2024 is Swingers, a 40,000-square-foot oasis of street food, miniature golf and art at Mandalay Bay. Most exciting for meeting planners, the 2.1 million-square-foot Mandalay Bay Convention Center  is undergoing a complete refresh, with lightened space, added eye-catching art, and improved technology infrastructure for even more flexible space. Energy-efficient digital signage now leads the way with faster internet speeds and new AV options. From renovated guest rooms and meeting spaces to celebrated dining options and dedicated teams, MGM Resorts is dedicated to delivering exceptional and innovative meeting experiences.