8 Foolproof Ways to Make an Impression at your Next Trade Show
May 7, 2016
Forty-six percent of decision-makers attending trade shows determine what to purchase during the course of the event. If you can deliver a strong impression during your next trade show, you stand a better chance of selling your products to those in attendance - making the trade show well worth your investment of time and money. To stand out from the rest, use our 8 foolproof ways to make a great impression.
1. Invest in displays and custom tents.
If you have a colorful, branded trade show booth, visitors will be drawn to your display. Investing in custom tents, banners, flags, and custom tablecloths or spandex table covers makes your booth look polished and professional.
If you are new to trade shows, this is one of the best ways to make your brand look bigger and more established than it is.
2. Send your best reps.
Put your best, most charismatic and knowledgeable people at the trade show to maximize your effectiveness and reach. This is simple, yet many businesses fail to do it.
To help your reps convince and connect, provide them with product literature and coach them on demonstrations. They will reward you by showing off your products in the best light.
3. Practice your pitch.
In the lead-up to the trade show, write your pitch - and practice it. When staff have a script for product pitch, FAQs, product demos, and more, they'll be confident and charismatic at the show.
4. Have a freebie or giveaway.
Freebies or giveaways entice attendees to give you their contact information. They also draw crowds to your booth, which generates more interest.
5. Make your booth feel welcoming.
Just as you might feel tired during the course of a long show, so do attendees. If you make your booth feel welcoming by incorporating a lounge space, you will naturally attract people who want a short break.
When people are sitting down, they'll take in more of your pitch or demo because they're comfortable, and they'll walk away with a positive impression of your brand.
6. Keep the booth open.
A rookie mistake is to set up your booth to actually deter users from coming inside. By putting a table across the booth's front you create a bottleneck. Make sure you have enough of an opening to welcome users inside.
7. Don't overlook lighting.
If you've ever walked away from a trade show booth because you can't even see the product on demo, then you know the harmful impact of poor lighting.
For peace of mind that your products will look their best in any convention center, buy inexpensive, bright LED lights. Use these to spotlight your booth or shine on your products.
8. Post social reminders.
It can be easy to ignore social during the event, when you're handling booth traffic.
Yet you can actually drive more traffic to the booth by tweeting with event hashtags, sharing demo videos, and posting trade show reminders on your social channels.
Trade shows are time intensive, but high preparation rewards you with successful lead generation and sales during the event. Leave yourself and your events team enough time to implement these 8 tips before your next trade show. You'll be rewarded with positive press.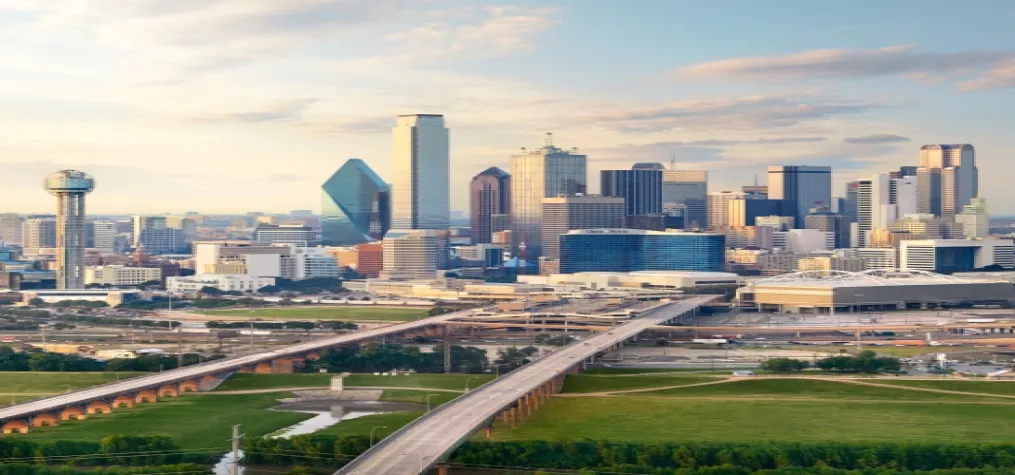 Dallas already boasts 35,000 hotel rooms, award-winning global cuisine, and a walkable downtown. But we are just getting started. Visit Dallas is thrilled to announce that the city of Dallas is doubling down with a massive new convention center and entertainment district. Featuring 800,000 square feet of exhibit area, 260,000 square feet of meeting rooms, and 170,000 square feet of ballroom. The center will connect business travelers with dining and shopping options in the popular Cedars District means more places to get down to business, and even more ways to unwind. "Dallas is already a great meetings and conventions destination, with the accessibility of two major airports, affordable labor, and an outstanding hotel product," said D. Bradley Kent, Visit Dallas senior vice president and chief sales officer. "The new center and Convention Center District will enhance Dallas' competitive position and are exactly what our customers' need and have been asking for." What's New – AT&T Discovery District Located in the heart of Downtown Dallas, this new district on the AT&T corporate campus is tailor-made for groups of all sizes. It boasts a multi-sensory experience, including outdoor event space, the AT&T Theater, and multiple dining outlets including JAXON Beer Garden and The Exchange, a bustling food hall. Hotels Coming Soon Names like the JW Marriott (Downtown), lnterContinental Dallas (Uptown), and Hotel Swexan (Uptown) are adding luxury amenities and bountiful event spaces. The projects will debut in 2023 and beyond. JW Marriott This new, 15-story, 283-room hotel will open in the heart of the city's downtown Arts District this year. The property features a 25,000-square-foot grand ballroom, as well as a spa, restaurant, lobby bar, fitness center, and a rooftop pool deck and bar. InterContinental Dallas  Located in Cityplace Tower in Uptown, InterContinental Dallas will feature sweeping panoramic views of the Dallas skyline. Guests will enjoy spacious, high-end rooms and amenities, including more than 21,000 square feet of event space.   Hotel Swexan Hotel Swexan, a new, 22-story luxury property, is rising in Uptown's Harwood District and will make its mark on the Dallas skyline. Opening this year, it is a sculptural building with cantilevered upper floors, as well as a 75-foot rooftop infinity-edge swimming pool and a hidden underground lounge.