How to Become a Trade Show G.E.N.I.U.S.
May 31, 2012
Want to be a smarter exhibitor? Not just above-average, slightly ahead of the pack, but a full-blown trade show marketing genius? Then follow these 6 (not so easy, but worthwhile) steps:
Be Genuine
Be Experimental
Be A Nerd
GoInternational
Be Useful
Drive Sales
Be Genuine
Trade shows offer a huge opportunity to gain exposure for your company's brand image. So make your trade show exhibit true to the heart of your brand. Trade shows let you go beyond just your brand colors and taglines. You can create an entire experience that helps your visitors connect to what makes your company genuinely different — and better — than your competitors.
Get prospects involved and engaged with activities that embody the best of your brand. And set the stage for a deeper personal relationship between your company and your clients and prospects.
Be Experimental
Don't get stuck doing the same-old, same-old, just because you've always done it that way. Great marketers are always testing new waters — without throwing the baby out with the bathwater. Experiment with new booth staffers, new training methods, new exhibit layouts, new promotional ideas, new booth sizes, new shows and more.
Ask your peers what they've done to boost results, adapt their ideas for your situation, test, measure and retain the best winning ideas. Just be sure to set expectations with your bosses that you are not expecting to succeed on 100 percent of your tests, but need to keep experimenting or you risk being left behind.
Be a Nerd
I'm not asking you to start wearing pocket protectors or to fix your glasses with tape. To be a trade show genius requires using more tools than paper and pencil. It means going to school on new technology that is revolutionizing trade shows. So go beyond knowing what Twitter is, to actually pre-scheduling a pre-show promotion campaign of tweets via a free account on www.hootsuite.com.
Learn how to take the Excel file loaded on the USB drive you get when you return the show's rental lead retrieval machine, and import it into your company's marketing database for quicker lead fulfillment. Get the best content on your website adapted into an iPad app that lets your booth staffers better interact with attendees anywhere in your trade show displays. Go ahead and get techy; it's never been cooler.
Go International
There are 7 convention centers outside the U.S. that are larger than McCormick place, the biggest the U.S. has to offer. What's more, a new facility being built in Shanghai, China will be twice the size of the next largest existing show hall.
Moreover, 75 percent of the world's economy lies outside our shores. So pack your bags and go! Just do your homework on the differences in exhibiting overseas, such as how attendees interact (more about relationship building), promotions (privacy laws make it harder to reach attendees directly pre-show), costs (show space may cost less, but travel and hotel costs cost more) and more. We have done a lot of the homework for you – just click to request your international exhibiting white paper.
Be Useful
Increase your social intelligence by making yourself more useful to all the stakeholders of your trade show program. Help your sales manager drive more sales from your trade show leads by finding out what questions booth staffers should ask to qualify attendees in your trade show booths. Then your sales manager will be more willing to let you handpick your favorite booth staffers. Provide answers quickly to your exhibit house account executive (such as approval on graphics files) and you'll build up a reserve of goodwill you can call upon for help in an emergency. And most of all ask your top management what are their main goals for exhibiting at trade shows – then measure and report how your program achieved those goals.
Drive Sales
Perhaps the smartest thing you can do for your trade show career is be known as a rainmaker that positively moves the dial generating revenue. You drive sales by going to the shows where your buyers walk the aisles, pulling them into your trade show exhibits with enticing promotions, engaging staffers, and attention-getting exhibits, then giving the best leads to your sales force and finally proving those leads generated sales through measurement. Prove that you can profitably generate sales with your trade show program and you'll soon be known as an exhibiting Einstein.
Stretch your exhibiting brainpower by pursuing some or all of these six ideas. You'll be seen as the genius within your company that knows how to get the most out of trade shows.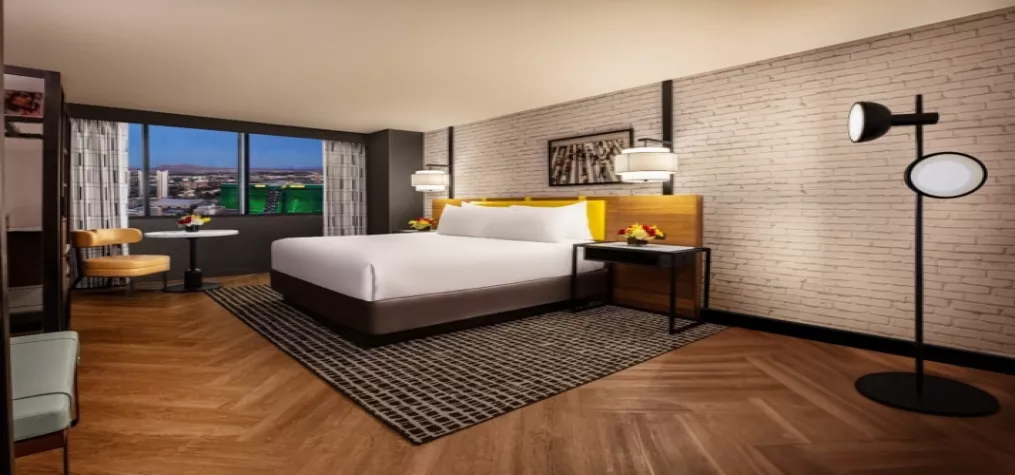 Just when it seems like Las Vegas can't get any bigger, brighter or more exciting for groups, MGM Resorts raises the bar again. The company continues to invest and innovate across its portfolio of Las Vegas resorts, with new attractions and upgraded experiences for attendees of all interests.  Remodeled Guest Rooms MGM Grand is the largest single hotel in the world with over 5,000 guest rooms and an 850,000-square-foot conference center. It is home to the newly remodeled MGM Grand Studio Tower—700 reimagined guest rooms with a fun mid-century vibe. Nearby, the iconic New York-New York Las Vegas Hotel & Casino recently completed a $63M redesign and remodel of its 1,830 guest rooms and 155 suites. Down the street, Bellagio Las Vegas is sporting renovated rooms in the Spa Tower with sunrise-inspired decor and luxurious soaking tubs in Premier King rooms after a $110-million transformation. Reinvented Luxury Experiences The Luxury Meetings District, made up of Bellagio Las Vegas, ARIA Resort & Casino, Vdara Hotel & Spa, The Cosmopolitan of Las Vegas, Park MGM and NoMad Las Vegas, is now more connected than ever before. A new interior walkway opened this October for a seamless attendee experience – connecting Vdara, Bellagio, and The Cosmopolitan of Las Vegas, guests can now walk from Park MGM to Bellagio in around 15 minutes. New on the scene in the Luxury Meetings District is Cathedrale at ARIA, TAO Group's upscale establishment specializing in exquisite French-Mediterranean cuisine offering elevated private dining experiences that opened in May. Heralded by World's Best 50 Restaurants, GQ and VOGUE, LPM at The Cosmopolitan of Las Vegas is opening this fall and will deliver its signature spontaneity and imaginative celebration of France's Mediterranean cuisine, art, and culture to the unique luxury resort in impeccable fashion.  A "New Wave  for Mandalay Bay A new wave of enhancements and experiences has arrived at Mandalay Bay Resort and Casino, including Flanker Kitchen + Sports Bar, an 8,445-square-foot restaurant that opened this June, perfect for pre- and post-game eats and drinks. Event planner's favorite, Chef Michael Mina's StripSteak, received a full renovation and now includes one of the largest private dining rooms on The Strip. Retro by Voltaggio debuts a one-year residency with a fun take on pop culture of the 80s and 90s with classic American dishes. An exciting addition planned for 2024 is Swingers, a 40,000-square-foot oasis of street food, miniature golf and art at Mandalay Bay. Most exciting for meeting planners, the 2.1 million-square-foot Mandalay Bay Convention Center  is undergoing a complete refresh, with lightened space, added eye-catching art, and improved technology infrastructure for even more flexible space. Energy-efficient digital signage now leads the way with faster internet speeds and new AV options. From renovated guest rooms and meeting spaces to celebrated dining options and dedicated teams, MGM Resorts is dedicated to delivering exceptional and innovative meeting experiences.