How to Choose the Best Tradeshow Lead Retrieval Device for Your Needs
April 4, 2013
I recently attended a meeting for exhibitors held by a large show organizer about six weeks before their event. The purpose was to give representatives from exhibiting companies a chance to hear presentations from experts on image, social media and tradeshow marketing. They also got live access to vendors of whom they could ask questions and place orders and I was there as the lead retrieval vendor.

After a morning of presentations, there was a lovely sit-down lunch where I had the chance to speak with some exhibitors for the first time. One of them asked a very reasonable question: "What is your most popular lead retrieval device?" Without skipping a beat, I responded, "The cheapest."

It's true. Despite offering a variety of devices with an array of features to meet a plethora of needs, the leading seller is always the cheapest. And it doesn't matter which device happens to be the cheapest on that particular order form, that's the one that will sell the most.

Please allow me to step up on my soapbox for a moment. Lead retrieval is not "one size fits all" and no one has, at any price, created a be-all, end-all solution. For example, a device that works brilliantly in one booth may be completely inappropriate for another. That same device may even work well in two very different booths, but for very different reasons. Trust me, it's not a simple equation, but all too often, I hear this:

• "We'll just get the lead retrieval device that provides a paper printout, it's cheaper."

• "We don't need to qualify our leads electronically. We'll sort the leads later, it's cheaper."

• "We'll just get one lead retrieval unit. Sure our booth is 60′ x 60′, but our sales people can walk to scan a badge. It's cheaper."

See a theme here? Everyone is trying to contain costs. So much so that even show organizers consider the price their exhibitors will pay when choosing vendors. But all too frequently, they choose the cheapest option rather than the one that will deliver the most effective results. The irony here is that while the most effective one may cost a little more, it often saves money and provides increased business opportunities in the long run. Now I'm not saying the most expensive option is always better. It's not. But the least expensive may not be either.

When choosing a lead retrieval solution, here are a few things to consider:

1. Booth size and layout. Will booth staff be able to capture a lead without a long or awkward a walk? The size and layout of your booth may be a significant factor in the type and number of capture stations you require.


2. Number of leads you expect to capture. This one can be deceptive. More leads do not necessarily mean more devices. But, if you can reasonably expect 1,000 leads during a two-day event, then you better have the bandwidth to handle that volume.


3. Number of booth staff. The last thing you want is to have staff crowded around a single lead capturing device rather than engaging prospects.


4. Experience of booth staff. By this I do not mean how experienced they are in their regular positions, but rather how experienced they are with engaging and qualifying prospects in a busy booth. The less experience present, the easier the process must be if you want them to be efficient and capture as many qualified leads as possible.


5. Event culture. Is this the type of show where most of the activity takes place during show hours or are there many "social" off-hour events where engagement occurs? Make sure you choose a solution that works when and where you need it.


6. Resources available after the show. This is often forgotten. You've been to the show, you've collected tons of leads, and now you're back in the office. You're probably pretty exhausted too. What kind of physical and technical resources do you have available to sort through and follow-up with your hard-earned sales leads?

These are the types of considerations to keep in mind when assessing your lead retrieval needs. There are solutions available to address all of these factors, but as I said before, there is no "one size fits all" solution. However, by assessing your needs and resources and then prioritizing them, you will be able to identify which features are crucial for your situation and which are not.

One more warning: Now that I've (hopefully) convinced you to not automatically default to the cheapest solution, don't think that the most expensive one with all its bells and whistles is the answer either. It may be, but over-purchasing is just as large of a sin as under-purchasing. Choose wisely, young Jedis. And keep track of the pros and cons of each solution as you go along. Though you may have a few bumps along the way, ultimately you will find the solution that works best for you.
.
Partner Voices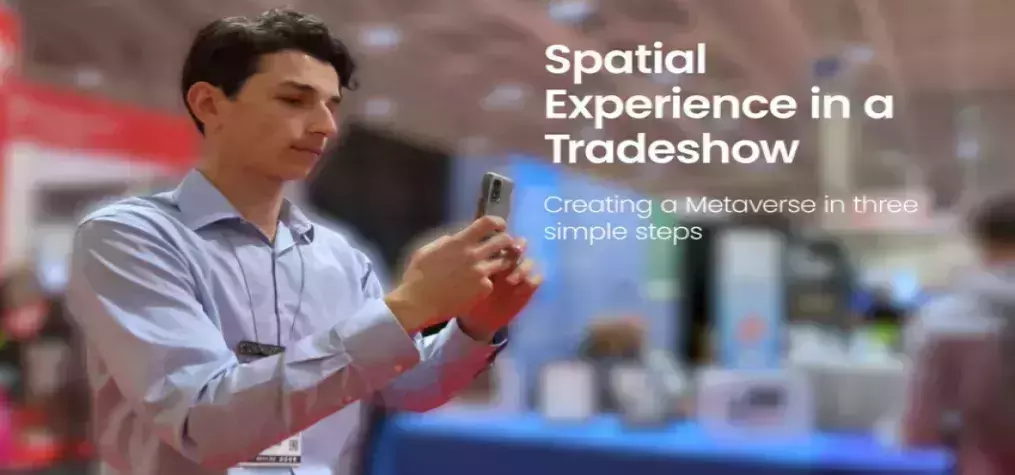 Have you ever heard someone say, "If it weren't for tomorrow, it'd be the future today" or "The future is unwritten?" Well, dear readers, when it comes to the use of augmented reality (AR) technology in the events space, that future is now!