Associations for Meetings, Trade Show Industry Express Concern Over Travel Ban
February 1, 2017
With the stroke of a pen last Friday, President Donald Trump put in place an Executive Order calling for the ban of Syrian refugees entering the U.S. for the next four months and anyone from six other countries - Iran, Iraq, Libya, Somalia, Sudan and Yemen – would not be permitted into the United States for the next three months.
The action not only created chaos at airports as people were detained, even some who were holding Green Cards, but also protests erupted in several locations.
With thousands of trade shows annually held in the U.S., many of which bring in international visitors from all over the globe, the travel ban has prompted concern from several trade show industry associations.
The International Association of Exhibitions and Events released a statement that said while the association usually does not take "a position in highly political matters, when it begins to affect our members, we do take notice."
Ryan Strowger, CEM, chair of IAEE and senior vice president of Exhibitions, Conferences and Sales with the International Association of Amusement Parks and Attractions (IAAPA), said, "The global exhibitions industry contributes more than $200 billion to world economies, with roughly $77 billion contributed to the U.S. GDP annually."
He added, "Furthermore, more than 42 million visitors attend 9,400+ business-to-business exhibitions and events in the U.S. alone and IAEE members and stakeholders are rightfully concerned about the long-term ramifications of restrictions placed on global travelers coming to the U.S."
The Professional Convention Management Association and the American Society of Association Executives, also said they were working with the Meetings Mean Business Coalition to monitor the situation closely and how it might impact the industry.
"While ASAE supports strong screening of travelers entering the U.S., it's clear that this order was too hastily enacted, sparking chaos and confusion across the world," said ASAE President and CEO John Graham, FASAE, CAE.
He added, "Not only does it concern us in terms of the impact on international attendance at association meetings and conferences, it raises questions about whether we are making policy as a nation based on religion. ASAE urges the administration to clarify the intent of this order and confirm our nation's commitment to equality and humanitarianism."
Deborah Sexton, PCMA's president and CEO, said "Last week's Executive Order on immigration and refugees has left many of us with questions on how this will potentially impact our meetings and events, for both North American programs that have attendees from outside of North America and Global programs with North American attendees."
She added that they would be sending out a short survey they are conducting with MMB to find out people's concerns, perceptions and fears regarding the impact of this Executive Order.
UFI, the Global Associaition for the Exhibition Industry, also weighed in.
According to UFI, its latest research from the 18th edition of UFI's Global Exhibition Barometer shows that more than half of the companies in the U.S. exhibition industry are expecting a negative impact from recent political developments in the world, including the outcome of the U.S. presidential elections.
As a result, "this endangers the recent solid growth of the U.S. exhibition industry," UFI officials concluded.
Dr. Andreas Gruchow, UFI president, said, "International exhibitions rely on the free exchange of goods and ideas, and on business people from all around the world having access to these unique market places. Most leading exhibition markets aim to become ever more international to serve these needs, and to grow as businesses."
He added, "As countless impact studies show, this growth hugely benefits local, regional, and national economies, who benefit from the direct business that exhibitors and attendees bring to town. Exhibitions are not only good businesses - they are also an enormous catalyst for economic growth.
Richard Harper and Paul Van Deventer, MMB Co-Chairs, said that their organization is working with the U.S. Travel Association to monitor the evolving policy environment and analyze the implications for the meetings industry.
Besides the survey, MMB also will be setting up a dedicated Web page with information about the executive order, talking points, frequently asked questions and other resources.
For more information, visit http://www.meetingsmeanbusiness.com/
IAEE also is asking its members to share their story with them on how this new executive order is affecting their organization and members by visiting the "Share Your Story" page on the Exhibitions Mean Business website or email Nicole Bowman, MBA, IAEE vice president of marketing and communications here.
Partner Voices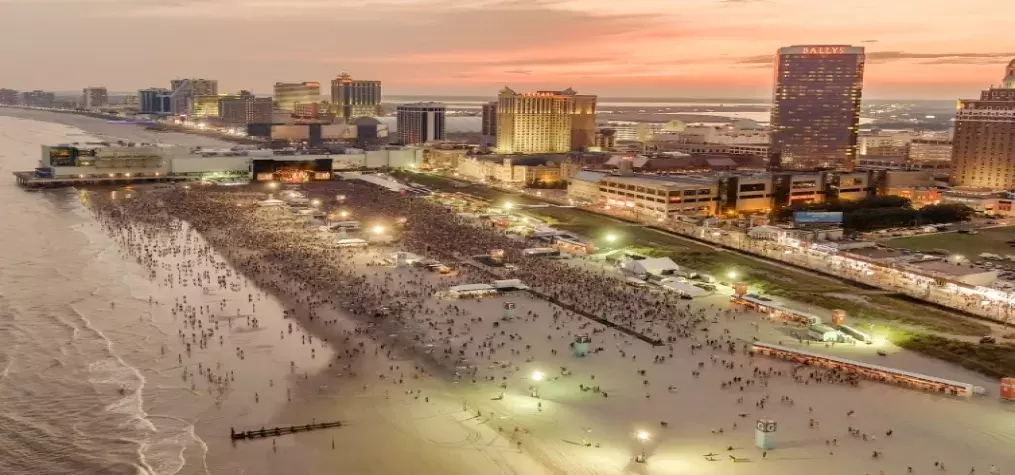 Caesars Entertainment strode into 2022 with its sights set on making the year one of innovation and renovation for the Empire as the company announced a $400 million, Las Vegas-style makeover for its Atlantic City properties. The master plan for the company's three East Coast properties -- Caesars, Harrah's, and Tropicana -- involves interior renovations, new celebrity dining concepts, and more to create the ultimate seaside conference destination.