2019 TOP Trade Shows List
The 2019 TSNN Top Trade Show List is exclusively sponsored by Expocad and the Orlando/Orange County Convention Center.

For a complete 2019 TSNN Top Trade Shows list that includes contact information please contact John Rice jrice@tsnn.com.
* Professional attendee figure includes exhibit personnel
TSNN Rank by NSF
Event
Event Date(s)
Venue
8

NAB Show

NAB Show is the world's largest event encompassing The M.E.T. Effect, the convergence of media, entertainment and technology. With 103,000 attendees from 161 countries and 1,800+ exhibitors, NAB Show is the ultimate marketplace for solutions that transcend traditional broadcasting and embrace content delivery to new screens in new ways. From creation to consumption, across multiple platforms and countless nationalities, NAB Show is where global visionaries convene to bring content to life.

Organizer: National Association of Broadcasters # Exhibitors: 1,632 # Attendees: 40,111

04/06/2019 to 04/11/2019

Las Vegas Convention Center Las Vegas

NSF: 924,876

36

International Baking Industry Exposition (IBIE)

IBIE exhibitors represent the entire grain-based industry. They showcase the latest in equipment, technology, ingredients, baking and decoration supplies, new techniques, sanitation methods, transportation and distribution channels. They also provide products and services for general office management, production facility, food safety and retail operations.

Organizer: IBIE LLC/SmithBucklin # Exhibitors: 939 # Attendees: 12,439

09/07/2019 to 09/11/2019

Las Vegas Convention Center Las Vegas

NSF: 430,850

128

LDI (Live Designs International)

As the leading conference and tradeshow for live design professionals from all around the globe, LDI hosts over 14,000 members of the production community, working in a wide range of international live and broadcast venues – festivals, corporate events, theatre, concerts, clubs, theme parks, architainment, and houses of worship.

Organizer: Informa Markets # Exhibitors: 355 # Attendees: 8,680

11/18/2019 to 11/24/2019

Las Vegas Convention Center Las Vegas

NSF: 122,200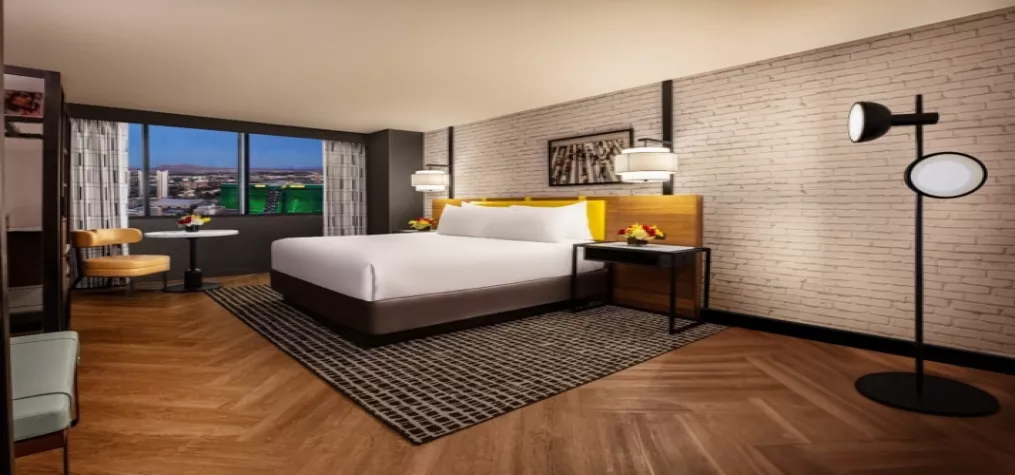 Just when it seems like Las Vegas can't get any bigger, brighter or more exciting for groups, MGM Resorts raises the bar again. The company continues to invest and innovate across its portfolio of Las Vegas resorts, with new attractions and upgraded experiences for attendees of all interests.  Remodeled Guest Rooms MGM Grand is the largest single hotel in the world with over 5,000 guest rooms and an 850,000-square-foot conference center. It is home to the newly remodeled MGM Grand Studio Tower—700 reimagined guest rooms with a fun mid-century vibe. Nearby, the iconic New York-New York Las Vegas Hotel & Casino recently completed a $63M redesign and remodel of its 1,830 guest rooms and 155 suites. Down the street, Bellagio Las Vegas is sporting renovated rooms in the Spa Tower with sunrise-inspired decor and luxurious soaking tubs in Premier King rooms after a $110-million transformation. Reinvented Luxury Experiences The Luxury Meetings District, made up of Bellagio Las Vegas, ARIA Resort & Casino, Vdara Hotel & Spa, The Cosmopolitan of Las Vegas, Park MGM and NoMad Las Vegas, is now more connected than ever before. A new interior walkway opened this October for a seamless attendee experience – connecting Vdara, Bellagio, and The Cosmopolitan of Las Vegas, guests can now walk from Park MGM to Bellagio in around 15 minutes. New on the scene in the Luxury Meetings District is Cathedrale at ARIA, TAO Group's upscale establishment specializing in exquisite French-Mediterranean cuisine offering elevated private dining experiences that opened in May. Heralded by World's Best 50 Restaurants, GQ and VOGUE, LPM at The Cosmopolitan of Las Vegas is opening this fall and will deliver its signature spontaneity and imaginative celebration of France's Mediterranean cuisine, art, and culture to the unique luxury resort in impeccable fashion.  A "New Wave  for Mandalay Bay A new wave of enhancements and experiences has arrived at Mandalay Bay Resort and Casino, including Flanker Kitchen + Sports Bar, an 8,445-square-foot restaurant that opened this June, perfect for pre- and post-game eats and drinks. Event planner's favorite, Chef Michael Mina's StripSteak, received a full renovation and now includes one of the largest private dining rooms on The Strip. Retro by Voltaggio debuts a one-year residency with a fun take on pop culture of the 80s and 90s with classic American dishes. An exciting addition planned for 2024 is Swingers, a 40,000-square-foot oasis of street food, miniature golf and art at Mandalay Bay. Most exciting for meeting planners, the 2.1 million-square-foot Mandalay Bay Convention Center  is undergoing a complete refresh, with lightened space, added eye-catching art, and improved technology infrastructure for even more flexible space. Energy-efficient digital signage now leads the way with faster internet speeds and new AV options. From renovated guest rooms and meeting spaces to celebrated dining options and dedicated teams, MGM Resorts is dedicated to delivering exceptional and innovative meeting experiences.