World of Concrete and SHOT Show Make Triumphant Returns to Las Vegas, Exceed Expectations
March 9, 2023
Two major trade shows recently returned to Las Vegas with robust attendance and expanded footprints pushing the boundaries of pre-pandemic levels. Check them out! 
World of Concrete

 
World of Concrete, the world's largest trade show for the commercial concrete and masonry construction industries, held its 49th annual event at the Las Vegas Convention Center (LVCC) Jan. 17-19. With 48,000 registered professionals, heavy show floor foot traffic and more than 120 countries in attendance, the event further solidified itself as the critical meeting place for industry advancement, according to officials from Informa Markets, which owns and produces the show.
"The 2023 edition of World of Concrete far exceeded our expectations," said Jackie James, vice president, World of Concrete. "The crowded show floor and packed educational sessions proves how essential meeting face to face is, that it remains important now more than ever to have a space to connect, to learn, to share across the concrete, masonry and construction industries as a vital contributor to our economy." 
She added, "In-person attendance is on its way back to pre-pandemic levels and the World of Concrete event leads global trends in construction." 
The massive event spanned more than 587,000 square feet of expo space, with both indoor and outdoor spaces chock full of product displays, demonstrations and competitions from hundreds of suppliers showcasing innovative products and technologies.
Notable show floor highlights included the unveiling of exciting new innovations. These included the first-ever Mobile 3D Robotic Concrete Printer and AI Site Map Printer; top of the line work trucks with electric batteries and aerodynamic improvements; and the widest range of original manufactured equipment from excavators to wireless concrete sensors, AI-based platforms and modern materials such as the eco-driven Autoclaved Aerated Concrete.
World of Concrete's premium education program offered more than 160 technical sessions, including hands-on training, safety expertise and business development. New additions to the 2023 education program included eight concrete basics and leadership courses presented in Spanish, a revamped three-hour comprehensive concrete repair track and new workshops focused on women in construction.
The event also featured exciting demonstrations and competitions, including the highly anticipated 2023 edition of the SPEC MIX BRICKLAYER 500 competition. The winner, mason Michael Schlund, and his tender, Arron Kowalski, laid 759 bricks in one hour, leading to Schlund being crowned "World's Best Bricklayer" and receiving a new Ford F250 4x4 Super Duty truck, an Essick Pro12 Mixer and more than $15,000 in cash and prizes.   
Returning for the 18th consecutive year, the Concrete Industry Management (CIM) program held its Silent & Live Auctions, generating a record-breaking fund of more than $2.1 million. Designed to prepare students for the concrete workforce early in their careers, the CIM education program provides students with a Bachelor of Science degree in Concrete Industry Management, a business program specifically developed for the concrete industry. World of Concrete also donated $15,000 to the CIM Education Program for the second consecutive year. 
"Over 300,000 concrete contractors are employed in the United States and represent the backbone of the American and international workforce, said Kevin Thornton, senior vice president of construction, Informa Markets. "World of Concrete is proud to support laborers in education and connection, providing opportunity to advance the industry toward enhanced sustainability, efficiency and safety and continuing growth." 
World of Concrete will return to the LVCC for its 50th anniversary edition Jan. 23-25, 2024. 
SHOT Show
The 45th edition of the Shooting, Hunting and Outdoor Trade Show (SHOT Show) showcased an expanded showfloor, serious buyers, packed special events and solid attendance that exceeded expectations.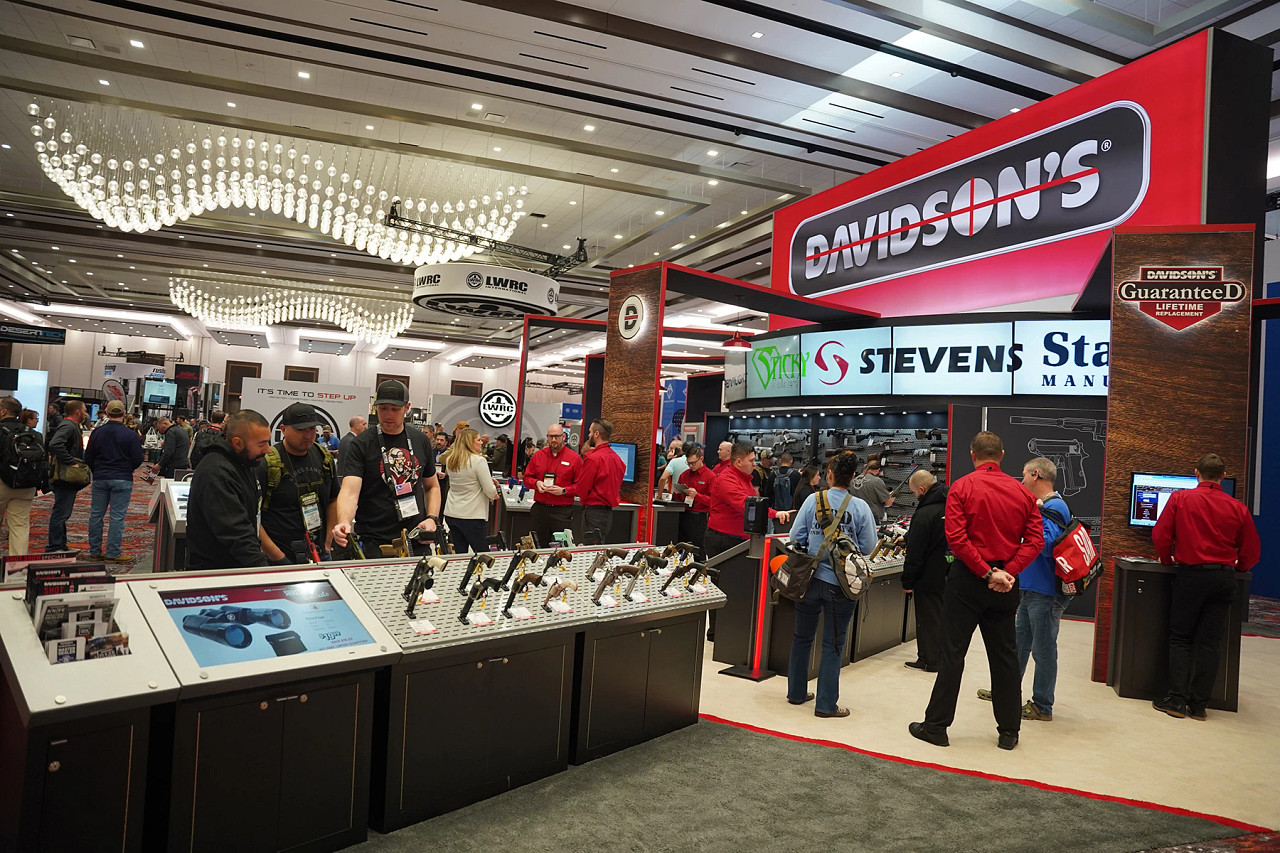 Held Jan. 17-20 at The Venetian Expo and CAESARS Forum, the fifth largest trade show in Las Vegas achieved pre-pandemic level attendance with more than 52,000 industry professionals eager to view new and innovative products for target shooting, hunting, outdoor recreation and law enforcement.
"The industry was back in full force at this year's SHOT Show, and the energy and momentum among all attendees was palpable," said Chris Dolnack, senior vice president and chief customer officer of the Firearm Industry Trade Association (NSSF), which owns and operates SHOT Show.
He continued, "I always say the SHOT Show is like Christmas morning and the Super Bowl all in one, and this year it was that and more. We are thrilled at the positive response from our attendees and optimistic for a strong year of industry sales to come."
According to show officials, this year's edition was the largest SHOT Show ever, marking the second year of expanded exhibit space at CAESARS Forum, in addition to The Venetian Expo. More than 2,500 exhibiting companies displayed products and services spanning more than 816,000 square feet of expo space at both venues.
"At a time when businesses across the country are questioning the efficacy of post-pandemic, physical trade shows, along comes the SHOT Show to dispel concerns," said Dan Ferris, owner of MidWest Outdoors Media. "There is simply no substitute for meeting face to face with your industry associates and customers, especially in the firearms world."
Meanwhile, the show's two-day Supplier Showcase featured 539 original equipment manufacturer (OEM) third-party suppliers meeting with exhibiting manufacturers and exploring their needs for extrusions, fabrication, fabrics, machinery, metal, plastics, software, logistical support and tools. 
"For a company like us with 40 people, [Supplier Showcase is] a great fit," said Jeff Miller, sales manager at Active Manufacturing. "We can come show our wares for two days. The bigger companies come up here and walk around and the engineering people will talk to us. We've done it every year, and it's really helped us increase our business."
With education sessions for firearm retailers, shooting range operators, exporters and law enforcement professionals an important segment of SHOT Show, this year, more than 6,000 industry members attended SHOT University, Law Enforcement Education Program and Export Training Sessions to receive in-person classes on compliance, operations and more. 
"SHOT University adds an amazing value for us," said Traci Lewellin, owner of Gun City. "I can come in here, I have our managers out still looking at booths and I can learn some of the educational processes to take back to our stores and try to implement them over the next year."
According to show officials, many official show events cluster around the four days of SHOT Show, creating "SHOT Week."
Among them was the NSSF/HAVA Golf Classic in support of Honored American Veterans Afield, a firearm industry-run charitable organization that helps the healing of disabled combat veterans through participation in hunting and the shooting sports, and Industry Day, held at the Range the day before the show. This event, which hosted 3,400 attendees and exhibitors this year, gives invited media members and buyers an exclusive opportunity to preview and test the latest guns, gear and gadgets before anyone else in the industry.
Other special events included the well-attended NSSF Governors' Forum and the NSSF Hall of Fame, which honors industry leaders for their contributions to NSSF, the SHOT Show and target shooting and hunting in America.
This year, the SHOT Show provided more networking opportunities than ever with an exciting new element: "SHOT After Dark," featuring three evenings of events that included two networking receptions and an All-Star Jam Concert for all show attendees.
"This year is one of the best shows I've ever been a part of," said Joe Bartozzi, president and CEO of NSSF. "On behalf of NSSF, I'd like to thank all the attendees, exhibitors, media members and our guests this week for helping the industry to succeed and supporting NSSF's mission."
SHOT Show will return to The Venetian Expo and CAESARS Forum Jan. 23-26, 2024.
Don't miss any event-related news: Sign up for our weekly e-newsletter HERE, listen to our latest podcast HERE and engage with us on Twitter, Facebook and LinkedIn!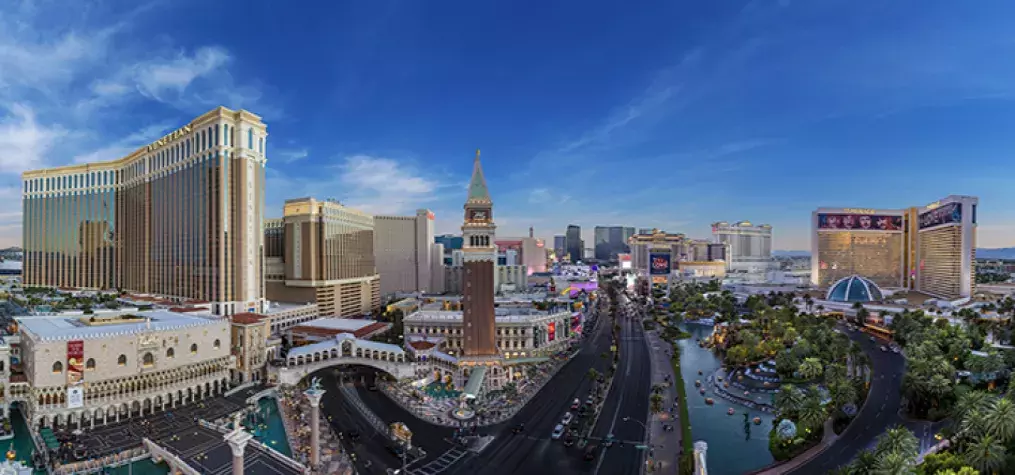 Less than six months ago, Lisa Messina joined the Las Vegas Convention and Visitors Authority (LVCVA) as the first-ever chief sales officer after leading the sales team at Caesars Entertainment. A 12-year Las Vegas resident, Messina is a graduate of Cornell University's School of Hotel Administration and serves on MPI International's board of directors. TSNN had a chance to catch up with this dynamic leader and talk to her about her vision for the new role, current shifts in the trade show industry, creating more diversity and equity within the organization, and advice to future female leaders. Lisa Messina, Chief Sales Officer, LVCVA With Las Vegas becoming The Greatest Arena on EarthTM, what are some of the things you're most excited about in your role? Our team was at The Big Game's handoff ceremony earlier this month, and I couldn't help but think, "We're going to crush it next year!" These high-profile events and venues not only drive excitement, but also provide unmatched opportunities for event planners. Allegiant Stadium hosts events from 10 to 65,000 people and offers on-field experiences. Formula 1 Grand Prix will take place in Las Vegas in November, after the year-one F1 race, the four-story paddock building will be available for buyouts and will also offer daily ride-along experiences that will be available for groups. And, of course, the MSG Sphere officially announced that it will open in September, ahead of schedule, with a U2 residency. It's going to be the most technologically advanced venue as far as lighting, sound, feel, and even scent, and it will be available for buyouts and next-level sponsorships inside and outside. There's no ceiling to what you can do when you're doing events in Las Vegas. Allegiant Stadium As the trade show and convention business returns to the pre-pandemic levels, what shifts are you noticing and how do you think they will impact the industry going forward? Our trade show organizers are very focused on driving customer experience. Most of our organizers are reporting stronger exhibitor numbers and increased numbers of new exhibitors, with trade shows proving to be almost or above 2019 levels. Now our organizers are really doubling down on driving attendance and focusing on the data to provide that individualized, customized experience to help attendees meet their goals and get the best value. Some companies continue to be cautiously optimistic with their organizational spend when it comes to sending attendees, but I think it will continue to improve. As the U.S. Travel Association makes more progress on the U.S. visa situation, we also expect a growing influx of international attendees. What are some innovative ways the LVCVA helps trade show and convention organizers deliver the most value for their events? We focus on customer experience in the same way that trade show organizers are thinking about it. We got rave reviews with the West Hall Expansion of the Las Vegas Convention Center (LVCC), so over the next two years, we will be renovating the North and the Central halls, which will include not just the same look and feel, but also the digital experiences that can be leveraged for branding and sponsorship opportunities. Vegas Loop, the underground transportation system designed by The Boring Company, is also a way we have enhanced the customer experience. Vegas Loop at the LVCC has transported more than 900,000 convention attendees across the campus since its 2021 launch. Last summer, Resorts World and The Boring Company opened the first resort stop at the Resorts World Las Vegas , with plans to expand throughout the resort corridor, including downtown Las Vegas, Allegiant Stadium and Harry Reid International Airport. The LVCVA also purchased the Las Vegas Monorail in 2020, the 3.9-mile-long elevated transportation system that connects eight resorts directly to the convention center campus. This is the only rail system in the world that integrates fares directly into show badges and registration. For trade show organizers, these transportation options mean saving time, money and effort when it comes to moving groups from the hotels to LVCC and around the city. Also, the more we can focus on building the infrastructure around the convention center, the more it supports the customer experience and ultimately supports our trade show organizers. Scheduled to debut in Q4, Fontainebleau Las Vegas will offer 3,700 hotel rooms and 550,000 square feet of meeting and convention space next to LVCC. What are some of the plans for advancing DEI (diversity, equity and inclusion) within your organization? We're currently partnering with instead of working with a leading consulting firm, to lay the foundation and create a solid DEI plan and be the leader when it comes to DEI initiatives. The heart of that journey with the consulting firm is also talking to our customers about their strategic approaches to DEI and driving innovation in this space. What are your favorite ways to recharge? My husband and I have an RV and we're outdoorsy people. So, while we have over 150,000 world-class hotel rooms and renowned restaurants right outside our doorstep, one of my favorite things to do is get out to Red Rock Canyon, the Valley of Fire, and Lake Mead. Five of the top national parks are within a three-hour drive from Las Vegas, so there's a lot you can do. We love balancing the energy of Las Vegas with nature, and we're noticing that a lot of attendees add activities off the Strip when they come here. Valley of Fire What advice would you give to women following leadership paths in destination marketing? I think it's about being laser-focused on what you want to accomplish; building a team around you that lifts you and helps you achieve your goals; and being humble and realizing that you do it as a group. No one gets this done alone. Thankfully, there are a lot of women in leadership in this organization, in our customers' organizations, and in this city that we can be really proud of. We're a formidable force that is making things happen. This interview has been edited and condensed. This article is exclusively sponsored by the Las Vegas Convention & Visitors Authority. For more information, visit HERE.