What Super Bowl XLVIII Reveals About Corporate Event Marketing Trends
January 28, 2014
Later this week, Super Bowl XLVIII will be played for the first time in a cold-weather outdoor location. There is a lot of speculation about the prep needed for the players, the stadium, and the half-time show given the chance for cold and snow.
Even if you aren't a sports fan and just watch for the commercials or the halftime show, in reality the Super Bowl is just like any other corporate event we plan. And there are insights into event trends to be learned.
Reaching a Bigger Audience
The cheapest Super Bowl ticket has a face value of $500, reaching all the way up to over $1M for a suite! Even with those prices, an estimated 80,000 are expected to attend. And beyond in-person attendees, in 2013 approximately 108 million people watched the Super Bowl.
Trend insight: Any live sporting event shown on TV is a live video broadcast. While our corporate events or trade shows won't be covered by one of the major network television channels, we can still reach beyond in-person attendees to a global audience through live video streaming.
It's more affordable and easier to do because of advances in technology. Everyday tools like FaceTime or Skype can bring in remote experts or customers to an event to share their important insights or help solve an attendee's challenge. Or live video stream a small part of your event—like an opening keynote or important product announcement. Beyond the initial broadcast, the video archive can be used over and over again in other marketing communications or campaigns.
And who knows: seeing part of the event via live video stream might be the tipping factor to drive non-attendees to attend the in-person event next year!
The Second Screen
During last year's Super Bowl, a full 75% of brand ads integrated social, mobile, hashtags, or apps into their ads. Hashtag usage specifically increased 31% from 2012 to 2013. Expect even more integration of "second screen" experiences (using mobile devices and tablets simultaneously to enhance the viewing experience) during this year's Super Bowl.
Trend insight: With Super Bowl advertisers reportedly paying $4M for a 30-second spot, these high-profile spots can't afford to only be a one-time big splash; brands are using them to lead to ongoing consumer engagement.
Event marketers should do the same; instead of thinking of an event as a one-off campaign, think of it as a longer engagement. How?
Rather than incorporating a hashtag that is tied to a particular event, make it last year-round. ("Evergreen"—as Guy Kawasaki calls it.) Find other ways to connect with attendees once the event is over. Have them follow you on other social platforms. Use QR codes to provide links to sign up for ongoing communications with insights and trends (a mobile-optimized landing page, of course). Share unique or exclusive content available to those using your event's mobile app. The list goes on and on.
Take it To the Users
For the eighth year, Doritos is hosting the "Crash The Super Bowl" contest. From thousands of submissions from over 30 countries, two fans have a shot at having their commercial play during the game. The video receiving the most fan votes also receives a $1 million prize.
Trend insight: 100 hours of video are uploaded to YouTube every minute! On average, more than 350 million photos are uploaded every day to Facebook. Everyone today is sharing photos and creating video, so why not tap into crowd-sourced content to make your event more personal?
And you can still get attendee participation without a hefty prize. Ask attendees to weigh in on the agenda or speakers they'd like to see through a simple poll. Provide a way for them to submit questions they'd like answered or rank topics. Encourage them to share their event experience via crowd-sourced photos (like Mashable did at CES.)
Or if your attendees are very outgoing, have them submit videos showing how your solutions help them, or personal stories of how they've achieved success. These in particular make for a great event opener or wrap-up!
Let's Get Real
One of the most talked about elements of last year's Super Bowl happened when the power went out in the Superdome for about 34 minutes. Oreo tweeted what is now cited as the epitome of real-time marketing, and saw over 10,000 re-tweets in just one hour.
Trend insight: Always being connected has it upsides and downsides. We now have access to more information than ever, but we expect it to be current, real-time. It's no longer acceptable to wait for information (or anything else, frankly!).
When it comes to events, speed and agility are important and necessary components of our strategy.
If there is a hot topic or news the entire industry is talking about (even if it just happened hours before), incorporate that trending topic into your event. Buyers also attend events to have their specific questions answered; create opportunities for authentic engagement by answering their known hot buttons.
And keep making adjustments throughout. It takes a solid strategy to be able to operate "on the fly", but attendees will feel more connected to you knowing you're in touch with current trends.
No matter what team wins Super Bowl XLVII, what the most talked about commercial ends up being, or how the halftime show is received, as an event, the occasion has much to show us about corporate event marketing trends!
Partner Voices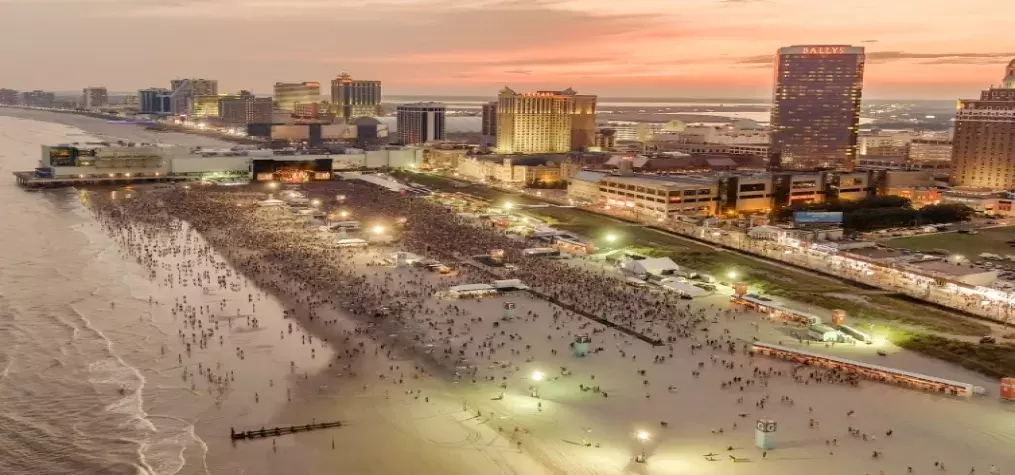 Caesars Entertainment strode into 2022 with its sights set on making the year one of innovation and renovation for the Empire as the company announced a $400 million, Las Vegas-style makeover for its Atlantic City properties. The master plan for the company's three East Coast properties -- Caesars, Harrah's, and Tropicana -- involves interior renovations, new celebrity dining concepts, and more to create the ultimate seaside conference destination.