IMEX Debuts Groundbreaking Digital Wayfinding at 2023 Frankfurt and Las Vegas Shows
May 19, 2023
Attendees at IMEX Frankfurt, which takes place May 23-25 at Messe Frankfurt, and IMEX America, set for Oct. 17-19 at Mandalay Bay Convention Center in Las Vegas, will benefit from enhanced digital navigation thanks to an innovative combination of indoor positioning technology from Crowd Connected and an interactive floorplan from ExpoFP. 

Crowd Connected, a pioneer in location-based visitor tracking, and ExpoFP, a leading provider of digital floorplans to the exhibitions industry, developed the QR code navigation solution to revolutionize the visitor experience by providing an unparalleled level of orientation, accessibility and efficiency in navigating the show floor.
IMEX show attendees will be able to use their smartphones to scan QR codes strategically placed throughout the venue, which will open an interactive floorplan. This pinpoints their current location, enables them to easily search for specific exhibitors, product categories or other show features and plot a route across the show floor. It then estimates the walk time to their chosen destination.
The digital floorplan is then available subsequently on attendees' smartphones any time it's needed.
No longer will attendees face the inconvenience of getting lost or wasting time searching for exhibitors. IMEX show attendees can maximize their time, network effectively and explore the latest industry offerings without navigational hurdles.
"We're focused on delivering a more intuitive networking and appointment experience," said Oli Bailey, head of interaction design at IMEX Group. "Navigation is a critical component of this, and we're delighted to be providing a best-in-class solution that will help buyers find the exhibitors they're looking for and get to appointments on time.
Bailey added that attendees should look out for the QR codes around the show floor, including on directional signage.
Crowd Connected's partnership with ExpoFP provides IMEX show attendees with a simple, effective indoor navigation experience, according to Mark Maydon, commercial director of Crowd Connected.
"Our research suggests the value of a typical exhibition would be 20% higher if visitors had no problem finding everything they were looking for," Maydon said. "By bringing digital techniques to the show floor, we're helping organizers maximize interactions while providing attendees with a better experience."
Meanwhile, an interactive floor plan with blue dot makes navigation easier, according to Ross Sudentas, CEO and founder of ExpoFP.
"Soon, it'll be as strange seeing an event visitor with a static PDF map as it is a driver using a paper road map," Sudentas said. "The main reason it's not more widespread is economics, but with QR code wayfinding indoor navigation comes lower cost, putting it within reach of any show."
Don't miss any event-related news: Sign up for our weekly e-newsletter HERE, listen to our latest podcast HERE and engage with us on Twitter, Facebook and LinkedIn!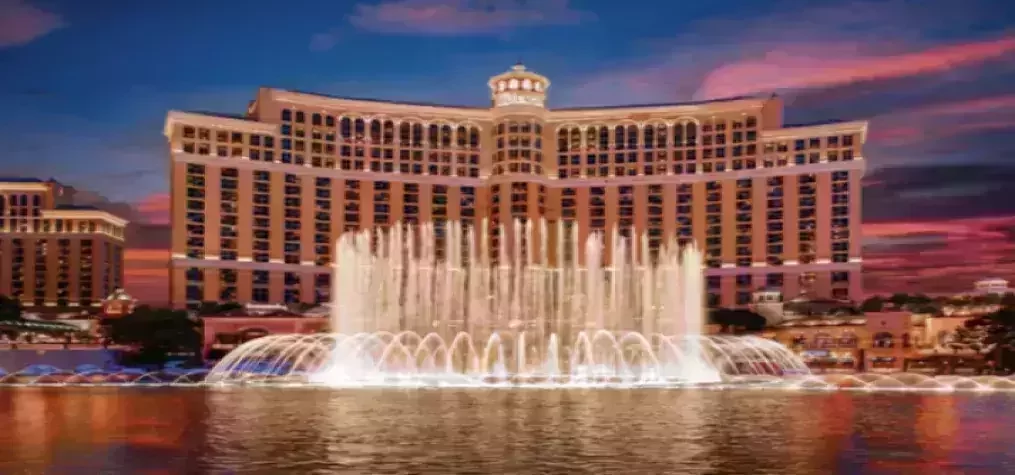 HERE, hosting responsible meetings and caring for our communities are top priorities. Through its 'Focused on What Matters: Embracing Humanity and Protecting the Planet' philosophy, MGM Resorts commits to creating a more sustainable future, while striving to make an impact in the lives of employees, guests, and the communities in which it operates. Water Stewardship Efforts MGM Resorts understands the importance of using water efficiently, especially in the desert destination of Las Vegas. Conserving water has always been part of the mission, but MGM Resorts has expanded its ambition into water stewardship. In 2022, MGM Resorts President and CEO Bill Hornbuckle signed the CEO Water Mandate—a UN Global Compact initiative mobilizing business leaders to advance water stewardship. MGM Resorts International was the first gaming company to take this important step. MGM Resorts replaced 200,000 square feet of real grass with drought-tolerant landscaping in Las Vegas. MGM Resorts pledges to reduce water withdrawal intensity by 33% by 2025 and by 35% by 2030. From 2007-2021, use of more than 5.6 billion gallons of water was avoided because of conservation efforts. Caring for One Another MGM Resorts' Food Donations Program collects and preserves unserved food from conventions held at MGM Resorts properties, then safely donates to food insecure people in the community. Since the program's launch in 2016, more than 3.7 million meals toward a 2025 goal of 5 million meals have been donated into the community. Donations include: Unserved perishable prepared foods from events Perishable unprepared food from MGM Resorts' kitchens Nonperishable food items from minibars and warehouses The collaboration with Southern Nevada's primary food bank, Three Square, has developed the infrastructure needed to safely collect, transport, and store food from MGM Resorts properties in Las Vegas, reducing food waste while serving the community. Fostering Diversity and Inclusion To MGM Resorts, a diverse and talented workforce is essential to success. By cultivating innovative strategies that consider multiple perspectives and viewpoints, the company creates an inclusive workplace culture that benefits its employees and community. MGM Resorts takes pride in being a welcoming home for veterans, individuals with disabilities, people from diverse backgrounds, LGBTQ+ community members, and more. This commitment to inclusion is reflected in the company's recruitment and hiring practices and its social responsibility initiatives. From the workplace to the community, MGM Resorts' commitment to diversity, equity and inclusion remains unwavering, and its efforts continue to create a more equitable and sustainable world for all. MGM Resorts understands its responsibility to contribute to the social and economic progress of the communities in which it operates. HERE, we embrace humanity.