The NAMM Show and AXPONA Strike a Powerful Chord With Music-Loving Attendees
May 22, 2023
The music products industry's largest B2B trade show and a B2C event dedicated to music enthusiasts recently attracted record attendance to convention venues in Anaheim, Calif., and outside of Chicago, respectively.  
The NAMM Show
Presented by the National Association of Music Merchants (NAMM), the 2023 edition of The NAMM Show reunited the $17 billion music products, pro audio and entertainment technology industry April 13-15 at the Anaheim Convention Center, the venue it has called home since 1978. 
The annual trade show and conference, which has been steadily working its way back to pre-pandemic levels, producing three shows in 18 months due to COVID-induced date changes, hit its target goals for 2023 with quality attendance, new product launches, vast media coverage and robust international attendance, according to NAMM officials.
"As the pandemic and its impact continues to recede, the industry is quickly finding its footing for the future," said NAMM President and CEO Joe Lamond. "These are the moments in history when big changes occur, both in innovation and in careers, and the leaders of tomorrow were here, creating exciting new business opportunities at the true crossroads of the industry."   
With the theme of "Bringing the Future Into Focus," the massive show fostered the debut of new products, business opportunities and reconnections, welcoming 46,711 attendees representing 120 countries and territories, and boasting a 64% year-over-year increase in international attendance.
Attendees comprised an upbeat mix of industry professionals, including domestic and international retail and distribution buyers and employees, exhibitors and entertainment tech, as well as pro audio buyers and professionals, media, artists and guests. 
A Harmonious Array of Product 
Known for its jam-packed programming filled with show-stopping performances, products and awards presentations, the show featured an expansive expo floor occupied by more than 1,200 exhibitors representing 3,500 brands. 
Many returning exhibitors expounded upon the benefits of exhibiting at The NAMM Show, including the strong platform the show provides to showcase product, announce news and connect face-to-face with buyers, partners, artists and press.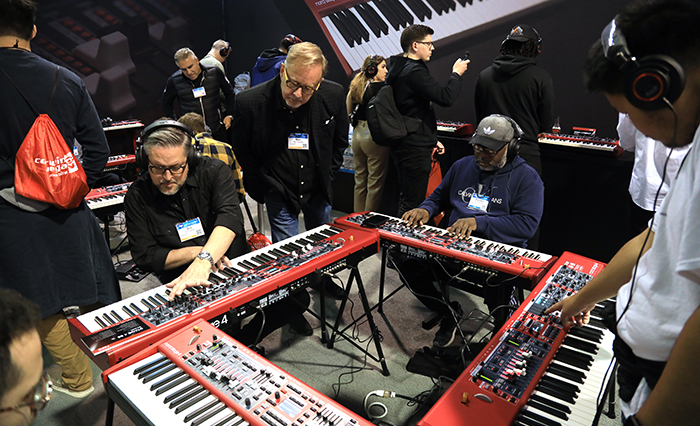 "The NAMM Show is the place where the entire industry gathers, so it's the place to be," said first-time Exhibitor Tim Exile of U.K.-based Endless LTD. "We chose the NAMM Show to bring the product to the world. If you're launching something new in music creation, it's the place to be." 
With global travel restrictions now eased, international buyers were out in force, taking in much of the new and unique product that had been missing from their businesses over the past three years.
"It's our first one back since the pandemic," said Luiz Sacoman, sales manager of Sales FX Music in São Paulo, Brazil. "It's great to be here, shake hands, see everyone and the products — that's the main reason we're here. We're looking for small manufacturers and boutique brands." 
A Symphony of Learning Opportunities 
Besides immersing themselves in the cacophony of a bustling showfloor, NAMM members had the chance to learn from and connect with leading global experts via more than 200 premium education sessions designed to inform, engage and inspire. 
Conference highlights included NAMM U pre-show sessions such as the NAMM Marketing Summit and NAMM Succession Summit; daily NAMM U Breakfast Sessions featuring panels of industry leaders and innovators discussing top-of-mind industry topics; the NAMM Idea Center featuring curated topics designed to give members the tools to accelerate their business; and more than 75 pro audio and music technology sessions, to name just a few of the show's myriad educational opportunities and hands-on workshops.
Additionally, The NAMM Foundation programmed curated education and sessions for professionals with its GenNext, Music Education Days and the Nonprofit Management Institute (under the banner of its Million More Music Makers initiative) to advance music-making for people of all ages and abilities.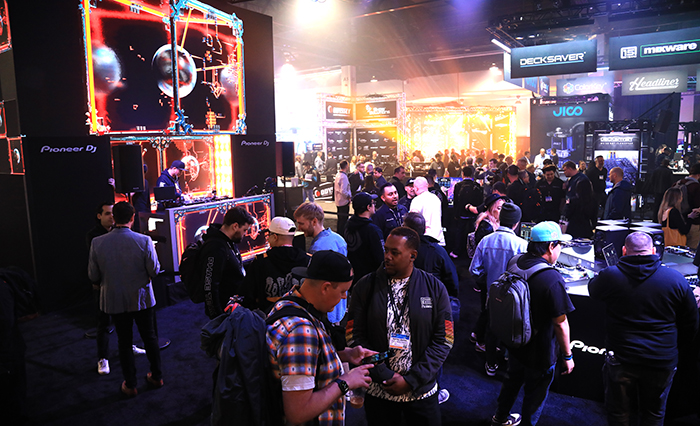 Attendees also had the chance to get hands-on with top audio gear via special demo rooms, attend special awards ceremonies, listen in on interviews with well-known music artists, attend behind-the-scenes presentations with entertainment technology leaders and enjoy special evening performances and celebrations featuring a host of industry leaders and luminaries. 
Meanwhile, the show's digital extension, the NAMM Show+, provided a platform for attendees to connect with each other and livestream sessions, special events and performances from across the Anaheim Convention Center campus. Nearly 100 sessions and special events were livestreamed, with attendees able to engage through chat, networking features and more on the platform, which will remain open until May 26 to view replays of sessions and events and continue networking. 
"The global industry came together…and it was incredible to see so many NAMM members, companies, products and technologies under one roof again," said NAMM Chair Joel Menchey, president of Menchey Music Service. "Hearing from NAMM members, the momentum is back, further proving we're truly at our best when we're together in supporting and strengthening our industry." 
The NAMM Show will return to its pre-pandemic January timeline when it returns to Anaheim Jan. 25-28, 2024.  
AXPONA 
Presenting three jam-packed days of high-end sound, technology, seminars, live music and the industry's latest products for music lovers, audiophiles and musicians alike, Audio Expo North America (APOXNA) hosted its 12th annual edition April 14-16 at the Renaissance Schaumburg Hotel and Convention Center in Schaumburg, Ill.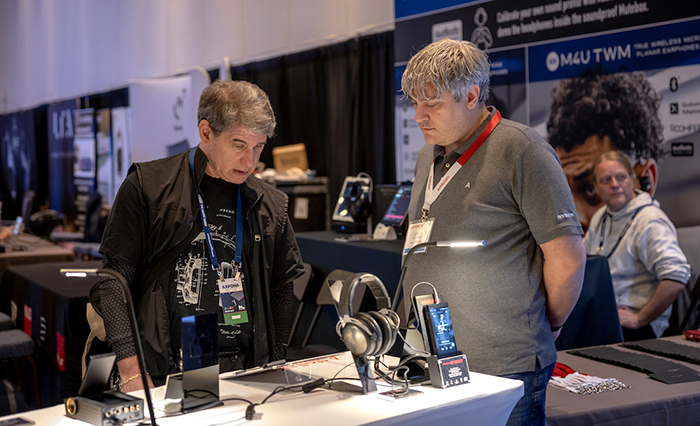 Owned by JD Events, the consumer show celebrated its largest event ever, welcoming a record 9,115 attendees — a 20% increase compared to 2022 — and more than 500 high-end audio equipment manufacturers and brands across 12 floors. 
The show provided an array of offerings for music enthusiasts, including hundreds of product debuts, live concerts, industry-led seminars and 200 high-fidelity listening rooms that allowed attendees to experience the newest technology in high-end consumer audio products. 
Out on a busy show floor, many exhibitors raved about the serious buyers and strong uptick in traffic they were experiencing at the premier audio event.
"AXPONA 2023 was an absolutely tremendous success for Fidelity Imports," said Steve Jain, managing director and co-founder of Fidelity Imports. "In 2022 we had two rooms, we increased our room count to six for 2023 and we want eight-10 rooms for 2024! If you are in any way involved in the audio industry, you simply cannot miss this show!"  
Popular show features included the Expo Hall, with a Record Fair offering new and vintage vinyl, and a vast array of turntables, cables, accessories, racks and stands, tonearms, cartridges and car audio.  
In the venue's largest ballroom, the Ear Gear Experience showcased thousands of products and accessories from cables to headphones, LPs and SACDs (high-resolution audio disc format), all designed to enhance the personal audio listening experience. Attendees were able to venture from room to room to sit, listen and compare the various systems.  
Beyond its myriad exhibits, AXPONA also featured an array of live musical performances and educational seminars with industry experts and demonstrations. 
"This was the largest AXPONA yet," said Liz Smith, AXPONA show director. "We are so thankful to our incredible exhibitors, attendees and partners who helped make this show an astounding success. We look forward to coming together as a community again in 2024!" 
AXPONA will return to the Renaissance Schaumburg April 12-14, 2024.
Don't miss any event-related news: Sign up for our weekly e-newsletter HERE, listen to our latest podcast HERE and engage with us on Twitter, Facebook and LinkedIn!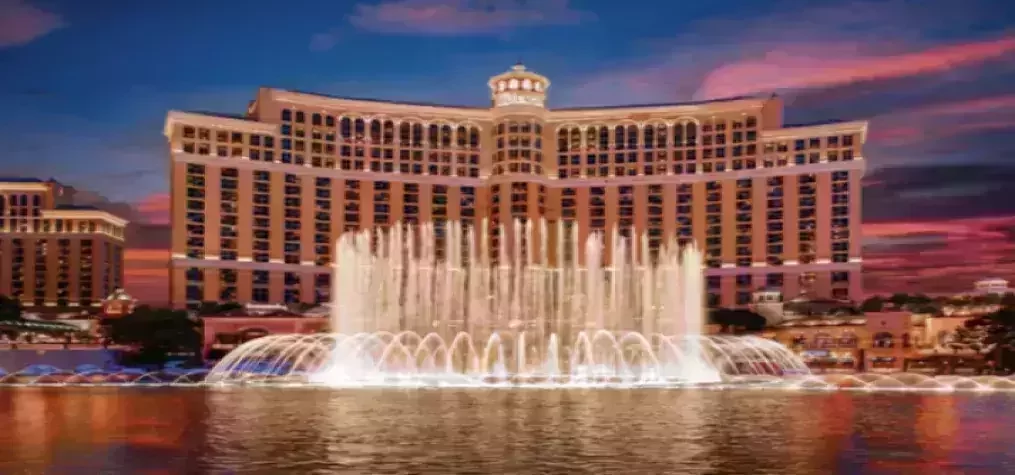 HERE, hosting responsible meetings and caring for our communities are top priorities. Through its 'Focused on What Matters: Embracing Humanity and Protecting the Planet' philosophy, MGM Resorts commits to creating a more sustainable future, while striving to make an impact in the lives of employees, guests, and the communities in which it operates. Water Stewardship Efforts MGM Resorts understands the importance of using water efficiently, especially in the desert destination of Las Vegas. Conserving water has always been part of the mission, but MGM Resorts has expanded its ambition into water stewardship. In 2022, MGM Resorts President and CEO Bill Hornbuckle signed the CEO Water Mandate—a UN Global Compact initiative mobilizing business leaders to advance water stewardship. MGM Resorts International was the first gaming company to take this important step. MGM Resorts replaced 200,000 square feet of real grass with drought-tolerant landscaping in Las Vegas. MGM Resorts pledges to reduce water withdrawal intensity by 33% by 2025 and by 35% by 2030. From 2007-2021, use of more than 5.6 billion gallons of water was avoided because of conservation efforts. Caring for One Another MGM Resorts' Food Donations Program collects and preserves unserved food from conventions held at MGM Resorts properties, then safely donates to food insecure people in the community. Since the program's launch in 2016, more than 3.7 million meals toward a 2025 goal of 5 million meals have been donated into the community. Donations include: Unserved perishable prepared foods from events Perishable unprepared food from MGM Resorts' kitchens Nonperishable food items from minibars and warehouses The collaboration with Southern Nevada's primary food bank, Three Square, has developed the infrastructure needed to safely collect, transport, and store food from MGM Resorts properties in Las Vegas, reducing food waste while serving the community. Fostering Diversity and Inclusion To MGM Resorts, a diverse and talented workforce is essential to success. By cultivating innovative strategies that consider multiple perspectives and viewpoints, the company creates an inclusive workplace culture that benefits its employees and community. MGM Resorts takes pride in being a welcoming home for veterans, individuals with disabilities, people from diverse backgrounds, LGBTQ+ community members, and more. This commitment to inclusion is reflected in the company's recruitment and hiring practices and its social responsibility initiatives. From the workplace to the community, MGM Resorts' commitment to diversity, equity and inclusion remains unwavering, and its efforts continue to create a more equitable and sustainable world for all. MGM Resorts understands its responsibility to contribute to the social and economic progress of the communities in which it operates. HERE, we embrace humanity.