Event Tech Live Shines for Its First U.S. Edition in Las Vegas
May 2, 2023
Event Tech Live (ETL), which was founded 10 years ago and has been held annually in London ever since, made a successful debut in the U.S. April 26-27 with Event Tech Live Las Vegas, held at The Expo at World Market Center.
With a mix of the latest technology from both sides of the Atlantic and beyond, in addition to a wealth of interesting sessions, Event Tech Live Las Vegas was a big hit, according to Adam Parry, co-founder of ETL.
"Getting Event Tech Live to Las Vegas and seeing the fantastic reaction to it is beyond brilliant," Parry said. "It's a big team effort, and I thank every sponsor, every exhibitor, every speaker, every visitor and every member of the team."
He continued, "ETL is a product of the union of those people, their contemporary thinking and their prowess."
With its long-established commitment to top-quality content, the show brought out the mainstays of event technology from both sides of the pond.
Among the headline sessions across its two days were:
"How to Implement a Community-Driven Video Strategy for Your Next Event," led by Shelley Williams, director of global sales at Hard Rock International

"The Future of Hybrid Events" with Robin Bunevich, product marketer, Zoom Events and Webinars

"The Return of Innovation" with leaders from Opus Agency, SXSW, Bloomberg and other top companies on hand to impart their wisdom

"Achieving Perfect Personalization at Events," featuring Michael Brown, vice president of innovation at SXSW, and Brianna Jackson, senior manager for event and brand technology at Salesforce

"Why Hybrid Events Are Here to Stay…or Should Be" with Alec Sonenthal, director of education at Eventsair
The dynamic mix of new tech and stories of its evolution was also apparent throughout the show floor, with a wide range of exhibitors enjoying the attention and interest from a succession of attendees keen to learn how to improve their events with the latest technology.
The show featured Event Tech Live's first hosted buyer program, with 19 exhibiting companies, including Performedia, STOVA, GiantiTab, Haia, Cvent, Cadmium, CrowdComms and Jugo, meeting buyers in a purpose-built lounge. The program was met with great acclaim from all parties, including hosted buyer and award-winning prominent Las Vegas-based event producer Lenny Talarico.
"I've learned so much from so many new people," Talarico said. "It's amazing to see all of this tech in one space."
ETL Launchpad for event tech startups made its stateside debut at Event Tech Live Las Vegas, along with the acclaimed Launchpad Competition, which brought three fabulous finalists to the fore: Sessionboard, CapTag and Answer Stage, according to Parry.
"Launchpad went really well," he said. "It's part of ETL's essence, and it was so good to see such a positive reaction for the finalists."
CapTag, with its Badgee technology and other event tech solutions, ultimately won the competition.
Next up for ETL is Event Tech Live London, which is set for Nov. 15-16 at ExCeL, London. Event Tech Live Las Vegas 2024 will be held May 1-2.
Don't miss any event-related news: Sign up for our weekly e-newsletter HERE, listen to our latest podcast HERE and engage with us on Twitter, Facebook and LinkedIn!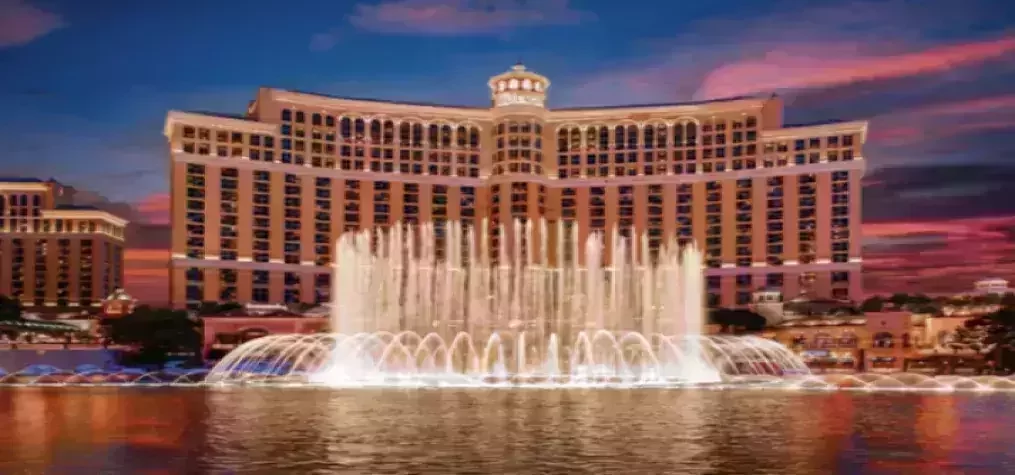 HERE, hosting responsible meetings and caring for our communities are top priorities. Through its 'Focused on What Matters: Embracing Humanity and Protecting the Planet' philosophy, MGM Resorts commits to creating a more sustainable future, while striving to make an impact in the lives of employees, guests, and the communities in which it operates. Water Stewardship Efforts MGM Resorts understands the importance of using water efficiently, especially in the desert destination of Las Vegas. Conserving water has always been part of the mission, but MGM Resorts has expanded its ambition into water stewardship. In 2022, MGM Resorts President and CEO Bill Hornbuckle signed the CEO Water Mandate—a UN Global Compact initiative mobilizing business leaders to advance water stewardship. MGM Resorts International was the first gaming company to take this important step. MGM Resorts replaced 200,000 square feet of real grass with drought-tolerant landscaping in Las Vegas. MGM Resorts pledges to reduce water withdrawal intensity by 33% by 2025 and by 35% by 2030. From 2007-2021, use of more than 5.6 billion gallons of water was avoided because of conservation efforts. Caring for One Another MGM Resorts' Food Donations Program collects and preserves unserved food from conventions held at MGM Resorts properties, then safely donates to food insecure people in the community. Since the program's launch in 2016, more than 3.7 million meals toward a 2025 goal of 5 million meals have been donated into the community. Donations include: Unserved perishable prepared foods from events Perishable unprepared food from MGM Resorts' kitchens Nonperishable food items from minibars and warehouses The collaboration with Southern Nevada's primary food bank, Three Square, has developed the infrastructure needed to safely collect, transport, and store food from MGM Resorts properties in Las Vegas, reducing food waste while serving the community. Fostering Diversity and Inclusion To MGM Resorts, a diverse and talented workforce is essential to success. By cultivating innovative strategies that consider multiple perspectives and viewpoints, the company creates an inclusive workplace culture that benefits its employees and community. MGM Resorts takes pride in being a welcoming home for veterans, individuals with disabilities, people from diverse backgrounds, LGBTQ+ community members, and more. This commitment to inclusion is reflected in the company's recruitment and hiring practices and its social responsibility initiatives. From the workplace to the community, MGM Resorts' commitment to diversity, equity and inclusion remains unwavering, and its efforts continue to create a more equitable and sustainable world for all. MGM Resorts understands its responsibility to contribute to the social and economic progress of the communities in which it operates. HERE, we embrace humanity.