Momentus Technologies Acquires Sustainability-Focused WeTrack to Bolster Its Event Tech Offerings
May 12, 2023
Momentus Technologies, a global leader in venue and event management software, is continuing to grow its portfolio with the purchase of WeTrack, a rapidly growing leader in sustainability, project management, incident tracking and control room software.
Momentus Technologies found WeTrack's out-of-the-box sustainability reporting software, which has been widely recognized for its intuitive design and simplified offering, to be a perfect addition to its platform. Meanwhile, WeTrack's project management and incident tracking software enables the largest events and venues in the world to plan, prepare and deliver complex projects with seamless operations, underpinned by a powerful reporting tool that ensures lessons are learned for future events.
This will complement Momentus Technologies' Risk Manager software to help drive innovation in the industry, according to Alex Alexandrov, CEO of Momentus Technologies, who said the company is thrilled to announce the purchase.
"This acquisition marks a significant milestone in our company's growth strategy, and we are excited about the opportunities it presents," Alexandrov said.
By combining the company's resources and expertise with those of WeTrack, it will be able to deliver even greater value to our customers, he added.
"As venues are becoming increasingly aware of their environmental impact, the need for intuitive sustainability technology has never been greater," Alexandrov said. "We are excited to expand our reach into this rapidly evolving space and build on our existing footprint in key global markets."
With WeTrack's software solutions, Alexandrov added that Momentus Technologies is well-positioned to lead the way in environmentally conscious business practices and provide its customers with the tools they need to achieve their environmental, social and governance goals.
For WeTrack, the acquisition will provide access to Momentus Technologies' resources and expertise, enabling the company to continue to grow and innovate, according to Peter Ward, CEO of WeTrack.
"We are very excited to be joining forces with Momentus Technologies, the leader in venue management," Ward said. "Together, we will have a significant impact on customers around the world, helping them meet their goals and stay ahead of the competition.
Ward added that WeTrack has worked with clients such as the Olympic Games, the World Cup and a wide variety of other events, sporting federations and venues.
"[This] has given us great insight into what it takes to deliver successful and safe operations," Ward said. "Combining that with Momentus Technologies' suite of tools can bring enormous value to venue and event operators around the world, and we can't wait to see what we can do together for our current and future clients."
The acquisition of WeTrack is a significant development for Momentus Technologies, which rebranded earlier this year from Ungerboeck, as it set out on a mission to provide the industry's most comprehensive venue and event management software.
With Momentus Technologies, customers now gain a full breadth of intelligent data-driven solutions built on a powerful intuitive platform that provides a view of past, present and future event operations to increase end-to-end visibility, optimize efficiency and achieve business goals.
Originally founded in 1985 as Ungerboeck, Momentus Technologies has more than 50,000 users in more than 50 countries.
Don't miss any event-related news: Sign up for our weekly e-newsletter HERE, listen to our latest podcast HERE and engage with us on Twitter, Facebook and LinkedIn!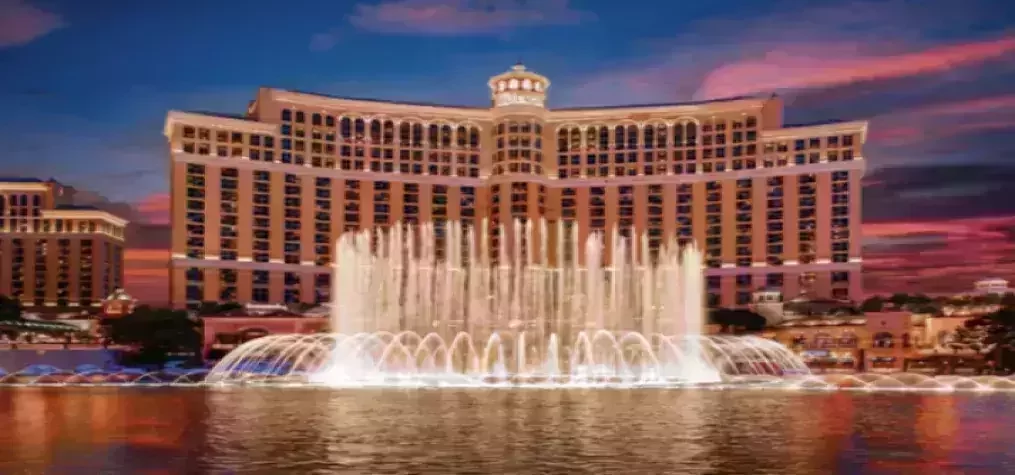 HERE, hosting responsible meetings and caring for our communities are top priorities. Through its 'Focused on What Matters: Embracing Humanity and Protecting the Planet' philosophy, MGM Resorts commits to creating a more sustainable future, while striving to make an impact in the lives of employees, guests, and the communities in which it operates. Water Stewardship Efforts MGM Resorts understands the importance of using water efficiently, especially in the desert destination of Las Vegas. Conserving water has always been part of the mission, but MGM Resorts has expanded its ambition into water stewardship. In 2022, MGM Resorts President and CEO Bill Hornbuckle signed the CEO Water Mandate—a UN Global Compact initiative mobilizing business leaders to advance water stewardship. MGM Resorts International was the first gaming company to take this important step. MGM Resorts replaced 200,000 square feet of real grass with drought-tolerant landscaping in Las Vegas. MGM Resorts pledges to reduce water withdrawal intensity by 33% by 2025 and by 35% by 2030. From 2007-2021, use of more than 5.6 billion gallons of water was avoided because of conservation efforts. Caring for One Another MGM Resorts' Food Donations Program collects and preserves unserved food from conventions held at MGM Resorts properties, then safely donates to food insecure people in the community. Since the program's launch in 2016, more than 3.7 million meals toward a 2025 goal of 5 million meals have been donated into the community. Donations include: Unserved perishable prepared foods from events Perishable unprepared food from MGM Resorts' kitchens Nonperishable food items from minibars and warehouses The collaboration with Southern Nevada's primary food bank, Three Square, has developed the infrastructure needed to safely collect, transport, and store food from MGM Resorts properties in Las Vegas, reducing food waste while serving the community. Fostering Diversity and Inclusion To MGM Resorts, a diverse and talented workforce is essential to success. By cultivating innovative strategies that consider multiple perspectives and viewpoints, the company creates an inclusive workplace culture that benefits its employees and community. MGM Resorts takes pride in being a welcoming home for veterans, individuals with disabilities, people from diverse backgrounds, LGBTQ+ community members, and more. This commitment to inclusion is reflected in the company's recruitment and hiring practices and its social responsibility initiatives. From the workplace to the community, MGM Resorts' commitment to diversity, equity and inclusion remains unwavering, and its efforts continue to create a more equitable and sustainable world for all. MGM Resorts understands its responsibility to contribute to the social and economic progress of the communities in which it operates. HERE, we embrace humanity.