JCK and Luxury Trade Shows Partner with BOSS Logics to Offer Free Appointment Scheduling Tool for Exhibitors and Attendees
May 26, 2023
JCK and Luxury trade shows, produced by RX, have partnered with BOSS Logics to provide access to Connect for Trade Shows, an appointment booking and scheduling system for both retailers and brands. This new tool from BOSS Logics, a technology solutions provider for the jewelry industry, is free to all show participants, empowering retailers to schedule meetings while also giving vendors an easier way to manage their show appointments. 
An ongoing premium version of this offering is being introduced during the Las Vegas trade shows to help brands and retailers alike to encourage appointments, in-store and online. JCK will be held June 2-5, and Luxury will be held May 31-June 5. Both events will take place at the Venetian Resort Las Vegas. 
Brands can create custom landing pages with location information, available associates, event descriptions and more. Customers can see available appointment times and request appointments. Unified calendars and text reminders make it easy to sync schedules and reduce missed appointments. BOSS Logics Connect provides compressive dashboards and integrations to track appointments.
"We're excited to introduce BOSS Logics Connect ahead of the Las Vegas Jewelry Market Week," said BOSS Logics founder and CEO Zach Lipsky. "We look forward to making it as simple as possible for show attendees to book appointments and maximize their time at the shows."
Lipsky added, "Beyond the shows, BOSS Logics Connect aims to be the best way for every jewelry brand and retailer to offer appointments, send reminders and manage schedules year-round in one convenient location."
TSNN reached out to Lipsky and Sarin Bachman, group vice president of RX jewelry portfolio, to find out more about this event technology partnership.
Tell us about why you partnered with BOSS to use their system.
Bachman: At JCK, we are always looking to deliver added value for our exhibitors and attendees. Being able to offer BOSS Logics Connect brings a simple and effective appointment booking and scheduling system to both retailers and brands participating in the show at no cost to them.
Our hope is to empower retailers with streamlined meeting scheduling capabilities while providing vendors with a more efficient way to manage their show appointments. Partnering with BOSS Logics on their latest innovation was a natural choice for JCK, as they are recognized for providing best-in-class technology solutions and driving digital innovations within the jewelry industry.
RX also developed a proprietary matchmaking system that helps match buyers and sellers. How is this different?
Bachman: RX does have an in-house system to facilitate buyer-exhibitor matchmaking, however matchmaking and appointment scheduling are different. Appointment scheduling is designed for attendees who already have a specific exhibitor in mind and wish to schedule a meeting with them. Appointment scheduling's purpose is to assist exhibitors in efficiently managing their schedules during the event. In contrast, matchmaking focuses on pairing attendees with new exhibitors, based on the attendee's desired criteria, that are a match with their needs.
How many exhibitors and attendees do you expect at this year's shows (as of today)? What were the final stats for exhibitors and attendees at last year's shows?
Bachman: JCK 2022 returned to pre-pandemic attendance numbers, a critical achievement being one of the first events in the industry to do so. In 2022, we had close to 30,000 industry professionals from all facets of the jewelry industry at JCK and Luxury for a week of product sourcing, education and networking. 17,000 attendees from 130 countries conducted business with more than 1,800 exhibiting companies in more than 20 different show floor neighborhoods. This year, we will have over 1,900 exhibitors, and we are looking strong again, pacing ahead of 2022, for our 2023 attendance. Next month, we will know the exact attendee numbers. Stay tuned!
So there's no cost for exhibitors or attendees — even for exhibitors to create custom landing pages? 

Lipsky: Connect for Trade Shows is available at no charge to both exhibitors and attendees to better connect those attending JCK and Luxury more effectively. As JCK is the largest and most important industry gathering, we are able to combine our expertise to reach a wide range of brands and retailers from all facets of the industry.

After the show, both groups have the option of upgrading to the premium BOSS Logics Connect offering for use outside of trade shows. Our free offering gives exhibitors access to a standardized template, which includes their brand logo and a custom description. Premium customers have far more customization options, including brand colors and fonts, as well as the ability to embed the scheduler into their own website.

Don't miss any event-related news: Sign up for our weekly e-newsletter HERE, listen to our latest podcast HERE and engage with us on Twitter, Facebook and LinkedIn!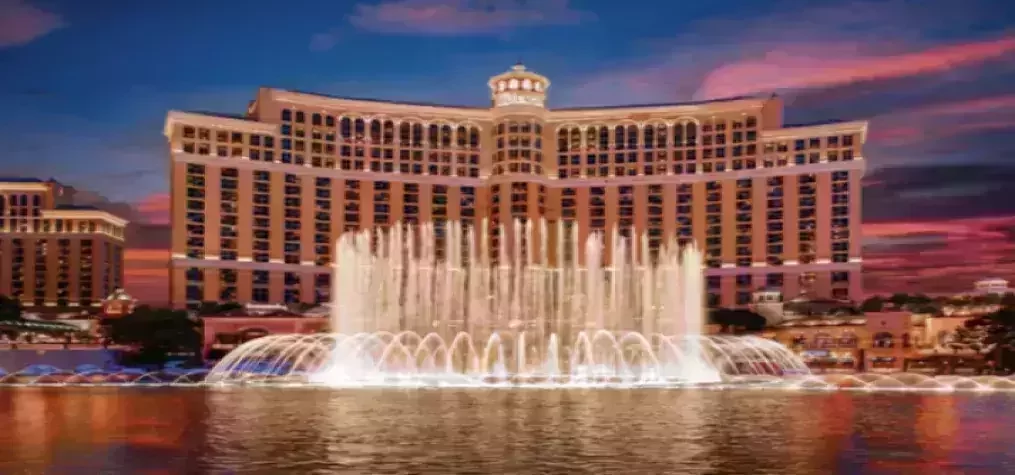 HERE, hosting responsible meetings and caring for our communities are top priorities. Through its 'Focused on What Matters: Embracing Humanity and Protecting the Planet' philosophy, MGM Resorts commits to creating a more sustainable future, while striving to make an impact in the lives of employees, guests, and the communities in which it operates. Water Stewardship Efforts MGM Resorts understands the importance of using water efficiently, especially in the desert destination of Las Vegas. Conserving water has always been part of the mission, but MGM Resorts has expanded its ambition into water stewardship. In 2022, MGM Resorts President and CEO Bill Hornbuckle signed the CEO Water Mandate—a UN Global Compact initiative mobilizing business leaders to advance water stewardship. MGM Resorts International was the first gaming company to take this important step. MGM Resorts replaced 200,000 square feet of real grass with drought-tolerant landscaping in Las Vegas. MGM Resorts pledges to reduce water withdrawal intensity by 33% by 2025 and by 35% by 2030. From 2007-2021, use of more than 5.6 billion gallons of water was avoided because of conservation efforts. Caring for One Another MGM Resorts' Food Donations Program collects and preserves unserved food from conventions held at MGM Resorts properties, then safely donates to food insecure people in the community. Since the program's launch in 2016, more than 3.7 million meals toward a 2025 goal of 5 million meals have been donated into the community. Donations include: Unserved perishable prepared foods from events Perishable unprepared food from MGM Resorts' kitchens Nonperishable food items from minibars and warehouses The collaboration with Southern Nevada's primary food bank, Three Square, has developed the infrastructure needed to safely collect, transport, and store food from MGM Resorts properties in Las Vegas, reducing food waste while serving the community. Fostering Diversity and Inclusion To MGM Resorts, a diverse and talented workforce is essential to success. By cultivating innovative strategies that consider multiple perspectives and viewpoints, the company creates an inclusive workplace culture that benefits its employees and community. MGM Resorts takes pride in being a welcoming home for veterans, individuals with disabilities, people from diverse backgrounds, LGBTQ+ community members, and more. This commitment to inclusion is reflected in the company's recruitment and hiring practices and its social responsibility initiatives. From the workplace to the community, MGM Resorts' commitment to diversity, equity and inclusion remains unwavering, and its efforts continue to create a more equitable and sustainable world for all. MGM Resorts understands its responsibility to contribute to the social and economic progress of the communities in which it operates. HERE, we embrace humanity.