Privacy Policy
Your privacy is important to TSNN. This statement discloses the information practices for all TSNN websites, including what types of information are gathered and tracked, how the information is used, and with whom the information is shared.
TSNN adheres to the guidelines of the TRUSTe Privacy Program and abides by the E.U. Safe Harbor Framework as outlined by the U.S. Department of Commerce and the European Union. TRUSTe is an independent, nonprofit initiative whose mission is to build users' trust in the Internet by promoting the principles of disclosure and informed consent.
Personal Information
In general, you can visit TSNN on the Internet without telling us who you are and without giving any personal information about yourself. There are times, however, when we or our partners may need information from you.
You may choose to give us personal information in a variety of situations. For example, you may want to give us information, such as your name or e-mail address, to correspond with you, to process an order, or to provide you with a subscription. You may give us your credit card details to buy something from us or a description of your education and work experience in connection with a job opening at TSNN. We intend to let you know how we will use such information before we collect it from you; if you tell us that you do not want us to use this information to make further contact with you beyond fulfilling your requests, we will respect your wishes. If you give us personal information about somebody else, such as a spouse or work colleague, we will assume that you have their permission to do so.
Using and Sharing Personal Information
The following paragraphs describe in more detail how TSNN may use your personal information and with whom we may share it. Depending on the type of TSNN website you are visiting, one or more of the paragraphs may apply. For example, if you order a product from a TSNN website, your information will be handled as described in such paragraphs as Fulfilling Your Transaction Request and Marketing Use.
Fulfilling Your Transaction Request
If you request something from a TSNN website, for example, a product or service, a callback, or specific marketing materials, we will use the information you provide to fulfill your request. To help us do this, we may share information, with others, for instance, other parts of TSNN, TSNN's Business Partners, financial institutions, shipping companies, postal or government authorities (for example, customs authorities) involved in fulfillment. In connection with a transaction, we may also contact you as part of our customer satisfaction surveys or for market research purposes.
Marketing Use
The information you provide to TSNN on certain TSNN websites may also be used by TSNN and selected third parties for marketing purposes. Before we use it, however, we will offer you the opportunity to choose whether or not to have your information used in this way.
TSNN Human Resources Websites (Including Recruitment)
In connection with a job application or inquiry, whether advertised on a TSNN website or otherwise, you may provide us with information about yourself, such as a resume or curriculum vitae. We may use this information throughout TSNN and its related entities for the purpose of employment consideration or your inquiry. Except where you tell us not to, we will keep the information for future consideration.
Information for Business Partners
If you represent a TSNN Business Partner, you may visit a TSNN website intended specifically for TSNN Business Partners. We may use information provided on that site to administer and develop our business relationship with you, the Business Partner you represent, and TSNN Business Partners generally. For instance, this may involve using your information to send you details of TSNN Business Partner programs. It may also include sharing certain information with other Business Partners (subject to any confidentiality obligations that may exist), or TSNN customers or prospects. In connection with a particular transaction or program, we may also contact you as part of customer satisfaction surveys or for market research purposes.
TSNN Supplier Administration
If you represent a TSNN supplier, you may visit a TSNN website intended specifically for use by TSNN suppliers. We may use the information provided on that site in connection with entering into or performing a transaction with you. For example, this may include sharing information with other parts of TSNN, TSNN's Business Partners, customers, shipping companies, financial institutions, postal or government authorities involved in fulfillment. It may also be used to administer and develop our relationship with you, the supplier you represent and/or other TSNN suppliers generally.
TSNN Discussion Forums and Chat Rooms
If you participate in a TSNN discussion forum or chat room, you should be aware that the information you provide there will be made broadly available to others, potentially inside or outside TSNN, who have access to that discussion forum or chat room. Also, please recognize that individual forums and chat rooms may have additional rules and conditions. Each participant's opinion on a forum or chat room is his or her own and should not be considered as reflecting the opinion of TSNN.
Other TSNN Web Site Notices
In some cases, specific TSNN websites may contain other notices about their use and the information practices applicable to those sites.
Our Worldwide Practices
TSNN is a global organization, with legal entities, business processes, management structures, and technical systems that cross borders. Our privacy practices are designed to provide protection for your personal information all over the world.
We may share your personal information within TSNN and transfer it to countries in the world where we do business.
Some countries may provide less legal protection for your information. In such countries, TSNN will still handle information in the manner we describe here.
Information Security and Quality
We intend to protect your personal information and to maintain its quality. We implement appropriate measures and processes, such as using encryption when transmitting certain sensitive information, to help us keep your information secure and to maintain its quality.
Supplementing Information
From time to time we may supplement information you give us via a TSNN website with information from other sources, such as information validating your address or other available information about businesses. This is to help us maintain the accuracy of the information we collect and to help us provide better service.
Use of Suppliers
In some cases, TSNN uses suppliers to collect, use, analyze and otherwise process information on its behalf. It is TSNN's practice to require such suppliers to handle information in a manner consistent with TSNN's policies.
Mergers and Acquisitions
Circumstances may arise where, whether for strategic or other business reasons, TSNN decides to sell, buy, merge or otherwise reorganize businesses in some countries. Such a transaction may involve the disclosure of personal information to prospective or actual purchasers or be receiving it from sellers. It is TSNN's practice to seek appropriate protection for information in these types of transactions.
Cookies and Other Technologies
We sometimes collect non-identifiable information from visits to our websites to help us provide better customer service. For example, we keep track of the domains from which people visit, and we also measure visitor activity on TSNN websites, but we do so in ways that keep the information non-identifiable. This information is sometimes known as "clickstream data." TSNN or others on TSNN's behalf may use this data to analyze trends and statistics and to help us provide better customer service.
Also, when we collect personal data from you in a transaction, we may extract some information about that transaction in a non-identifiable format and combine it with other non-identifiable information such as clickstream data. This information is used and analyzed only at an aggregate level to help us understand trends and patterns. This information is not reviewed at an individual level. If you do not want your transaction details used in this manner you can disable your cookies.
We collect the information we mentioned in the previous paragraphs through the use of various technologies, including one called "cookies". A cookie is a piece of data that a website can send to your browser, which may then be stored on your computer as an anonymous tag that identifies your computer but not you. Some TSNN pages use cookies, sent by TSNN or its third-party vendors, or other technologies to better serve you when you return to the website. You can set your browser to notify you before you receive a cookie, giving you the chance to decide whether to accept it. You can also set your browser to turn off cookies. If you do so, however, some websites may not work properly.
Some TSNN websites also use web beacon or other technologies to better tailor those sites to provide better customer service. These technologies may be in use on a number of pages across TSNN's websites. When a visitor accesses these pages, a non-identifiable notice of that visit is generated which may be processed by us or by our suppliers. These web beacons usually work in conjunction with cookies. If you don't want your cookie information to be associated with your visits to these pages, you can set your browser to turn off cookies.
If you turn off cookies, web beacon and other technologies will still detect visits to these pages, but the notices they generate cannot be associated with other non-identifiable cookie information and are disregarded.
Service Quality Monitoring
Certain web transactions may also involve you calling us or our calling you. Please be aware that it is TSNN's general practice to monitor and in some cases record such calls for staff training or quality assurance purposes.
Online Advertising
Certain companies help us deliver interactive on-line advertising such as banner ads. These companies may collect and use information about customers to help us better understand the offers, promotions, and types of advertising that are most appealing to our customers. After it is collected the information is aggregated so it is not identifiable to a specific individual. If, however, you would prefer that these companies not collect such information, please visit www.networkadvertising.org/ and follow the "opt-out" instructions.
Personalized URL Link
On occasion, we may personalize and customize websites for certain visitors. If you visit one of these sites, you may find it customized with references to products and/or services that we believe may be of interest to you, based on your previous interactions with TSNN and information you have provided to us. While you are visiting these websites, we may collect information about your visit to better tailor the site to your interests. An invitation to visit one of these websites is usually presented as a personalized URL in an e-mail, a notice on a website registration page, or as a response to you logging on to a certain website.
If you choose to visit one of these websites, you are agreeing to let TSNN collect information about your visits and also to its association with other information about you and your relationship with TSNN. If you do not wish your information to be used in this way, do not accept the invitation to visit these sites.
Disclosures Required By Law
Please be aware that in certain circumstances, it is possible that personal information may be subject to disclosure pursuant to judicial or other government subpoenas, warrants, or orders.
Privacy Technology
Technology will increasingly help give you more control over your personal information. It will also help organizations to manage their privacy practices and policies. As an information technology provider, TSNN supports the development of privacy technologies to help achieve these goals and to help create greater trust and confidence in the way personal information is handled.
Several products and services are available which can assist you with the control of your personal information while navigating the web. Please see www.privacyalliance.org/resources/rulesntools/ for an overview of many privacy-related software tools. Please note that TSNN has not formally evaluated these tools.
Links to Non-TSNN Websites
TSNN websites may contain links to other websites. TSNN is not responsible for the privacy practices or the content of those other websites.
Notification of Changes
This privacy statement was last updated on January 15, 2018. A notice will be posted on our website home page for 30 days whenever this Privacy Policy is changed in a material way.
Privacy Questions and Access
If you have a question about this statement, you can send an email to the TSNN website coordinator at info@TSNN.com You can also contact us at this address if you have a question about TSNN's handling of your information.
If you wish to obtain a copy of particular information you provided to TSNN, or if you become aware the information is incorrect and you would like us to correct it, please contact us at info@TSNN.com. Before TSNN is able to provide you with any information or correct any inaccuracies, however, we may ask you to verify your identity and to provide other details to help us to respond to your request. We will endeavor to respond within an appropriate timeframe.
This website is maintained by TSNN or one of its subsidiaries around the world.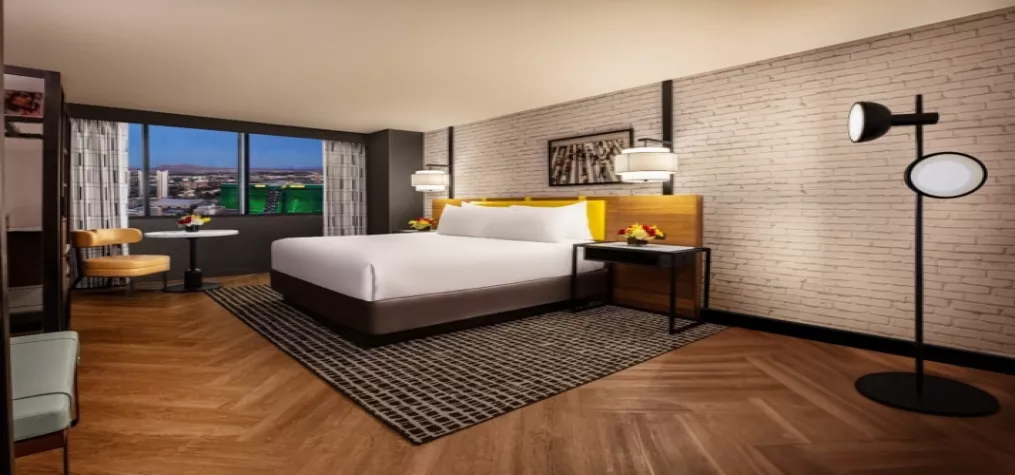 Just when it seems like Las Vegas can't get any bigger, brighter or more exciting for groups, MGM Resorts raises the bar again. The company continues to invest and innovate across its portfolio of Las Vegas resorts, with new attractions and upgraded experiences for attendees of all interests.  Remodeled Guest Rooms MGM Grand is the largest single hotel in the world with over 5,000 guest rooms and an 850,000-square-foot conference center. It is home to the newly remodeled MGM Grand Studio Tower—700 reimagined guest rooms with a fun mid-century vibe. Nearby, the iconic New York-New York Las Vegas Hotel & Casino recently completed a $63M redesign and remodel of its 1,830 guest rooms and 155 suites. Down the street, Bellagio Las Vegas is sporting renovated rooms in the Spa Tower with sunrise-inspired decor and luxurious soaking tubs in Premier King rooms after a $110-million transformation. Reinvented Luxury Experiences The Luxury Meetings District, made up of Bellagio Las Vegas, ARIA Resort & Casino, Vdara Hotel & Spa, The Cosmopolitan of Las Vegas, Park MGM and NoMad Las Vegas, is now more connected than ever before. A new interior walkway opened this October for a seamless attendee experience – connecting Vdara, Bellagio, and The Cosmopolitan of Las Vegas, guests can now walk from Park MGM to Bellagio in around 15 minutes. New on the scene in the Luxury Meetings District is Cathedrale at ARIA, TAO Group's upscale establishment specializing in exquisite French-Mediterranean cuisine offering elevated private dining experiences that opened in May. Heralded by World's Best 50 Restaurants, GQ and VOGUE, LPM at The Cosmopolitan of Las Vegas is opening this fall and will deliver its signature spontaneity and imaginative celebration of France's Mediterranean cuisine, art, and culture to the unique luxury resort in impeccable fashion.  A "New Wave  for Mandalay Bay A new wave of enhancements and experiences has arrived at Mandalay Bay Resort and Casino, including Flanker Kitchen + Sports Bar, an 8,445-square-foot restaurant that opened this June, perfect for pre- and post-game eats and drinks. Event planner's favorite, Chef Michael Mina's StripSteak, received a full renovation and now includes one of the largest private dining rooms on The Strip. Retro by Voltaggio debuts a one-year residency with a fun take on pop culture of the 80s and 90s with classic American dishes. An exciting addition planned for 2024 is Swingers, a 40,000-square-foot oasis of street food, miniature golf and art at Mandalay Bay. Most exciting for meeting planners, the 2.1 million-square-foot Mandalay Bay Convention Center  is undergoing a complete refresh, with lightened space, added eye-catching art, and improved technology infrastructure for even more flexible space. Energy-efficient digital signage now leads the way with faster internet speeds and new AV options. From renovated guest rooms and meeting spaces to celebrated dining options and dedicated teams, MGM Resorts is dedicated to delivering exceptional and innovative meeting experiences.