New Venues to Experience in Las Vegas

Las Vegas is constantly evolving. From electric experiences and new resorts to the latest in culinary trends, Vegas is the place where everything is bolder and brighter. As gathering and capacity numbers are increasing, the destination continues to keep "Meet Smart, Vegas Smart" measures at the forefront, while the new, exciting experiences take center stage.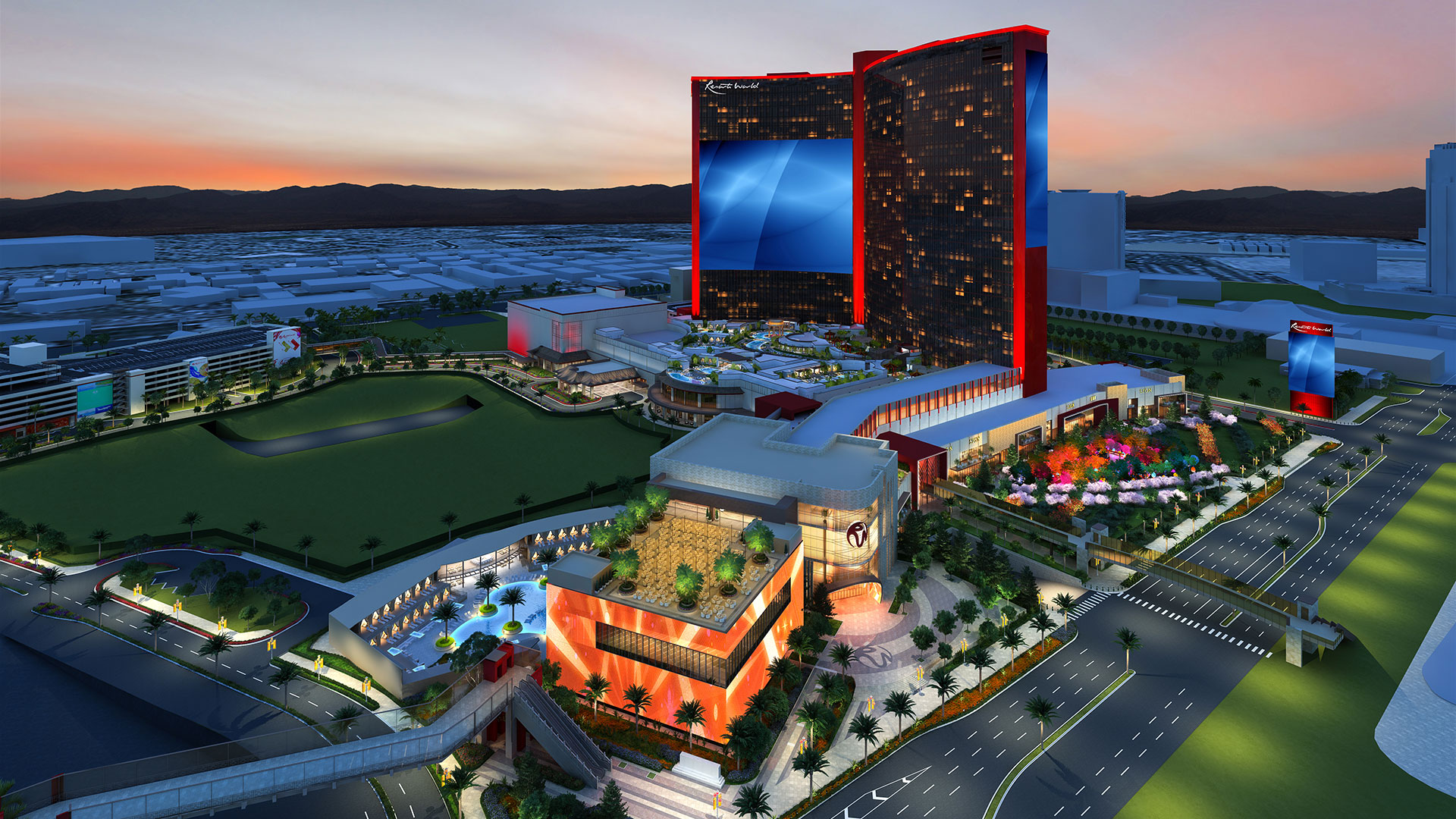 Opening June 24 this year, Resorts World Las Vegas is a $4.3 billion luxury integrated resort, offering 3,500 luxury guestrooms and suites from three premium Hilton brands, including Hilton Hotels & Resorts, Conrad Hotels & Resorts, and the ultraluxe Crockfords Las Vegas. The meeting experience here is taken to a new level at Lily Ballroom, with unmatched views of the Las Vegas Strip through floor-to-ceiling windows attached to a spacious terrace; an event center with 100,000 square feet of flexible pillarless space; and a 5.5-acre pool complex with the city's only infinity edge pool overlooking the Strip. Famous Foods Street Eats, the 16-stall culinary marketplace, will introduce hawker stands from Southeast Asia to the U.S. for the first time alongside western concepts from celebrated chefs and restaurateurs, including Marcus Samuelsson, James Trees and Blood Bros. BBQ.
Home of the NFL's Las Vegas Raiders, Allegiant Stadium will host world-class entertainment, including globally recognized sporting events such as the NFL Pro Bowl, Pac-12 Championship Game and Las Vegas Bowl, and concerts, and is the home of UNLV football. The 65,000-seat stadium is fully enclosed and climate controlled and features a retractable natural turf field; retractable doors, called the lanai, that open to spectacular views of the Strip; and private and event spaces of any size (The Field, Champions Club, outdoor on Ford Plaza).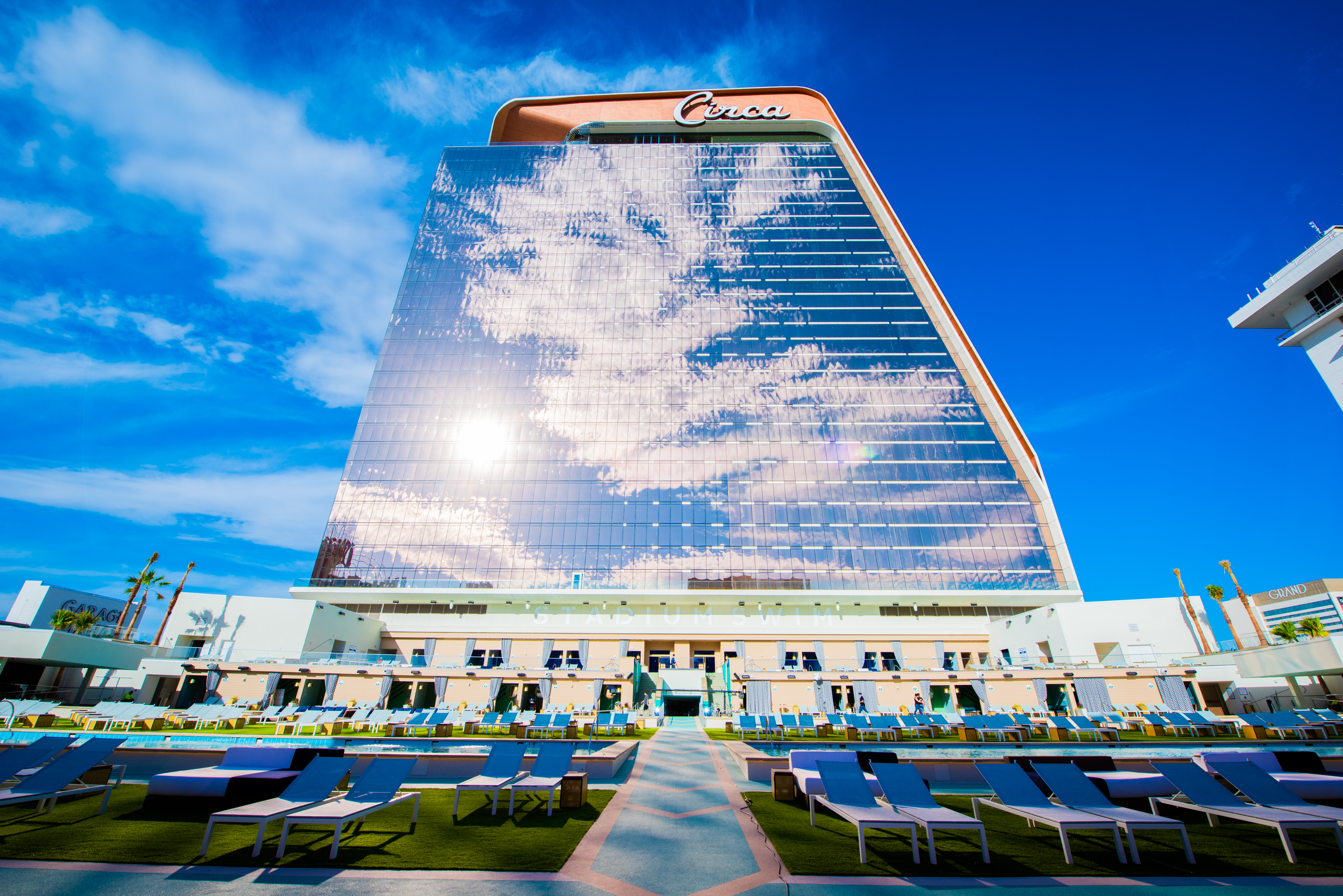 The newest property in downtown Las Vegas, Circa is an adults-only resort on the iconic Fremont Street Experience. The spectacular 1.25 million-square-foot, 777-room property stands 35 stories tall and features the world's largest sportsbook; eclectic restaurant and bar concepts; and an expansive local art collection. Presentations make a real splash on a 40-foot-tall screen at Stadium Swim, a year-round pool amphitheater with temperature-controlled water. Overlooking the city on Circa's 60th floor, Legacy Club delivers an elegant rooftop club lounge with a panoramic view of the Downtown skyline.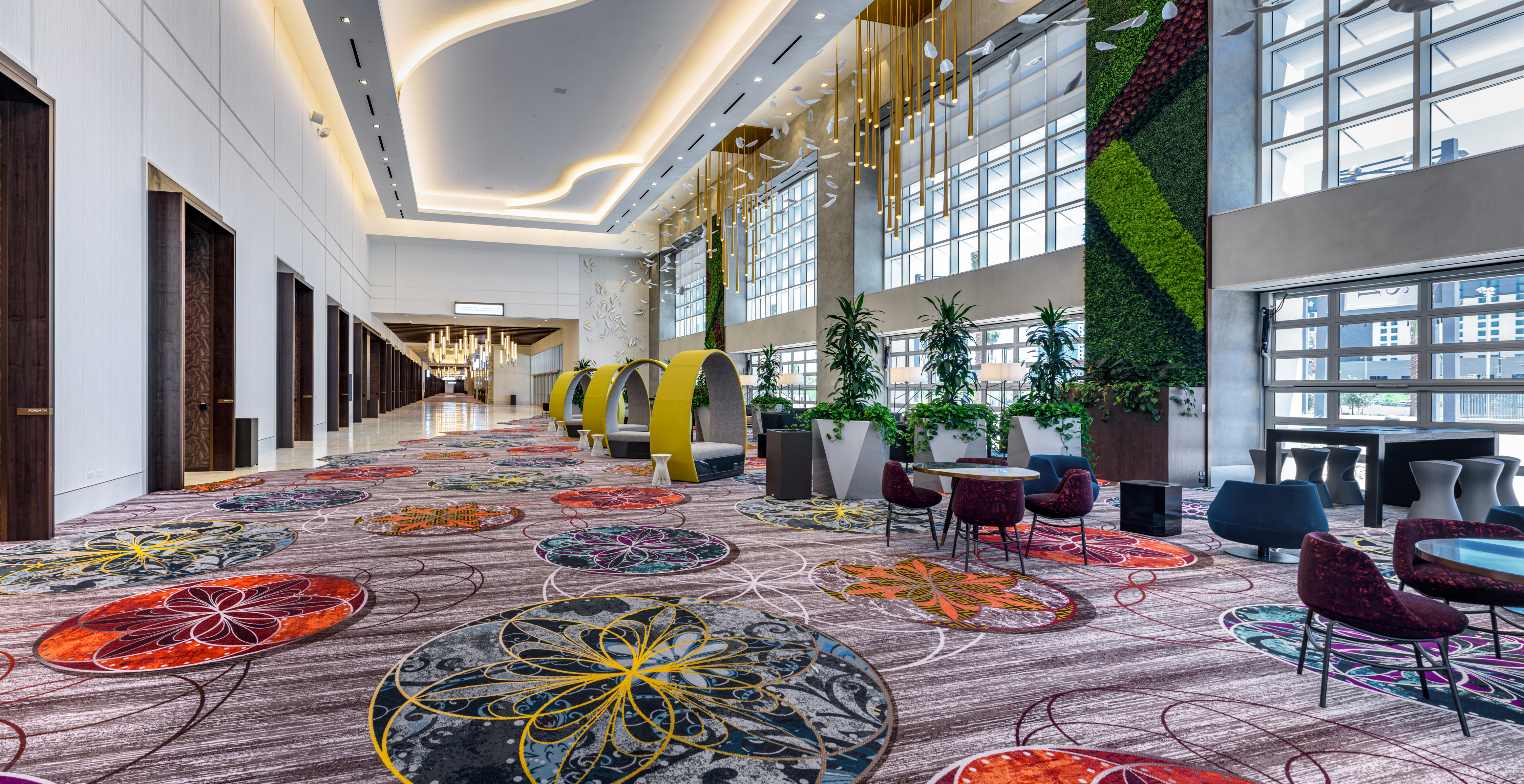 The $375 million, 550,000-square-foot venue recently opened near The LINQ Promenade. It offers two pillarless ballrooms at 110,000 square feet each, as well as more than 100 breakouts and a 100,000-square-foot outdoor plaza adjacent to the High Roller observation wheel. Six boardrooms provide full privacy with intelligent glass control. There is direct access to more than 8,500 hotel rooms at Harrah's Las Vegas, The LINQ Hotel + Experience, and Flamingo Las Vegas hotels.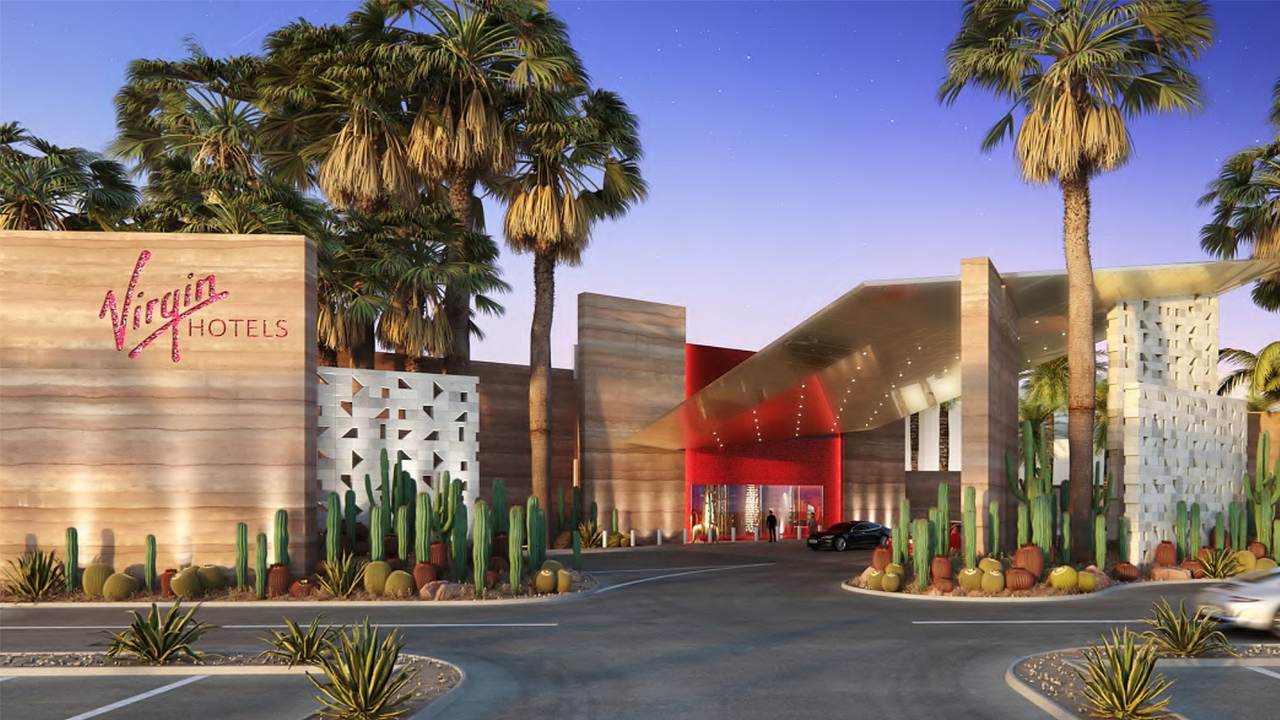 Painting the town red, this brand-new, modern, desert oasis features 1,504 exceptionally appointed chambers, grand chamber suites and penthouse suites with ergonomically designed, patented beds and in-room tech. Events turn extraordinary on over five acres of outdoor space and pools and 130,000 square feet of flexible indoor space, and heartbeats race at the 4,500-person multiuse theater. The restaurant collection includes Nobu and Casa Calavera, which has open-air patio dining overlooking the pool and lawn space.
The Expo at World Market Center
The largest venue in Downtown Las Vegas, The Expo features 315,000 square feet of flexible, sustainable exhibit space divided into north and south halls; an expansive lobby area; registration area; on-site shuttle bus depot; attached parking garage; and two permanent "grab and go" food service areas. Located on the campus of the World Market Center Las Vegas, it's within minutes of many downtown attractions.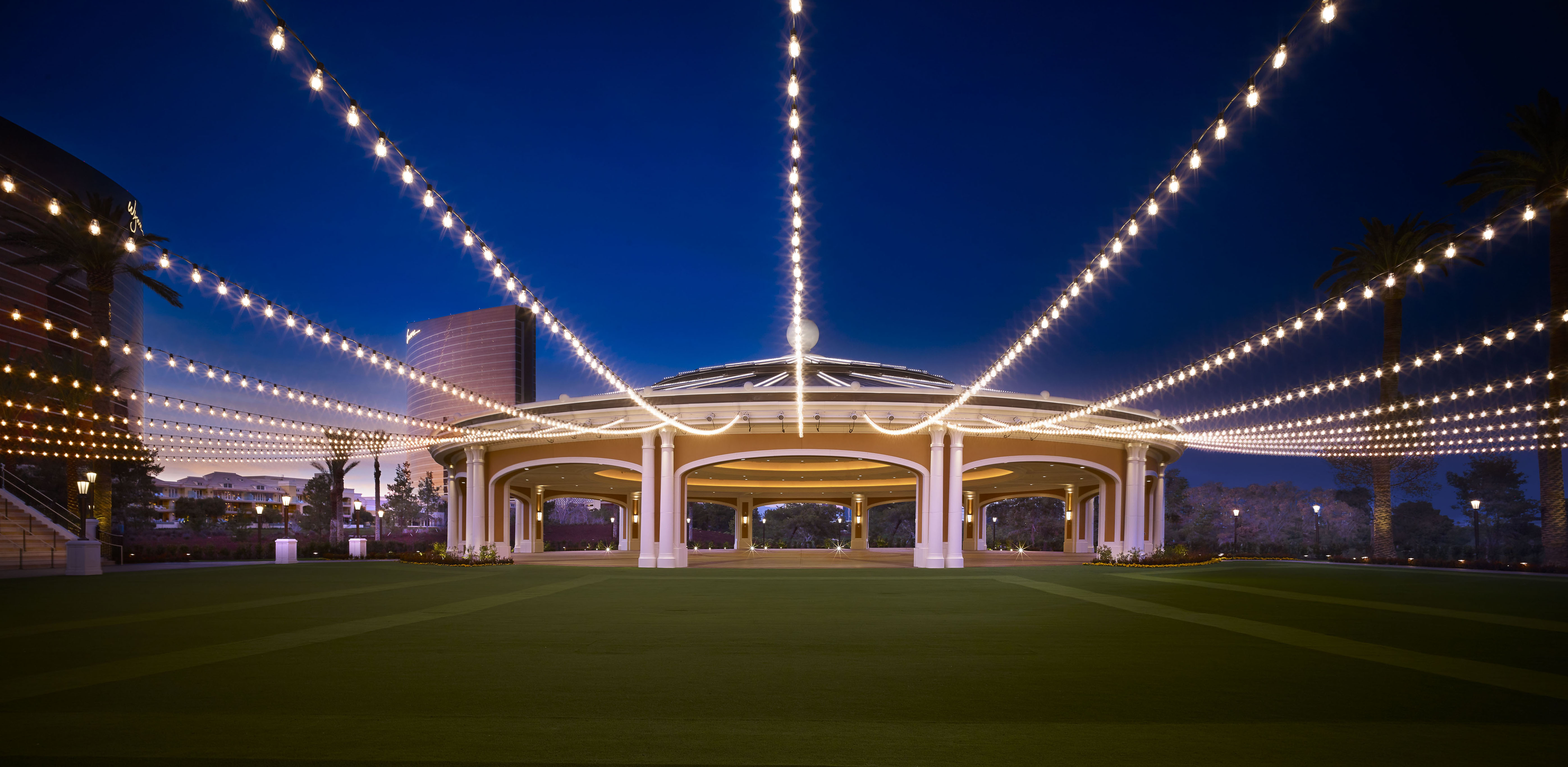 The recent meeting space expansion more than doubled the meeting and convention space at Wynn and Encore, raising the total to 560,000 square feet. The space includes 57 flexible meeting rooms; a 20,000-square-foot outdoor pavilion with an adjacent 20,000-square-foot lawn; a luxurious 2,500-square-foot hospitality lounge featuring a state-of-the-art 72-foot by 9-foot LED video wall; and an 83,000-square-foot pillarless ballroom. Overlooking the lush greens of Wynn Golf Club, meeting rooms and ballrooms feature the latest technology, and the ballrooms can act as performance theaters thanks to the latest tech infrastructure.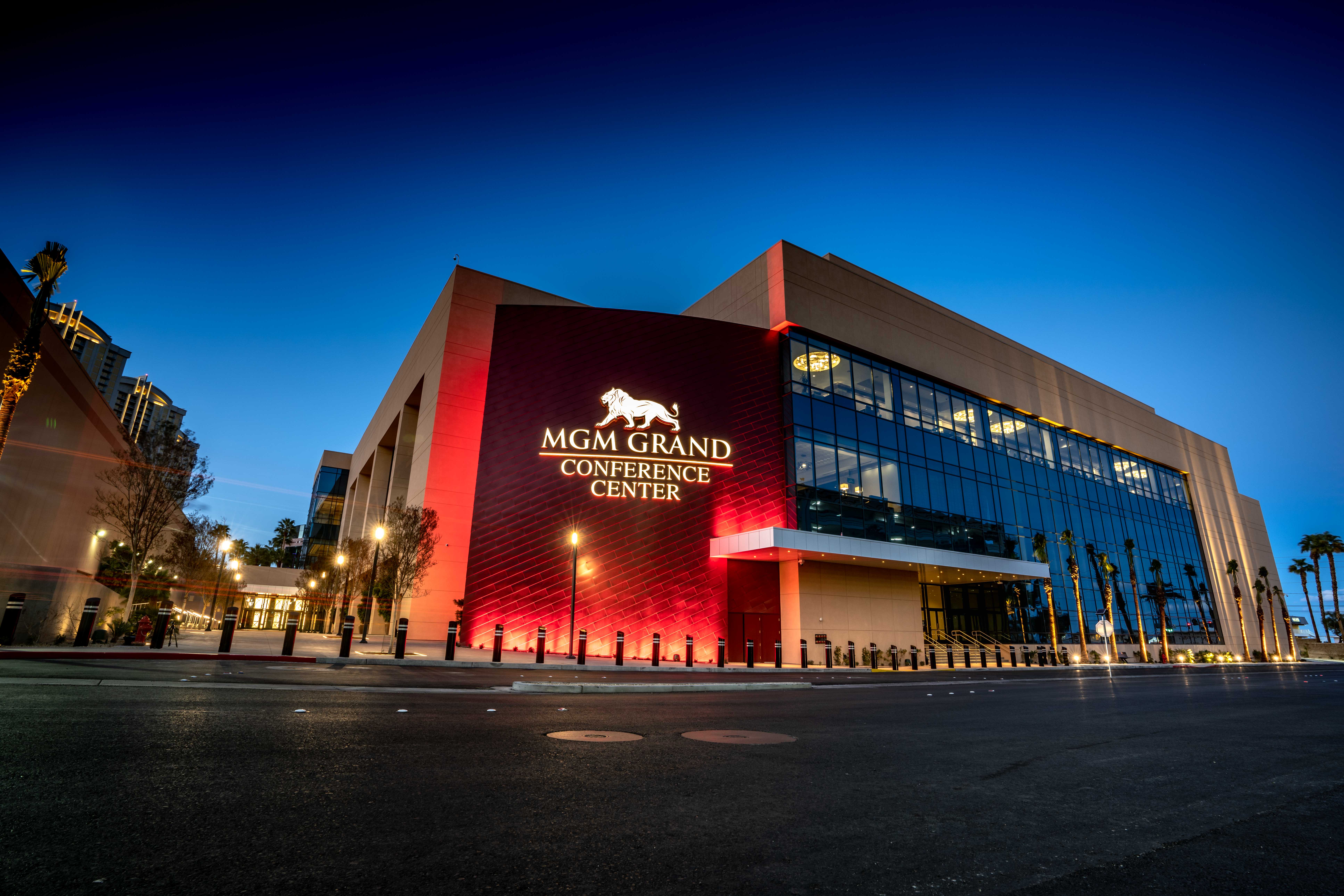 At 850,000 square feet, MGM Grand Conference Center is part of the Stay Well Meetings at MGM Grand program, a comprehensive wellness experience with premier meeting spaces filled with natural light, a state-of-the-art air purification system, and other science-based features, as well as collaborations with Cleveland Clinic and world-renowned wellness pioneer, Deepak Chopra.
The 8,000-square-foot Stella Studio is a multifunctional space that provides a neutral canvas for an intimate event steps away from the Sands Expo Center. The venue is easily accessible from the lobby of The Palazzo tower at The Venetian Resort, and offers a private entrance, natural light, and a dedicated kitchen and bar.
The world's first experiential entertainment complex, AREA15 was built to be an immersive playground and all-in-one spectacular space. It's already enthralling guests: delight in culinary treats at The Beast by Todd English, wander through a bamboo volcano, race on a zip line, or explore other mesmerizing realms at Meow Wolf's Omega Mart and Van Gogh: An Immersive Experience. The Grounds, a new, large-scale event space, is slated to open this summer.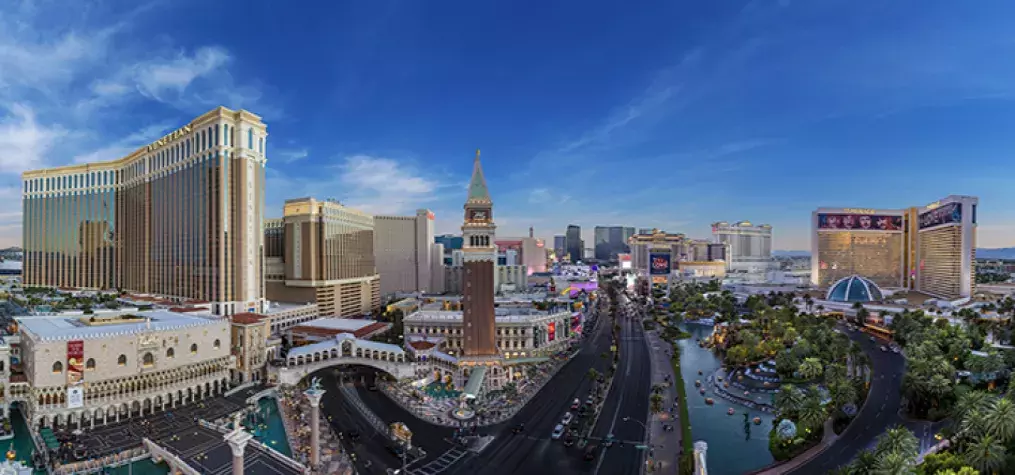 Less than six months ago, Lisa Messina joined the Las Vegas Convention and Visitors Authority (LVCVA) as the first-ever chief sales officer after leading the sales team at Caesars Entertainment. A 12-year Las Vegas resident, Messina is a graduate of Cornell University's School of Hotel Administration and serves on MPI International's board of directors. TSNN had a chance to catch up with this dynamic leader and talk to her about her vision for the new role, current shifts in the trade show industry, creating more diversity and equity within the organization, and advice to future female leaders. Lisa Messina, Chief Sales Officer, LVCVA With Las Vegas becoming The Greatest Arena on EarthTM, what are some of the things you're most excited about in your role? Our team was at The Big Game's handoff ceremony earlier this month, and I couldn't help but think, "We're going to crush it next year!" These high-profile events and venues not only drive excitement, but also provide unmatched opportunities for event planners. Allegiant Stadium hosts events from 10 to 65,000 people and offers on-field experiences. Formula 1 Grand Prix will take place in Las Vegas in November, after the year-one F1 race, the four-story paddock building will be available for buyouts and will also offer daily ride-along experiences that will be available for groups. And, of course, the MSG Sphere officially announced that it will open in September, ahead of schedule, with a U2 residency. It's going to be the most technologically advanced venue as far as lighting, sound, feel, and even scent, and it will be available for buyouts and next-level sponsorships inside and outside. There's no ceiling to what you can do when you're doing events in Las Vegas. Allegiant Stadium As the trade show and convention business returns to the pre-pandemic levels, what shifts are you noticing and how do you think they will impact the industry going forward? Our trade show organizers are very focused on driving customer experience. Most of our organizers are reporting stronger exhibitor numbers and increased numbers of new exhibitors, with trade shows proving to be almost or above 2019 levels. Now our organizers are really doubling down on driving attendance and focusing on the data to provide that individualized, customized experience to help attendees meet their goals and get the best value. Some companies continue to be cautiously optimistic with their organizational spend when it comes to sending attendees, but I think it will continue to improve. As the U.S. Travel Association makes more progress on the U.S. visa situation, we also expect a growing influx of international attendees. What are some innovative ways the LVCVA helps trade show and convention organizers deliver the most value for their events? We focus on customer experience in the same way that trade show organizers are thinking about it. We got rave reviews with the West Hall Expansion of the Las Vegas Convention Center (LVCC), so over the next two years, we will be renovating the North and the Central halls, which will include not just the same look and feel, but also the digital experiences that can be leveraged for branding and sponsorship opportunities. Vegas Loop, the underground transportation system designed by The Boring Company, is also a way we have enhanced the customer experience. Vegas Loop at the LVCC has transported more than 900,000 convention attendees across the campus since its 2021 launch. Last summer, Resorts World and The Boring Company opened the first resort stop at the Resorts World Las Vegas , with plans to expand throughout the resort corridor, including downtown Las Vegas, Allegiant Stadium and Harry Reid International Airport. The LVCVA also purchased the Las Vegas Monorail in 2020, the 3.9-mile-long elevated transportation system that connects eight resorts directly to the convention center campus. This is the only rail system in the world that integrates fares directly into show badges and registration. For trade show organizers, these transportation options mean saving time, money and effort when it comes to moving groups from the hotels to LVCC and around the city. Also, the more we can focus on building the infrastructure around the convention center, the more it supports the customer experience and ultimately supports our trade show organizers. Scheduled to debut in Q4, Fontainebleau Las Vegas will offer 3,700 hotel rooms and 550,000 square feet of meeting and convention space next to LVCC. What are some of the plans for advancing DEI (diversity, equity and inclusion) within your organization? We're currently partnering with instead of working with a leading consulting firm, to lay the foundation and create a solid DEI plan and be the leader when it comes to DEI initiatives. The heart of that journey with the consulting firm is also talking to our customers about their strategic approaches to DEI and driving innovation in this space. What are your favorite ways to recharge? My husband and I have an RV and we're outdoorsy people. So, while we have over 150,000 world-class hotel rooms and renowned restaurants right outside our doorstep, one of my favorite things to do is get out to Red Rock Canyon, the Valley of Fire, and Lake Mead. Five of the top national parks are within a three-hour drive from Las Vegas, so there's a lot you can do. We love balancing the energy of Las Vegas with nature, and we're noticing that a lot of attendees add activities off the Strip when they come here. Valley of Fire What advice would you give to women following leadership paths in destination marketing? I think it's about being laser-focused on what you want to accomplish; building a team around you that lifts you and helps you achieve your goals; and being humble and realizing that you do it as a group. No one gets this done alone. Thankfully, there are a lot of women in leadership in this organization, in our customers' organizations, and in this city that we can be really proud of. We're a formidable force that is making things happen. This interview has been edited and condensed. This article is exclusively sponsored by the Las Vegas Convention & Visitors Authority. For more information, visit HERE.