IMEX Group Unveils Bright New Brand at Frankfurt Show
May 26, 2023
After nearly 18 months on the drawing board, IMEX Group's bold new brand refresh went live at IMEX Frankfurt, which took place May 23-25 at Messe Frankfurt. The design incorporates elements of its legacy brand, while infusing it with a fresh concept that keeps inclusivity in mind and features the company's first-ever sonic logo.
The brand review process was conducted by IMEX's in-house design team, led by Design Manager Anna Gyseman, who was a seminal member of the team that launched Grazia magazine into the U.K. market. Gyseman recruited ex-colleagues Tony Chambers, former editor and creative director of Wallpaper magazine; Suzanne Sykes, award-winning creative director, graphic designer and brand innovator; and Jonathan Clayton-Jones, creative director at the Telegraph Group.
Dot, Dot, Dot
Prior to the redesign, IMEX felt its existing identity no longer reflected the company or its live show experiences. Extensive workshopping with staff revealed a strong loyalty to some aspects of the old brand, however, it was agreed those elements representing people (the classic dots) were a legacy to be built upon, not thrown away.
"The minute the design team presented the winning concept to our staff, we knew they'd nailed it," said Carina Bauer, CEO of IMEX Group. "It captures our belief in the positive power of people from all over the world meeting eye to eye, face to face and shaking hands on a business deal or new friendship."
In clean, contemporary pastel colors derived from its heritage brand, the new design embodies the heart, purpose and business value IMEX stands for, according to Bauer.
"It works brilliantly as part of our show experiences and on our websites, signage and more," she said.
Inclusive Design Thinking
Using the latest inclusive design principles, the team created a soft brown tone affectionately called "IMEX biscuit" for use instead of classic white as a background color. The non-stimulating, neurodiversity-friendly color is designed to make readability easier for a broader range of people. 
'Sound' Judgment
Given the importance of online expression for a global brand, IMEX also has a unique sonic logo for the first time. Developed with the help of Brighton, U.K.-based Buff Motion, the soundtrack was designed to cleverly build anticipation of people coming together for a big event and embrace the fact that humans the world over celebrate community in the same way — with their hands and voices. Click here to play the sonic logo.
IMEX Group brought the new brand to life in various ways throughout the Frankfurt show.
"The atrium at Messe Frankfurt was the focal point for many of our 'hero' pieces," Bauer said. "IMEX Frankfurt was a living showcase for the new look."
The group's brand refresh will also be on full display at IMEX America, which takes place Oct. 17-19 at the Mandalay Bay Convention Center in Las Vegas.
Photo: Carina Bauer, CEO of IMEX Group, and Ray Bloom, chairman of IMEX Group
Don't miss any event-related news: Sign up for our weekly e-newsletter HERE, listen to our latest podcast HERE and engage with us on Twitter, Facebook and LinkedIn!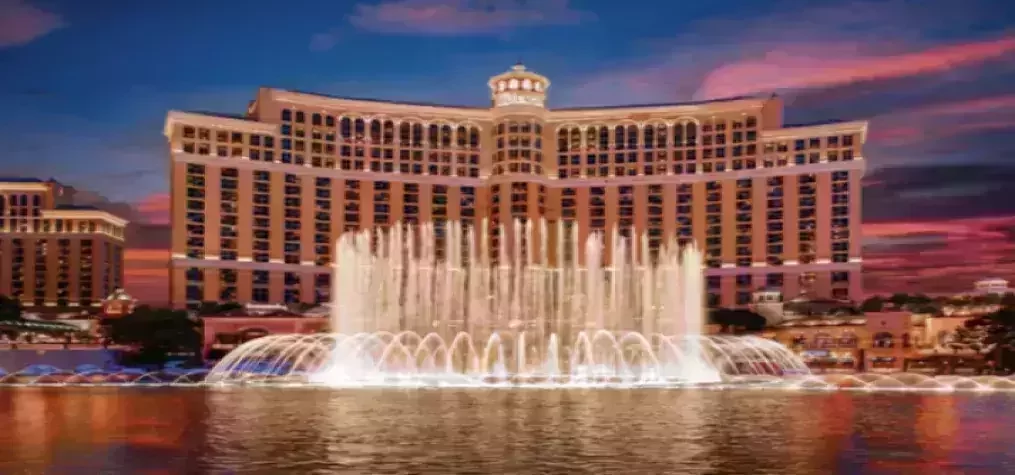 HERE, hosting responsible meetings and caring for our communities are top priorities. Through its 'Focused on What Matters: Embracing Humanity and Protecting the Planet' philosophy, MGM Resorts commits to creating a more sustainable future, while striving to make an impact in the lives of employees, guests, and the communities in which it operates. Water Stewardship Efforts MGM Resorts understands the importance of using water efficiently, especially in the desert destination of Las Vegas. Conserving water has always been part of the mission, but MGM Resorts has expanded its ambition into water stewardship. In 2022, MGM Resorts President and CEO Bill Hornbuckle signed the CEO Water Mandate—a UN Global Compact initiative mobilizing business leaders to advance water stewardship. MGM Resorts International was the first gaming company to take this important step. MGM Resorts replaced 200,000 square feet of real grass with drought-tolerant landscaping in Las Vegas. MGM Resorts pledges to reduce water withdrawal intensity by 33% by 2025 and by 35% by 2030. From 2007-2021, use of more than 5.6 billion gallons of water was avoided because of conservation efforts. Caring for One Another MGM Resorts' Food Donations Program collects and preserves unserved food from conventions held at MGM Resorts properties, then safely donates to food insecure people in the community. Since the program's launch in 2016, more than 3.7 million meals toward a 2025 goal of 5 million meals have been donated into the community. Donations include: Unserved perishable prepared foods from events Perishable unprepared food from MGM Resorts' kitchens Nonperishable food items from minibars and warehouses The collaboration with Southern Nevada's primary food bank, Three Square, has developed the infrastructure needed to safely collect, transport, and store food from MGM Resorts properties in Las Vegas, reducing food waste while serving the community. Fostering Diversity and Inclusion To MGM Resorts, a diverse and talented workforce is essential to success. By cultivating innovative strategies that consider multiple perspectives and viewpoints, the company creates an inclusive workplace culture that benefits its employees and community. MGM Resorts takes pride in being a welcoming home for veterans, individuals with disabilities, people from diverse backgrounds, LGBTQ+ community members, and more. This commitment to inclusion is reflected in the company's recruitment and hiring practices and its social responsibility initiatives. From the workplace to the community, MGM Resorts' commitment to diversity, equity and inclusion remains unwavering, and its efforts continue to create a more equitable and sustainable world for all. MGM Resorts understands its responsibility to contribute to the social and economic progress of the communities in which it operates. HERE, we embrace humanity.