Las Vegas Convention Center Breaks Ground on $600 Million Renovation
May 23, 2023
Las Vegas tourism and business leaders officially broke ground on a $600 million renovation of the Las Vegas Convention Center (LVCC) on May 9. Work will continue through 2025, with construction designed to accommodate and minimize disruption to scheduled trade shows.
As part of the renovation project, a newly designed parking lot outside of the Central Hall will feature a Vegas Loop station to transport convention goers to and from Wynn and Encore Las Vegas when the completed project debuts in Spring 2024.
The renovation will extend the contemporary design, architecture and customer experience of the 1.4 million-square-foot West Hall, which debuted in June of 2021.  
"We have been the No. 1 trade show destination for nearly three decades, and we are committed to being the number one trade show destination for another three decades," said Steve Hill, president and CEO of the Las Vegas Convention and Visitors Authority (LVCVA). "This renovation will provide our customers with an experience that will make them want to come back year after year."
Related: 2023 LAS VEGAS OUTLOOK: MAJOR VENUE OPENINGS AND F1 GRAND PRIX EXPECTED TO DRIVE GROWTH 
Renovation highlights
The continuation of the signature West Hall exterior ribbon roof will create architectural cohesion across the entire campus.

An outdoor plaza and indoor lobby at the South Hall will create a sense of arrival and provide direct access to new pre-function space and a second-floor boardroom.

A climate-controlled interior concourse between the North Hall and South Hall will provide interior access across the entire campus.

An expansive Grand Lobby between the North and Central halls will offer ample natural light and views of both halls.

Innovative technology including digital displays, digital pylon signs, wayfinding and interactive information kiosks will be placed throughout the facility.

Technology upgrades will result in upgraded electrical access for trade show organizers and exhibitors and increased connectivity for guests.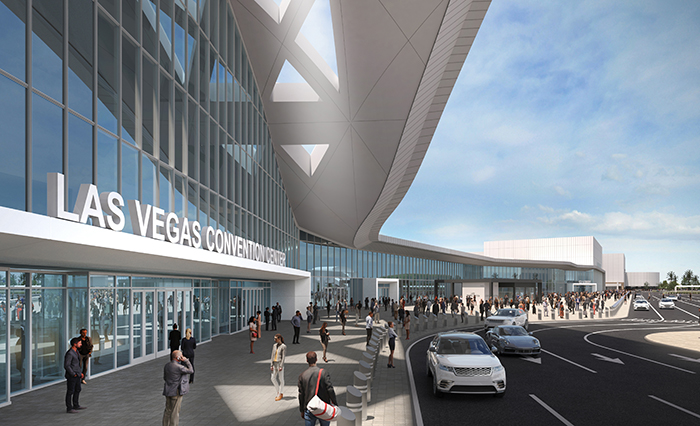 Construction timeline
The LVCC's construction schedule was specifically designed to accommodate trade shows in the building. Some shows may move to different halls, but all shows will continue as scheduled. The 2023 National Finals Rodeo will be the first event to use the renovated South Hall when it's held Dec. 7-16, while the North Hall will be renovated in time for the SEMA Show when it's held Nov. 5-8, 2024.
A look back
With nearly 15 million square feet of meeting and event space throughout the destination, the convention sector continues to significantly contribute to Southern Nevada's economy. In 2022, Las Vegas hosted nearly 5 million convention attendees, whose spending during their stay directly supported an estimated 38,000 jobs, $2.1 billion in wages and $7.5 billion in economic impact, according to the Economic Impact of Southern Nevada's Tourism Industry report recently published by the LVCVA's Research Center. The LVCC is one of the largest convention centers in North America. In 2022, the facility hosted 56 conventions with a combined attendance of nearly 900,000.
The renovation of the LVCC was set in motion in 2016 during the special session of the Nevada Legislature. Senate Bill No. 1 (SB1) was put in place to help fund the creation of the West Hall and the renovation of the LVCC's existing campus, along with Allegiant Stadium. The Las Vegas Convention Center District Committee and Oversight Panel for Convention Facilities were established to review and approve renovation plans and financing.
While construction of the $1 billion West Hall moved forward, the renovation of the legacy campus was delayed due to the pandemic. In August 2022, the LVCVA Board of Directors approved design and construction plans for the legacy campus. The project will be funded with transfers from the LVCVA's general fund, bonds supported by the LVCVA's general revenues and the 0.5% room tax authorized by SB1 of the 2016 legislative session, and the proceeds from the sale of the 10-acre Riviera parcel.

Photo Caption: A ceremonial groundbreaking took place at the east side of the South Hall, which will be transformed into a sprawling new plaza and entrance. Steve Hill, president and CEO of the Las Vegas Convention and Visitors Authority (LVCVA), was joined by Jim Gibson, chair of both the Clark County Commission and the LVCVA board of directors, as well as members of the LVCVA Board of Directors and Convention Center Oversight Panel.
Don't miss any event-related news: Sign up for our weekly e-newsletter HERE, listen to our latest podcast HERE and engage with us on Twitter, Facebook and LinkedIn!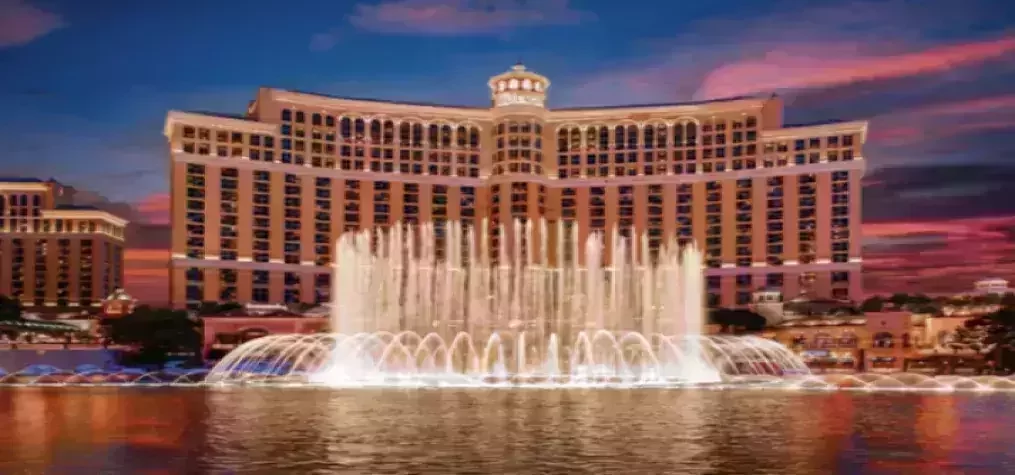 HERE, hosting responsible meetings and caring for our communities are top priorities. Through its 'Focused on What Matters: Embracing Humanity and Protecting the Planet' philosophy, MGM Resorts commits to creating a more sustainable future, while striving to make an impact in the lives of employees, guests, and the communities in which it operates. Water Stewardship Efforts MGM Resorts understands the importance of using water efficiently, especially in the desert destination of Las Vegas. Conserving water has always been part of the mission, but MGM Resorts has expanded its ambition into water stewardship. In 2022, MGM Resorts President and CEO Bill Hornbuckle signed the CEO Water Mandate—a UN Global Compact initiative mobilizing business leaders to advance water stewardship. MGM Resorts International was the first gaming company to take this important step. MGM Resorts replaced 200,000 square feet of real grass with drought-tolerant landscaping in Las Vegas. MGM Resorts pledges to reduce water withdrawal intensity by 33% by 2025 and by 35% by 2030. From 2007-2021, use of more than 5.6 billion gallons of water was avoided because of conservation efforts. Caring for One Another MGM Resorts' Food Donations Program collects and preserves unserved food from conventions held at MGM Resorts properties, then safely donates to food insecure people in the community. Since the program's launch in 2016, more than 3.7 million meals toward a 2025 goal of 5 million meals have been donated into the community. Donations include: Unserved perishable prepared foods from events Perishable unprepared food from MGM Resorts' kitchens Nonperishable food items from minibars and warehouses The collaboration with Southern Nevada's primary food bank, Three Square, has developed the infrastructure needed to safely collect, transport, and store food from MGM Resorts properties in Las Vegas, reducing food waste while serving the community. Fostering Diversity and Inclusion To MGM Resorts, a diverse and talented workforce is essential to success. By cultivating innovative strategies that consider multiple perspectives and viewpoints, the company creates an inclusive workplace culture that benefits its employees and community. MGM Resorts takes pride in being a welcoming home for veterans, individuals with disabilities, people from diverse backgrounds, LGBTQ+ community members, and more. This commitment to inclusion is reflected in the company's recruitment and hiring practices and its social responsibility initiatives. From the workplace to the community, MGM Resorts' commitment to diversity, equity and inclusion remains unwavering, and its efforts continue to create a more equitable and sustainable world for all. MGM Resorts understands its responsibility to contribute to the social and economic progress of the communities in which it operates. HERE, we embrace humanity.