Medical Fair India Will Feature Its First U.S. Pavilion
February 19, 2012
As Messe Duesseldorf's Medical Fair India,18th International Exhibition and Conference on Diagnostics, Medical Technology, Rehabilitation, Medical Equipment and Components continues to gain steam leading into the March 2-4 event at the Bombay Exhibition Center in Mumbai, show officials announced they had booked their first U.S. pavilion.
The internationality of the exhibitors steadily is increasing, and the U.S. pavilion will include the Illinois State Office, the Minnesota State Office and the U.S. Commercial Service.
In addition, there will be country group exhibits from the Czech Republic and Japan, as well as joint exhibits from Germany, France, Korea, Taiwan and Malaysia and the participation of Chinese companies under the sponsorship of the Shenzhen Association of Medical Devices, SPECTARIS, and the Chinese Chamber of Commerce for the Import & Export of Medicine and Health Products.
Individual exhibitors from Great Britain, Russia, the Netherlands, Hong Kong and Italy will round off the strong international presence.
A total of 311 exhibitors from 16 countries are expected to present a broad spectrum of healthcare products and services to more than 5,000 visitors on 38,700-plus square feet of exhibit space.
The healthcare services industry is one of its fastest growing sectors, accounting for 6 percent of the gross national product in India.
According to the Indo-German Chamber of Commerce, the medical device technology sector alone will grow from $3 billion to $5 billion in 2013.
With a current volume of more than Euro 300 billion, the global medical technology market also is on a stable growth course.
Messe Düsseldorf India organizes Medical Fair India as part of the Messe Duesseldorf Group based in Germany, which organizes MEDICA.
In addition, Medical Fair India 2012 will have the support of leading Indian associations such as the Association of Indian Medicals Device Industry and the Indian Association of Physical Medicine and Rehabilitation, as well as international institutions such as the Malaysian Rubber Export Promotion Council, the Korea Medical Devices Industrial Cooperation Association, UBIFRANCE, SAMD, the German Health Care Export Group and the German Electrical and Electronic Manufacturers' Association.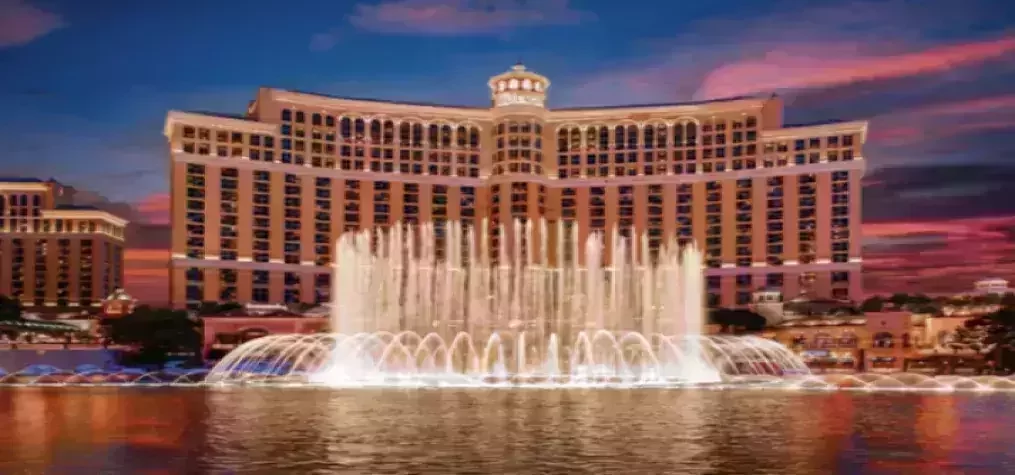 HERE, hosting responsible meetings and caring for our communities are top priorities. Through its 'Focused on What Matters: Embracing Humanity and Protecting the Planet' philosophy, MGM Resorts commits to creating a more sustainable future, while striving to make an impact in the lives of employees, guests, and the communities in which it operates. Water Stewardship Efforts MGM Resorts understands the importance of using water efficiently, especially in the desert destination of Las Vegas. Conserving water has always been part of the mission, but MGM Resorts has expanded its ambition into water stewardship. In 2022, MGM Resorts President and CEO Bill Hornbuckle signed the CEO Water Mandate—a UN Global Compact initiative mobilizing business leaders to advance water stewardship. MGM Resorts International was the first gaming company to take this important step. MGM Resorts replaced 200,000 square feet of real grass with drought-tolerant landscaping in Las Vegas. MGM Resorts pledges to reduce water withdrawal intensity by 33% by 2025 and by 35% by 2030. From 2007-2021, use of more than 5.6 billion gallons of water was avoided because of conservation efforts. Caring for One Another MGM Resorts' Food Donations Program collects and preserves unserved food from conventions held at MGM Resorts properties, then safely donates to food insecure people in the community. Since the program's launch in 2016, more than 3.7 million meals toward a 2025 goal of 5 million meals have been donated into the community. Donations include: Unserved perishable prepared foods from events Perishable unprepared food from MGM Resorts' kitchens Nonperishable food items from minibars and warehouses The collaboration with Southern Nevada's primary food bank, Three Square, has developed the infrastructure needed to safely collect, transport, and store food from MGM Resorts properties in Las Vegas, reducing food waste while serving the community. Fostering Diversity and Inclusion To MGM Resorts, a diverse and talented workforce is essential to success. By cultivating innovative strategies that consider multiple perspectives and viewpoints, the company creates an inclusive workplace culture that benefits its employees and community. MGM Resorts takes pride in being a welcoming home for veterans, individuals with disabilities, people from diverse backgrounds, LGBTQ+ community members, and more. This commitment to inclusion is reflected in the company's recruitment and hiring practices and its social responsibility initiatives. From the workplace to the community, MGM Resorts' commitment to diversity, equity and inclusion remains unwavering, and its efforts continue to create a more equitable and sustainable world for all. MGM Resorts understands its responsibility to contribute to the social and economic progress of the communities in which it operates. HERE, we embrace humanity.