International Association of Exhibitions and Events Reveals 2018 Award Winners
November 13, 2018
The International Association of Exhibitions and Events unveiled this year's recipients of its awards program, which recognizes IAEE members and member companies who have made outstanding contributions to the exhibitions and events industry.
Along with the Woman of Achievement and International Excellence award winners, which were announced earlier this year, these award recipients will be honored during Expo! Expo! IAEE's Annual Meeting & Exhibition on tap Dec. 11-13 in New Orleans.
The 2018 IAEE Award Winners were selected after careful consideration and review by the IAEE Awards Committee and approval by the IAEE Board of Directors following an open call for nominations earlier in the year.
"We received outstanding nominations for IAEE members who are going above and beyond to make a difference in our association and our industry," said IAEE Awards Committee Chairperson Patricia Farias Barlow, CEM.
She added, "We are proud to honor them with these awards, and grateful to the IAEE members who take the time and effort to put forth their nominations."
The Pinnacle Award recognizes an IAEE member who, over the years, has furthered IAEE's objectives of advancing exhibitions and events management through the promotion of education, the dissemination of knowledge and the introduction or development of innovative techniques, and who has been dedicated to the perpetuation of the highest ideals, trust and professionalism in this highly specialized field.
The award was established in memory of the late Founder and Past President of IAEE (formerly NAEM) William Hunt Eisenman and is presented by IAEE in recognition of extraordinary achievement in the exhibitions and events management field.
This year's honoree is Carol Fojtik, CEM, senior vice president, Hall-Erickson. Fojtik joined the industry by starting at a trade show management company owned by Martin C. Dwyer.
As a show manager, she worked on such shows as "Nefta-gaz" in Moscow and CONEXPO, among others. For 17 years, she worked and developed her skills under the leadership of Dwyer. When the company sold, she took the experiences and knowledge she had gained with her to Hall-Erickson.
Fojtik worked with Hub Erickson as a show director on such shows as "Automechanika" serving the automotive industry located in Frankfurt, Germany.
 It was in 1984 that she really opened new ground for women in trade shows when she managed the U.S. Pavilion at "Automechanika" at a time when there were very few women managing trade shows overseas.
Fojtik had one of the biggest U.S. Pavilions, which resulted in her co-authoring a book called Marketing by Exhibiting in the Global Market.
Together with creative talents of Exhibitor Magazine, Fojtik helped launch one of the trade show industry's most exciting trade shows, "The Exhibitor Show" now known as "EXHIBITORLIVE."
The first show was launched in 1989 with 75 exhibitors that occupied 14,000 net square feet of exhibit space.
Under her direction, the show has grown to almost 300 exhibitors occupying more than 60,000 net square feet of exhibit space. For almost 30 years she has led the team to produce an exciting and successful event.
Fojtik also was recommended to the National Mining Association to manage and direct the world's largest mining equipment show called "MINEXPO" in Las Vegas. With more than 1,200 exhibitors and occupying a million net square feet-plus of exhibit space, Fojtik again broke new ground as the first female to manage that major trade show.
Fojtik has been a loyal IAEE member since 1985, serving on various committees on both the national and local levels.
Many of IAEE's programs boast her contributions and dedication to serving IAEE's membership and objectives. She is known for her generous mentorship and has helped shape many of today's well-known industry leaders.
Across the industry, Fojtik is well known for her expertise in the management of trade shows, making her a regular presenter in the U.S. and abroad. The indelible mark that Fojtik has made on IAEE as an organization, and the overall exhibitions and events industry, embodies the spirit and significance of the IAEE Pinnacle Award.
The Distinguished Service Award is presented to an IAEE member in recognition of an individual who has rendered distinguished service to IAEE and to the exhibition industry. Qualifying criteria includes extraordinary service and contributions at both the local and national levels that have furthered the growth and development of this organization.
When representing IAEE, the honoree will have served as a role model for the industry. This year's recipient is Ian Sequeira, Vice President, Research & Measurement, Freeman.
The Chapter Merit Award recognizes IAEE members whose ideas and/or work have benefited IAEE as an organization in some special way and is generally reserved for those who have stepped forward at the chapter/local level.
This year's recipients are Dan Darby, CEM, Vice President of Marketing, ICRE, Informa Exhibitions; Chris Eisenberg, CEM, Executive Vice President, Bartizan Connects; and Angi Van Berg, CEM, Vice President of Trade Show Sales, Louisville Tourism.
The Volunteer of the Year Award recognizes IAEE members who have dedicated their time to the progress and fulfillment of the charge of a committee or task force on which they serve. This year's award recipient is Cookie Walner, CMP, CMM, CAE, CEM, HMCC, Global Project Manager, ConferenceDirect.
The Outstanding Marketing & Sales Award recognizes an IAEE member's outstanding achievement in marketing and sales activities including outstanding performance in total event revenue/profit, advertising revenue, attendance, sponsorship revenue, exhibit space sales and customer service. This year's award recipient is the International Association of Amusement Parks & Attractions (IAAPA).
The Young Professional of the Year Award recognizes excellent professional performance by IAEE members 35 years of age or younger who have committed their time to advancing the standing of young professionals in our industry. This year's award recipient is Tara Allen, CEM, Sales Manager, GES.
Click here to see this year's winners! Details about Expo! Expo! IAEE's Annual Meeting & Exhibition 2018 may be found at www.myexpoexpo.com.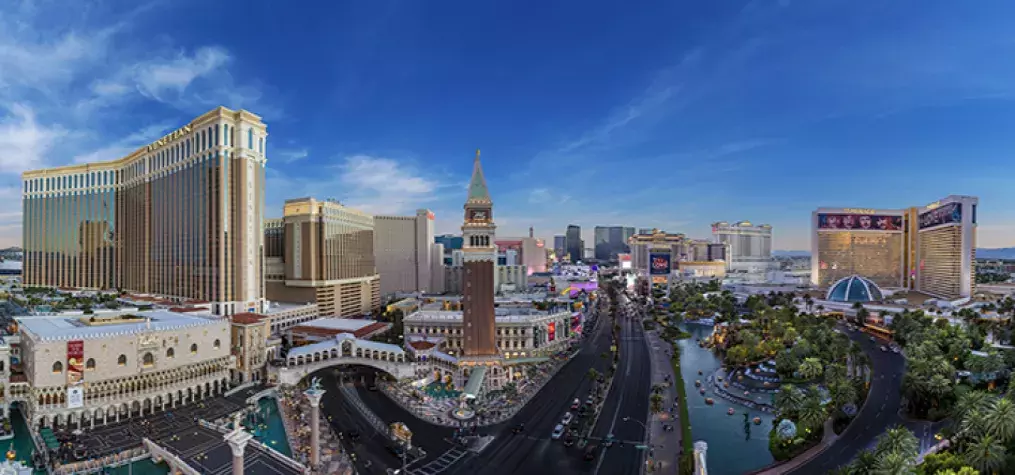 Less than six months ago, Lisa Messina joined the Las Vegas Convention and Visitors Authority (LVCVA) as the first-ever chief sales officer after leading the sales team at Caesars Entertainment. A 12-year Las Vegas resident, Messina is a graduate of Cornell University's School of Hotel Administration and serves on MPI International's board of directors. TSNN had a chance to catch up with this dynamic leader and talk to her about her vision for the new role, current shifts in the trade show industry, creating more diversity and equity within the organization, and advice to future female leaders. Lisa Messina, Chief Sales Officer, LVCVA With Las Vegas becoming The Greatest Arena on EarthTM, what are some of the things you're most excited about in your role? Our team was at The Big Game's handoff ceremony earlier this month, and I couldn't help but think, "We're going to crush it next year!" These high-profile events and venues not only drive excitement, but also provide unmatched opportunities for event planners. Allegiant Stadium hosts events from 10 to 65,000 people and offers on-field experiences. Formula 1 Grand Prix will take place in Las Vegas in November, after the year-one F1 race, the four-story paddock building will be available for buyouts and will also offer daily ride-along experiences that will be available for groups. And, of course, the MSG Sphere officially announced that it will open in September, ahead of schedule, with a U2 residency. It's going to be the most technologically advanced venue as far as lighting, sound, feel, and even scent, and it will be available for buyouts and next-level sponsorships inside and outside. There's no ceiling to what you can do when you're doing events in Las Vegas. Allegiant Stadium As the trade show and convention business returns to the pre-pandemic levels, what shifts are you noticing and how do you think they will impact the industry going forward? Our trade show organizers are very focused on driving customer experience. Most of our organizers are reporting stronger exhibitor numbers and increased numbers of new exhibitors, with trade shows proving to be almost or above 2019 levels. Now our organizers are really doubling down on driving attendance and focusing on the data to provide that individualized, customized experience to help attendees meet their goals and get the best value. Some companies continue to be cautiously optimistic with their organizational spend when it comes to sending attendees, but I think it will continue to improve. As the U.S. Travel Association makes more progress on the U.S. visa situation, we also expect a growing influx of international attendees. What are some innovative ways the LVCVA helps trade show and convention organizers deliver the most value for their events? We focus on customer experience in the same way that trade show organizers are thinking about it. We got rave reviews with the West Hall Expansion of the Las Vegas Convention Center (LVCC), so over the next two years, we will be renovating the North and the Central halls, which will include not just the same look and feel, but also the digital experiences that can be leveraged for branding and sponsorship opportunities. Vegas Loop, the underground transportation system designed by The Boring Company, is also a way we have enhanced the customer experience. Vegas Loop at the LVCC has transported more than 900,000 convention attendees across the campus since its 2021 launch. Last summer, Resorts World and The Boring Company opened the first resort stop at the Resorts World Las Vegas , with plans to expand throughout the resort corridor, including downtown Las Vegas, Allegiant Stadium and Harry Reid International Airport. The LVCVA also purchased the Las Vegas Monorail in 2020, the 3.9-mile-long elevated transportation system that connects eight resorts directly to the convention center campus. This is the only rail system in the world that integrates fares directly into show badges and registration. For trade show organizers, these transportation options mean saving time, money and effort when it comes to moving groups from the hotels to LVCC and around the city. Also, the more we can focus on building the infrastructure around the convention center, the more it supports the customer experience and ultimately supports our trade show organizers. Scheduled to debut in Q4, Fontainebleau Las Vegas will offer 3,700 hotel rooms and 550,000 square feet of meeting and convention space next to LVCC. What are some of the plans for advancing DEI (diversity, equity and inclusion) within your organization? We're currently partnering with instead of working with a leading consulting firm, to lay the foundation and create a solid DEI plan and be the leader when it comes to DEI initiatives. The heart of that journey with the consulting firm is also talking to our customers about their strategic approaches to DEI and driving innovation in this space. What are your favorite ways to recharge? My husband and I have an RV and we're outdoorsy people. So, while we have over 150,000 world-class hotel rooms and renowned restaurants right outside our doorstep, one of my favorite things to do is get out to Red Rock Canyon, the Valley of Fire, and Lake Mead. Five of the top national parks are within a three-hour drive from Las Vegas, so there's a lot you can do. We love balancing the energy of Las Vegas with nature, and we're noticing that a lot of attendees add activities off the Strip when they come here. Valley of Fire What advice would you give to women following leadership paths in destination marketing? I think it's about being laser-focused on what you want to accomplish; building a team around you that lifts you and helps you achieve your goals; and being humble and realizing that you do it as a group. No one gets this done alone. Thankfully, there are a lot of women in leadership in this organization, in our customers' organizations, and in this city that we can be really proud of. We're a formidable force that is making things happen. This interview has been edited and condensed. This article is exclusively sponsored by the Las Vegas Convention & Visitors Authority. For more information, visit HERE.