International Market Centers Makes Progress Toward Recovery with First Atlanta Market of 2021
February 3, 2021
"Recovery from the pandemic is a journey and after this week in Atlanta, I can confirm that we have taken a giant step forward," proclaimed Bob Maricich, CEO of International Market Centers, following the close of the Winter 2021 Atlanta Market, held Jan. 12-19 at AmericasMart.
He continued, "We provided the platform — with safety measures and the return of favorite market experiences — and our buyers and sellers brought the passion, inspiration and dedication that will bring the home and gift industry back. It is onward and upward from here." 
He added that the nation's largest gift, home décor and lifestyle trade show reported healthy order writing, buyer traffic from across the country and positive projections for 2021, with buyers and sellers expressing optimism, confidence and demand for fresh, in-stock product at the first Atlanta Market of the new year. 
'The Market Is Back'
While buyer traffic didn't reach pre-pandemic levels, the event registered a more than 150% increase in attendees compared to its Summer 2020 counterpart, with spending showing signs of returning to relatively normal levels as evidenced by brands reporting 70-80% of their traditional order volume and average order sizes growing 15-50%, according to IMC officials.
"This really felt like the Market was back," said Dorothy Belshaw, president of gift at IMC. "In the summer and some of the shoulder markets that we've done since June, our goal was to bring buyers and sellers together to support commerce, and to get our safety protocols in place. We really tried to reinstate the customary flavor of the January Atlanta market, and although I wouldn't classify it as a normal market yet, it was much closer to normal than we've felt so far."
Additionally, the event saw a near historic influx of new buyers, who represented 22% of total buyer traffic, Belshaw added.
Although the show remained largely drive-in and regional, with 76% of traffic hailing from the Southeast, it featured an encouraging resumption of out-of-region attendance, with a 500% gain in Northeast buyers and a 200% gain in buyers from the Midwest and West compared to the Summer 2020 Market.  
National attendance also returned to the show, with buyers from 49 states (excepting Hawaii), Washington D.C., Puerto Rico and the U.S. Virgin Islands. Altogether, attendees came from 21 countries, including Central and South America. 
Both retailers and designers said they were excited to be able to source products in-person at Atlanta Market again. 
"You have to use your five senses when buying… you just have to see it in person," explained Jamie Pursell, owner of Birmingham, Alabama-based Leaf & Petal. "As a brick and mortar, our customers are seeing our merchandise in person, so we need to see it in person. [This market] felt buttoned-down, but comfortable." 
Typically, the biannual Atlanta Market features more than 8,000 brands across all gift and home décor categories, including seasonal, gourmet, tabletop and outdoor. At the January event, 90% of the more than 1,000 gift and home tenants opened their showrooms, demonstrating that the face-to-face sourcing experience is on its way to a return to normalcy.
Exceeding Expectations
According to IMC officials, exhibitors saw better-than-expected traffic, with strong order writing and healthy buying activity in the home décor and decorative accents; gourmet, housewares and tabletop, and seasonal and holiday categories. Some commented that it felt like a normal Market — just with masks on.
"We came into the market expecting to do about a third of our normal business, but we have surpassed that — we had a line to get into our showroom every day," said Exhibitor Cynde Stewart, president of seasonal décor brand Raz. "These buyers are very confident and we are on a great path for 2021."
Along with the increase in activity and optimism, the Winter Market also marked the return of its temporary showrooms, aka the trade show, with more than 400 exhibitors strategically placed in eight socially distanced exhibition halls that included wider aisles.  
"After the first two days, I [ran] out of order forms," said exhibitor Rick St. Angelo, founder of holiday décor brand Standing Stocking by 2 Saints. "I've surpassed my numbers from last January already and I haven't counted it all up yet."
Across all locations and categories, temporary exhibitors expressed gratitude for the return of the trade show portion of the event and said they intended to participate in the Summer 2021 Atlanta Market, which is set for July 13-19.
The event also brought back some of its popular mainstay Market experiences, including a new virtual adaptation of the Demonstration Kitchen, the launch of new Juniper "Preview Pods" providing a visual overview of the venue's new B2B e-commerce marketplace, as well as new "Instagrammable" installations.
As with the Summer 2020 Market, the Winter 2021 event strictly followed IMC's Together Safely protocols with its extensive on-campus safety procedures that included the required use of PPE, temperature checks, showroom capacity limits and social distancing measures.  
Each year, AmericasMart Atlanta hosts 14 Markets for the gift, home décor and apparel industries. The campus is open year-round and features more than 400 permanent showrooms across three buildings serving the retail, commercial and design communities.
Next up, IMC and AmericasMart will host the Spring Mini Market, set to go live March 3-5.
Don't miss any event-related news: Sign up for our weekly e-newsletter HERE and engage with us on Twitter, Facebook, LinkedIn and Instagram!
Partner Voices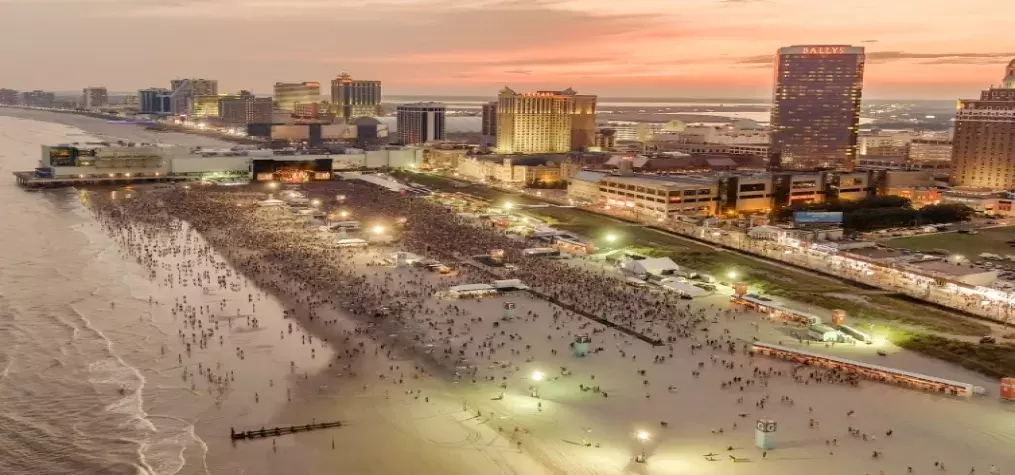 Caesars Entertainment strode into 2022 with its sights set on making the year one of innovation and renovation for the Empire as the company announced a $400 million, Las Vegas-style makeover for its Atlantic City properties. The master plan for the company's three East Coast properties -- Caesars, Harrah's, and Tropicana -- involves interior renovations, new celebrity dining concepts, and more to create the ultimate seaside conference destination.