People News: ASM Global, 3D Exhibits and More Expand Teams, Fill Director Roles 
March 7, 2023
The steady influx of new hires and promotions continues as trade shows move full steam ahead in 2023. Take a look at who's landing new career opportunities or moving up the ladder at event-related organizations across the U.S. and abroad! 
ASM Global

 
Global venue management and event strategy leader ASM Global has appointed 20-year San Francisco travel and convention veteran Leonie Patrick as the new general manager for the George R. Moscone Convention Center in San Francisco.  
In her new role, Patrick will work closely with ASM Global to continue attracting business to San Francisco's largest convention and exhibition complex, already considered one of the industry's leading convention centers. 
A San Francisco native, Patrick previously served as vice president of convention sales for the San Francisco Travel Association, the official destination marketing organization for the City and County of San Francisco, where she developed a successful track record of promoting the destination to attract business and leisure visitation.
3D Exhibits
Thirty-year exhibit industry veteran Kim Merkin has joined leading exhibit agency 3D Exhibits as vice president, strategic accounts, responsible for elevating client management and driving key account growth. 
Merkin joins the 3D team after 20 years at Czarnowski. With additional stints at Exhibitgroup/Giltspur before that, she brings a deep understanding of the exhibit landscape to her new role. 
Visit Oklahoma City 
Visit Oklahoma City (Visit OKC) is continuing its hiring momentum with the recent appointment of three new staff members to support the destination's sports and convention demand.
Lesley Patterson has joined the Visit OKC Team as director of convention sales. She previously served as the director of membership at Montage Palmetto Bluff in South Carolina and as the director of guest services at the Gathering Place in Tulsa. 
Blake Ruggs, who has joined the team as sports sales manager, came to Visit OKC after working in Tulsa with Major League Fishing.
Liv Cowan has been appointed events services manager, responsible for supporting sports and equine events. A recent graduate of Oklahoma State University, she previously worked as the social responsibility coordinator at the YMCA of Greater OKC. 
UFI
UFI, the Global Association of the Exhibition Industry, appointed experienced exhibition industry professional Natalia Limonova-Bonnel as its new research coordinator, based in UFI's Paris office. In her new role, she is responsible for supporting UFI's research projects and carrying out studies directly or in collaboration with partner associations and industry partners. 
Limonova-Bonnel brings many years of experience to her new position, having been responsible for national and international exhibition markets research, among other tasks, at other industry associations. 
Atlanta Convention & Visitors Bureau
The Atlanta Convention & Visitors Bureau (ACVB) is continuing to grow its team with the announcement of two new managerial hires: Daniel Treuman as destination services executive and Tanya Hamel as national sales manager. 
In his new role, Treuman will manage groups with a minimum of 250 hotel rooms on peak night, serving as the liaison between the sales department, meeting planners, ACVB member companies and trade associations to ensure the satisfaction of groups coming to Atlanta. He previously served as senior event manager at Atlanta Marriott Marquis, where he planned operational aspects of meetings and conventions for the property.
Hamel is responsible for selling and marketing Atlanta as a premier destination for groups using 51-1,200 hotel rooms on peak night, focusing on the Midwest, Washington, D.C., Maryland and Virginia markets. She will also represent ACVB at trade shows and coordinate the participation of its partners. Before joining ACVB, Hamel served as senior sales enthusiast at Canopy by Hilton Atlanta Midtown. 
FounderMade 
Beauty, wellness and nutrition brand discovery platform and event management company FounderMade has welcomed two event industry experts to its team: Marion Pradier Sentucq and Stephanie Augello. 
As FounderMade's new show director, Pradier Sentucq is responsible for overseeing four events: D2C Executive Summit East and Innovation Show East in New York City, and D2C Executive Summit West and Innovation Show West in Los Angeles. 
She previously served as director of marketing and sales for the Fashion Division of Comexposium USA, where she helped drive the growth of the Curve brand in North America, maintaining and growing the business at Curve New York, launching new events in Los Angeles and Montreal and rebranding the sourcing event Interfiliere New York in 2017 and 2018. 
Prior to that, Pradier Sentucq worked with the creative agency Carlin, and before joining the trade show business, served as head of marketing for French fashion designer Daniel Hechter. 
As FounderMade's marketing manager, Augello began her career coordinating corporate real estate events with Bisnow Media, later transitioning to its marketing department and managing event marketing, lead generation, social media and brand marketing for more than 80 events.  
Georgia International Convention Center 
The Georgia International Convention Center (GICC) recently promoted seasoned industry veteran Darcel Ivey to senior sales manager, responsible for soliciting new and existing business for the Gateway Center Campus that includes the convention center, Gateway Center Arena and the Historic College Park Golf Course.
In her expanded role, Ivey will work secure the event space for both corporate and public community events, as well as trade shows and conferences. In addition, she is responsible for generating proposals and contracts and attending industry events and trade shows while working with several departments to ensure event success.
A skilled and detail-oriented sales professional, Ivey has worked with the GICC team for nearly 25 years, joining in April of 1998 and bringing multiple years of hospitality industry experience. Before joining the GICC, she served on the Embassy Suites Atlanta Airport team for over seven years, achieving multiple promotion advancements from administrative assistant to sales manager. 
International Market Centers

 
International Market Centers (IMC) has made changes to its executive and senior leadership teams with new positions and promotions for key staff. 
Dorothy Belshaw has been promoted into the newly created role of executive vice president, chief growth officer, tasked with directing IMC's growth, evolution and business expansion in both the physical and digital realms. She will be responsible for all IMC revenues as well as company-wide strategic growth initiatives.  
A more than 30-year veteran of the trade show industry, Belshaw joined IMC in 2012 as president of its fledgling Gift division, with the specific charge of expanding Las Vegas offerings, after which her role soon broadened across IMC's Las Vegas and High Point campuses. As a member of IMC's executive leadership team, she helped facilitate IMC's acquisition and integration of AmericasMart Atlanta in 2018 and Shoppe Object in 2022. Prior to joining IMC, she served as senior vice president for leading consumer product trade show producer George Little Management (GLM).
Veteran IMC staffers Karen Olson, Brett Austin and Brian Archer have also assumed expanded roles and responsibilities. 
Olson, who boasts a more than 25-year career in wholesale marketing and business strategy, assumes the role of chief marketing officer. Since joining IMC in 2011, she has made a strong imprint on the company's marketing for High Point, as well as its expansion into Las Vegas in 2011, Atlanta in 2018 and JuniperMarket in 2020. 
Bringing more than 20 years of experience in managing advertising sales, production, procurement, project management and creative services to his new position, Austin assumes the role of senior vice president, procurement and production. He joined IMC in 2018 as part of the company's acquisition of AmericasMart Atlanta and oversees marketing operations across the company's three campuses.
Archer assumes additional responsibility as senior vice president of commercial lighting trade show LightFair, owned by IMC in partnership with IALD and IES. He brings nearly 20 years of financial and accounting experience to his current role as chief accounting officer for IMC, which he joined in 2014 with responsibility for oversight of the accounting, tax, treasury, risk management, payroll and financial reporting functions.  
Scott Eckman, who joined IMC in 2011 and most recently served as executive vice president, chief revenue officer, has departed IMC to become president of Loloi Rugs, a family-owned rug and home decor business with permanent showrooms in markets including Atlanta Market, High Point Market and Las Vegas Market. 
Impact XM 

  
Global full-service event and experiential marketing agency Impact XM has appointed Jennifer Beindorf as senior vice president of client services. Bringing more than 25 years of experience in the live event and experiential marketing industry to her new role, she will help lead the agency's client service team to deliver premium solutions for each brand's specific needs, with a focus on an in-depth understanding of clients business goals and objectives.    
A strategic business and marketing innovator, Beindorf will leverage her expertise in business strategy, marketing, brand building, exhibit programs, corporate meetings, events and consumer activations to support the client service team.
She launched her career at Ford Motor Company before later moving to the agency side. Throughout her agency experience, she has worked with a variety of clients across tech, health care, financial services, automotive, heavy construction and consumer products verticals.  
INFiLED 
Global LED displays leader INFiLED recently welcomed industry sales leader Kathy Skinski as the new vice president of sales for INFiLED North America. She brings more than 25 years of experience in the technology and media industries, with roles at top media giants including ABC, WarnerMedia and Time Warner Cable. 
Prior to joining INFiLED, Skinski was recruited to lead the broadcast, media and virtual production unit at Planar Systems, where she established an exceptional track record developing new partnerships and alliances and managing the North American sales team. 
Have some trade show-related people news to share? Please send announcements and high-resolution headshots to lpsavas@tsnn.com.
Don't miss any event-related news: Sign up for our weekly e-newsletter HERE, listen to our latest podcast HERE and engage with us on Twitter, Facebook and LinkedIn!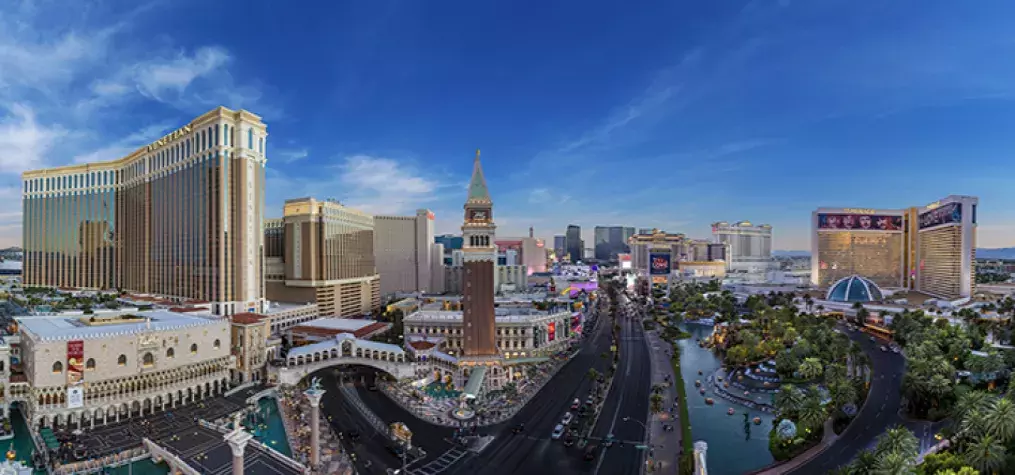 Less than six months ago, Lisa Messina joined the Las Vegas Convention and Visitors Authority (LVCVA) as the first-ever chief sales officer after leading the sales team at Caesars Entertainment. A 12-year Las Vegas resident, Messina is a graduate of Cornell University's School of Hotel Administration and serves on MPI International's board of directors. TSNN had a chance to catch up with this dynamic leader and talk to her about her vision for the new role, current shifts in the trade show industry, creating more diversity and equity within the organization, and advice to future female leaders. Lisa Messina, Chief Sales Officer, LVCVA With Las Vegas becoming The Greatest Arena on EarthTM, what are some of the things you're most excited about in your role? Our team was at The Big Game's handoff ceremony earlier this month, and I couldn't help but think, "We're going to crush it next year!" These high-profile events and venues not only drive excitement, but also provide unmatched opportunities for event planners. Allegiant Stadium hosts events from 10 to 65,000 people and offers on-field experiences. Formula 1 Grand Prix will take place in Las Vegas in November, after the year-one F1 race, the four-story paddock building will be available for buyouts and will also offer daily ride-along experiences that will be available for groups. And, of course, the MSG Sphere officially announced that it will open in September, ahead of schedule, with a U2 residency. It's going to be the most technologically advanced venue as far as lighting, sound, feel, and even scent, and it will be available for buyouts and next-level sponsorships inside and outside. There's no ceiling to what you can do when you're doing events in Las Vegas. Allegiant Stadium As the trade show and convention business returns to the pre-pandemic levels, what shifts are you noticing and how do you think they will impact the industry going forward? Our trade show organizers are very focused on driving customer experience. Most of our organizers are reporting stronger exhibitor numbers and increased numbers of new exhibitors, with trade shows proving to be almost or above 2019 levels. Now our organizers are really doubling down on driving attendance and focusing on the data to provide that individualized, customized experience to help attendees meet their goals and get the best value. Some companies continue to be cautiously optimistic with their organizational spend when it comes to sending attendees, but I think it will continue to improve. As the U.S. Travel Association makes more progress on the U.S. visa situation, we also expect a growing influx of international attendees. What are some innovative ways the LVCVA helps trade show and convention organizers deliver the most value for their events? We focus on customer experience in the same way that trade show organizers are thinking about it. We got rave reviews with the West Hall Expansion of the Las Vegas Convention Center (LVCC), so over the next two years, we will be renovating the North and the Central halls, which will include not just the same look and feel, but also the digital experiences that can be leveraged for branding and sponsorship opportunities. Vegas Loop, the underground transportation system designed by The Boring Company, is also a way we have enhanced the customer experience. Vegas Loop at the LVCC has transported more than 900,000 convention attendees across the campus since its 2021 launch. Last summer, Resorts World and The Boring Company opened the first resort stop at the Resorts World Las Vegas , with plans to expand throughout the resort corridor, including downtown Las Vegas, Allegiant Stadium and Harry Reid International Airport. The LVCVA also purchased the Las Vegas Monorail in 2020, the 3.9-mile-long elevated transportation system that connects eight resorts directly to the convention center campus. This is the only rail system in the world that integrates fares directly into show badges and registration. For trade show organizers, these transportation options mean saving time, money and effort when it comes to moving groups from the hotels to LVCC and around the city. Also, the more we can focus on building the infrastructure around the convention center, the more it supports the customer experience and ultimately supports our trade show organizers. Scheduled to debut in Q4, Fontainebleau Las Vegas will offer 3,700 hotel rooms and 550,000 square feet of meeting and convention space next to LVCC. What are some of the plans for advancing DEI (diversity, equity and inclusion) within your organization? We're currently partnering with instead of working with a leading consulting firm, to lay the foundation and create a solid DEI plan and be the leader when it comes to DEI initiatives. The heart of that journey with the consulting firm is also talking to our customers about their strategic approaches to DEI and driving innovation in this space. What are your favorite ways to recharge? My husband and I have an RV and we're outdoorsy people. So, while we have over 150,000 world-class hotel rooms and renowned restaurants right outside our doorstep, one of my favorite things to do is get out to Red Rock Canyon, the Valley of Fire, and Lake Mead. Five of the top national parks are within a three-hour drive from Las Vegas, so there's a lot you can do. We love balancing the energy of Las Vegas with nature, and we're noticing that a lot of attendees add activities off the Strip when they come here. Valley of Fire What advice would you give to women following leadership paths in destination marketing? I think it's about being laser-focused on what you want to accomplish; building a team around you that lifts you and helps you achieve your goals; and being humble and realizing that you do it as a group. No one gets this done alone. Thankfully, there are a lot of women in leadership in this organization, in our customers' organizations, and in this city that we can be really proud of. We're a formidable force that is making things happen. This interview has been edited and condensed. This article is exclusively sponsored by the Las Vegas Convention & Visitors Authority. For more information, visit HERE.