Hong Kong Convention and Exhibition Centre, Marriott International Launch Initiatives to Cut Plastic Waste
September 13, 2018
A single plastic straw, which might be used for about 15 minutes, will never fully decompose. That depressing fact has inspired two major players in the exhibitions, meetings and hospitality industries to launch a series of sustainability initiatives designed to give single-use plastic waste the boot.
As part of its ongoing commitment to sustainability, the Hong Kong Convention and Exhibition Centre has launched "Think Before Plastic," an initiative debuted at the start of its new fiscal year on July 1 that features a series of new measures focused on cutting back and eliminating plastic waste, including the replacement of plastic disposable cutlery with non-plastic alternatives at all HKCEC restaurant outlets and concession stands, the elimination of plastic straws and the availability of paper straws upon request. 
As a result of these measures, the facility expects to cut out the use of over 1,300,000 pieces of plastic disposable cutlery and more than 330,000 plastic straws in 12 months, according to Hong Kong Convention and Exhibition Centre (Management) Limited (HML), which manages the venue.
In addition, the sale of plastic bottled beverages from all vending machines for staff members and contractors working in back-of-house areas has been discontinued, according to HML officials.
"All of us – venue operators, event organizers, exhibitors, buyers, visitors, event attendees, dining guests – have a responsibility towards our environment," said Monica Lee-Müller, HML managing director and the primary driver of the new initiative.
She continued, "HML is striving to be at the forefront of a greener event industry and one way we are doing this is by encouraging our customers, event organizers, contractors, suppliers and stakeholders, as well as other event industry players, to think before using disposable plastic items."
Cutting out disposable plastic cutlery and plastic straws is only the beginning, with the HKCEC working to source non-disposable plastic alternatives for various other items, such as meal boxes and cup lids, she added.
With community engagement as a crucial factor in the success of any sustainability initiative, HML is encouraging visitors and attendees to bring their own reusable water bottles when attending events at the HKEC, as well as to make use of the 18 water fountains available throughout the facility.
To promote the fountains, prominent signs have been added in exhibition halls and meeting room corridors. 
According to facility officials, HML was the first organization in Hong Kong to achieve ISO 20121 Event Sustainability Management System recognition, a certification that recognizes an event facility for fully incorporating sustainability into its entire event management cycle, including its operational procedures and guidelines. 
However, HKCEC isn't the only big player in the events industry to begin detaching itself from plastics and the havoc they wreak on the environment and sea life.
In support of its ongoing mission to reduce its environmental impact, Marriott International has adopted a plan to remove disposable plastic straws and plastic stirrers from its more than 6,500 global properties across 30 brands, as well as its corporate headquarters.
Once fully implemented in one year, the company anticipates this initiative will help eliminate the use of more than 1 billion plastic straws annually and about a quarter billion stirrers.
"We are proud to be among the first large U.S. companies to announce that we're eliminating plastic straws in our properties worldwide," said Arne Sorenson, president and CEO of Marriott International. 
He continued, "Removing plastic straws is one of the simplest ways our guests can contribute to plastic reduction when staying with us – something they are increasingly concerned about and are already doing in their own homes. We are committed to operating responsibly and, with over one million guests staying with us every night, we think this is a powerful step forward to reducing our reliance on plastics."
Marriott's plastic straw initiative will take full effect at both managed and franchised properties by July 2019, which will give hotel owners and franchisees time to deplete their existing supply of plastic straws, identify sources of alternate straws and educate staff to modify customer service. As part of the initiative, hotels will offer alternative straws upon request.
The initiative is just the latest change the hospitality company is making to enhance the sustainability of its operations and reduce plastic consumption. 
Earlier this year, the hotelier began replacing small toiletry bottles in the guest bathrooms of approximately 450 select-service hotels with larger, in-shower dispensers that distribute more product for guests to use, thus reducing waste. The new toiletry dispensers are expected to be in place at more than 1,500 hotels in North America by the end of this year, which would enable Marriott to eliminate more than 35 million small plastic toiletry bottles annually that typically end up in landfills.
Last year, Marriott set its most ambitious sustainability and social impact goals ever that call for reducing landfill waste by 45 percent and responsibly sourcing its top 10 product purchase categories by 2025. These goals and other sustainability programs are part of the company's Serve 360: Doing Good in Every Direction initiative that addresses social, environmental and economic issues.
Don't miss any event news! Sign up for any (or all) of our e-newsletters HERE & engage with us on Twitter, Facebook, LinkedIn & Instagram!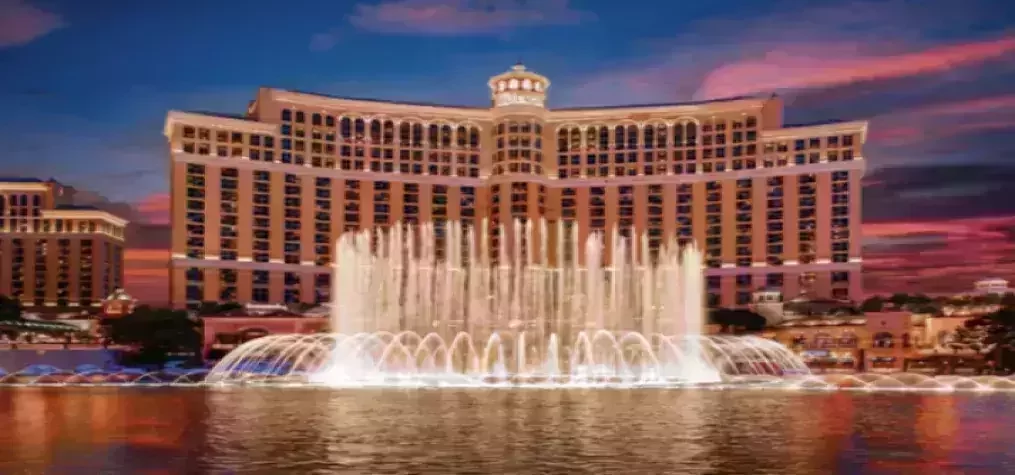 HERE, hosting responsible meetings and caring for our communities are top priorities. Through its 'Focused on What Matters: Embracing Humanity and Protecting the Planet' philosophy, MGM Resorts commits to creating a more sustainable future, while striving to make an impact in the lives of employees, guests, and the communities in which it operates. Water Stewardship Efforts MGM Resorts understands the importance of using water efficiently, especially in the desert destination of Las Vegas. Conserving water has always been part of the mission, but MGM Resorts has expanded its ambition into water stewardship. In 2022, MGM Resorts President and CEO Bill Hornbuckle signed the CEO Water Mandate—a UN Global Compact initiative mobilizing business leaders to advance water stewardship. MGM Resorts International was the first gaming company to take this important step. MGM Resorts replaced 200,000 square feet of real grass with drought-tolerant landscaping in Las Vegas. MGM Resorts pledges to reduce water withdrawal intensity by 33% by 2025 and by 35% by 2030. From 2007-2021, use of more than 5.6 billion gallons of water was avoided because of conservation efforts. Caring for One Another MGM Resorts' Food Donations Program collects and preserves unserved food from conventions held at MGM Resorts properties, then safely donates to food insecure people in the community. Since the program's launch in 2016, more than 3.7 million meals toward a 2025 goal of 5 million meals have been donated into the community. Donations include: Unserved perishable prepared foods from events Perishable unprepared food from MGM Resorts' kitchens Nonperishable food items from minibars and warehouses The collaboration with Southern Nevada's primary food bank, Three Square, has developed the infrastructure needed to safely collect, transport, and store food from MGM Resorts properties in Las Vegas, reducing food waste while serving the community. Fostering Diversity and Inclusion To MGM Resorts, a diverse and talented workforce is essential to success. By cultivating innovative strategies that consider multiple perspectives and viewpoints, the company creates an inclusive workplace culture that benefits its employees and community. MGM Resorts takes pride in being a welcoming home for veterans, individuals with disabilities, people from diverse backgrounds, LGBTQ+ community members, and more. This commitment to inclusion is reflected in the company's recruitment and hiring practices and its social responsibility initiatives. From the workplace to the community, MGM Resorts' commitment to diversity, equity and inclusion remains unwavering, and its efforts continue to create a more equitable and sustainable world for all. MGM Resorts understands its responsibility to contribute to the social and economic progress of the communities in which it operates. HERE, we embrace humanity.