People News: Encore, Diversified Communications and More Tap Industry Veterans, Fill Teams
May 10, 2023
The U.S. trade show industry is continuing a robust Q2 as event-related companies and venues far and wide expand their teams and appoint experienced industry leaders to guide their growth trajectories. Take a look! 
Encore 
Global event technology and production services provider Encore recently made two senior executive hires focused on elevating customer experience: Trevor Ferguson as COO and Michelle Brown as senior vice president of operations and customer excellence. 
Ferguson joins Encore's leadership team from Aramark, where he worked for more than 17 years, most recently serving as president and COO of the hospitality provider's higher education business.  
In her new role, Brown will lead Encore's operational best practices with a focus on scaling service excellence across the business. She previously served as vice president of digital products and analytics at United Airlines, where she worked in many roles, including CFO of commercial business units, managing director of airport operations and managing director of the MileagePlus loyalty program.  
Diversified Communications 
Leading international media company Diversified Communications recently announced new leadership for its U.S. operating division with two promotions: Liz Plizga as president and Joann Leonard as senior vice president, business operations.  
In her new leadership role, Plizga will focus on strategic initiatives and the division's diverse product portfolio of events, conferences, digital products and publications. Bringing previous expertise in event planning and logistics, she joined Diversified in 2002 as an operations manager and later took on director roles overseeing trade events and digital media. After four years of leading and growing Diversified's global seafood portfolio, she was promoted to vice president of events and media in 2015.  
Leonard will handle the day-to-day business operations to ensure the central service teams are nimble, integrated and properly resourced. Her 26-year career in trade show operations at Diversified started at the coordinator level and led to eight years as vice president of operations, customer service and registration, where she built, managed and directed three central service departments. 
Orbus Exhibit & Display Group

 
Orbus Exhibit & Display Group, North America's largest producer and manufacturer of visual communications solutions for trade shows and events, retail environments and corporate interiors, sadly announced the sudden death of Simon Perutz, the much-loved and respected founder of Nimlok, Orbus and 13 other exhibit and display companies, on April 19 at the age of 64.
An entrepreneur, mentor, associate and friend to many, Perutz was considered a titan in the exhibit industry who leaves a legacy of relationship-building, innovation, hard work and success. His father, Gerald Perutz, and Neil Nimmo, inventor of the Nimlok lock and clip and the original modular display system, founded Nimlok Limited in the U.K. in 1970. The business grew rapidly, and in 1977, Gerald relocated his family from the U.K. to the U.S. In 1981, Neil, Gerald and Simon established Nimlok in the U.S.
Perutz led Nimlok's product development, sales and marketing efforts, and formed relationships with business leaders across the nation and the globe, leading to the creation of a network of Nimlok Dealerships in the U.S., the establishment of Nimlok Canada in 1985 and Nimlok Italy and Nimlok Australia, among others. 
In 2001, Perutz established Orbus Exhibit & Display Group in the U.S. He continued to lead the U.S. Nimlok business until 2010, when Nimlok merged with Orbus. Together, Perutz, his brother Tim and Gerald established 15 exhibit and display-focused companies worldwide and formed the P3 Group (commemorating the three Perutzes: Gerald, Simon and Tim).
Perutz was a loving husband, son, brother, father and grandfather and is survived by his wife Kim, sons Andrew and Matthew, daughters Kate, Tessa and Lucy, as well as granddaughter Daisy and his siblings Tim and Sandie.
Two videos honoring and revering Simon Perutz can be viewed here.
T3 Expo
Trade show and corporate event general service contractor T3 Expo recently expanded its go-to-market team with the appointment of Matthew Kalb as vice president of client relations.
An award-winning Certified in Exhibition Management Advanced Professional (CEM-AP) and Certified Meeting Professional (CMP), as well as an IAEE CEM instructor who teaches domestically and internationally, Kalb brings nearly two decades of client service experience to his new role. He previously served as director of business development for PRG and has held roles at leading trade show companies including GES and Hargrove. 
CSI DMC
Destination and event management company CSI DMC welcomed Taylor Abbate to its team as director of national sales. An award-winning events professional, she brings years of expertise in events and destination management, client relations and operations to her new role. 
Abbate comes to CSI DMC following a highly productive tenure at Bishop-McCann as an attendee experience manager, focused on managing client relationships and delivering premium attendee experiences for in-person and hybrid meetings. Prior to that, she spent just under five years at the American Public Works Association as a meeting planner and meetings coordinator, responsible for overseeing the association's national conferences and meetings.  
YCD Multimedia 
YCD Multimedia tapped award-winning sales and business development professional Carrie Garcia as its new business development manager in the U.S., tasked with building brand awareness and developing opportunities for the digital signage platform company's suite of products.  
Bringing a strong background in the information technologies, AV and services industry, Garcia possesses a strong network of designers, content creators, consultants and integration partners who will serve her well as she begins to connect with them for digital signage CMS opportunities. She most recently served as an account executive at Poppulo and prior to that, worked as a senior account executive at ULTATEL. 
ASM Global
Leading venue and event strategy and management provider ASM Global recently welcomed three event industry professionals to three convention centers in its expansive client portfolio.
The Hawai'i Convention Center in Honolulu welcomed Executive Chef Brooke Tadena to lead its award-winning food and beverage team. He brings more than a decade of culinary leadership experience to his new role, most recently serving as executive sous chef at the Hilton Hawaiian Village since 2014. As a senior chef at the resort, he was responsible for budgeting, staffing and working in coordination with Hilton partner properties. 
Tadena previously served as an executive sous chef at Moana Surfrider, A Westin Resort & Spa, and as a banquet chef at the Hilton Hawaiian Village. In addition to overseeing some of the state's largest banquet facilities, his experience spans scheduling, training staff for fine service and food preparation, and organization of large-scale food and wine events.  
Jason Humphrey has been named the first general manager of the new Ithaca Downtown Conference Center in Ithaca, N.Y., the first fully electric conference facility in the U.S., set to open in 2024. An industry professional with more than 12 years of experience in event services and hospitality, he will be responsible for overseeing every aspect of venue management and customer experience and will work closely with the facility's owners, the Downtown Ithaca Local Development Corporation, to drive new economic activity in the destination. 
Most recently, Humphrey served as an event services manager for the University of Pittsburgh, where he oversaw the planning and execution of various events within the University Club and other locations. Prior to that, he managed catering sales for Cornell University and served as an assistant general manager at the Hilton Garden Inn in Ithaca.
Detroit's Huntington Place has hired HR professional Nicole Johnson as its director of human resources, responsible for the development and implementation of HR strategies and initiatives, including those prioritizing diversity, equity and inclusion (DEI).  
Certified by the Society for HR Management (SHRM) and Senior Professional in Human Resources (SPHR) by the Human Resources Certification Institute (HRCI), Johnson brings 15 years of experience in human resources at Fortune 200 companies across a range of industries. Most recently, she served as senior director of human capital for Promise Schools, where she was responsible for the development and execution of human resources strategies, programs and policies. 
CompuSystems
Leading live event registration and lead management services provider CompuSystems (CSI) has promoted Alexandra Schneider to COO, responsible for overseeing the day-to-day operations of the organization while guiding its mission to deliver premium event experiences across various markets including trade, association, corporate and government. She will also work closely with the executive leadership team to enhance operational efficiencies, drive innovation and ensure the company's continued success and growth.
An integral part of the CSI team for more than 15 years, Schneider most recently served as vice president of customer success, a role in which she successfully led the client management and customer support teams as a valued member of the CSI leadership team.
INFiLED
Global LED displays leader for live events, virtual production and rental staging INFiLED is making a transition to the fixed installation market with the hiring of dvLED professional Rick Bortles as senior vice president of strategy for North America. With more than 10 years of experience under his belt in the dvLED field as well as countless high-profile installations globally, Bortles joins the growing INFiLED North America team to grow channel sales.     
Widely known as a game-changer in the LED manufacturing community, Bortles most recently worked at SNA Displays for almost six years, serving as vice president of global sales and before that, as vice president, North America channels.
 
Have some trade show-related people news to share? Please send announcements and high-resolution headshots to lpsavas@tsnn.com.
Don't miss any event-related news: Sign up for our weekly e-newsletter HERE, listen to our latest podcast HERE and engage with us on Twitter, Facebook and LinkedIn!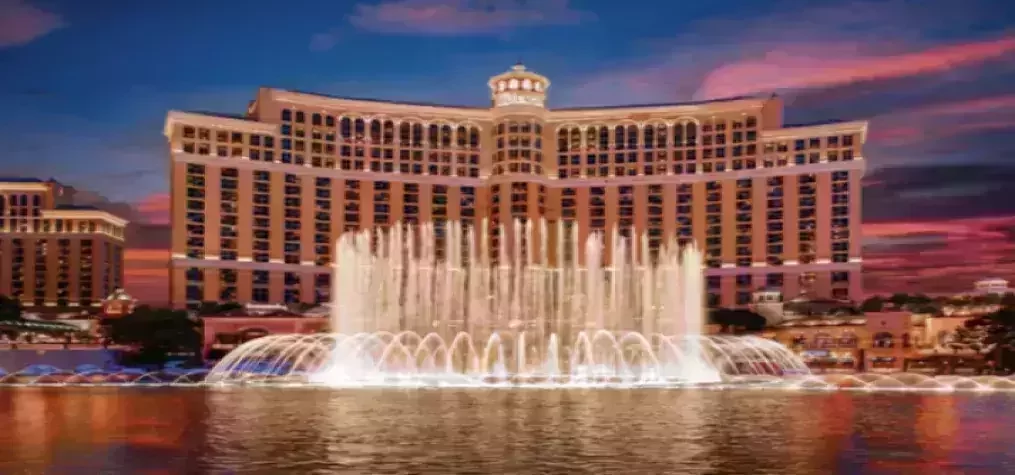 HERE, hosting responsible meetings and caring for our communities are top priorities. Through its 'Focused on What Matters: Embracing Humanity and Protecting the Planet' philosophy, MGM Resorts commits to creating a more sustainable future, while striving to make an impact in the lives of employees, guests, and the communities in which it operates. Water Stewardship Efforts MGM Resorts understands the importance of using water efficiently, especially in the desert destination of Las Vegas. Conserving water has always been part of the mission, but MGM Resorts has expanded its ambition into water stewardship. In 2022, MGM Resorts President and CEO Bill Hornbuckle signed the CEO Water Mandate—a UN Global Compact initiative mobilizing business leaders to advance water stewardship. MGM Resorts International was the first gaming company to take this important step. MGM Resorts replaced 200,000 square feet of real grass with drought-tolerant landscaping in Las Vegas. MGM Resorts pledges to reduce water withdrawal intensity by 33% by 2025 and by 35% by 2030. From 2007-2021, use of more than 5.6 billion gallons of water was avoided because of conservation efforts. Caring for One Another MGM Resorts' Food Donations Program collects and preserves unserved food from conventions held at MGM Resorts properties, then safely donates to food insecure people in the community. Since the program's launch in 2016, more than 3.7 million meals toward a 2025 goal of 5 million meals have been donated into the community. Donations include: Unserved perishable prepared foods from events Perishable unprepared food from MGM Resorts' kitchens Nonperishable food items from minibars and warehouses The collaboration with Southern Nevada's primary food bank, Three Square, has developed the infrastructure needed to safely collect, transport, and store food from MGM Resorts properties in Las Vegas, reducing food waste while serving the community. Fostering Diversity and Inclusion To MGM Resorts, a diverse and talented workforce is essential to success. By cultivating innovative strategies that consider multiple perspectives and viewpoints, the company creates an inclusive workplace culture that benefits its employees and community. MGM Resorts takes pride in being a welcoming home for veterans, individuals with disabilities, people from diverse backgrounds, LGBTQ+ community members, and more. This commitment to inclusion is reflected in the company's recruitment and hiring practices and its social responsibility initiatives. From the workplace to the community, MGM Resorts' commitment to diversity, equity and inclusion remains unwavering, and its efforts continue to create a more equitable and sustainable world for all. MGM Resorts understands its responsibility to contribute to the social and economic progress of the communities in which it operates. HERE, we embrace humanity.