Social Media Numbers Reach a New Pinnacle at Vision Expo
November 21, 2018
The social media platforms of Vision Expo West 2018 reached an all-time high with a double-digit percentage increase across impressions, engagements and video views compared to the year before. 
Held Sept. 26-29 at the Sands Expo & Convention Center in Las Vegas, Vision Expo West and its East Coast edition, Vision Expo East, are B2B conferences and exhibitions for eyecare and eyewear professionals presented by co-owners Reed Exhibitions and The Vision Council. 
In the 30 days following the Show, reports indicate impressions, engagements and video views climbed up by the thousands, according to show officials.
Social media highlights collected from Vision Expo's Instagram, Twitter, Facebook and LinkedIn feeds include:
            •           Over 3.8 million impressions
            •           16.7 million #VisionExpo hashtag impressions
            •           More than 14,000 engagements
            •           Upwards of 57,000 video views
Pre-Show social media efforts included a focus on Vision Expo West's 30thanniversary with giveaway contests, themed hashtags and a focus on Founding Exhibitors. 
According to Mitch Barkley, vice president of trade shows and meetings for The Vision Council, by building momentum before the event with targeted social media campaigns, show organizers were able to expand the Show's social media presence with continual coverage of the daily events and programs that kept attendees involved online and onsite at the event.
"Vision Expo serves a wide variety of individuals within the vision community and we aimed to produce content that would engage the entire industry," Barkley said.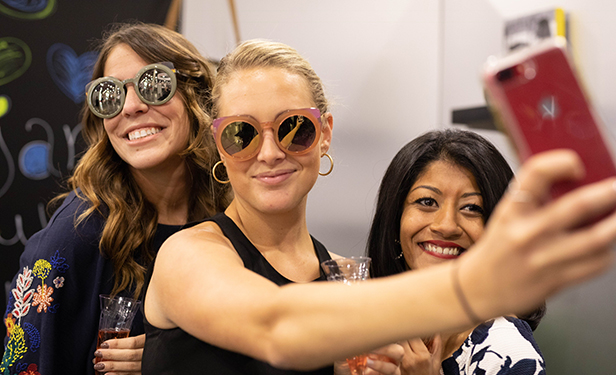 The show also partnered with various social media influencers from the vision community to ramp up pre-Show excitement with personalized advice.
Onsite in Las Vegas, Vision Expo continued its partnerships with influencers to promote daily events and panels with social media "takeovers." Covering the medical pavilion of Vision Expo West, Dr. Bridgitte Shen Lee, co-founder of Vision Optique and founder of iTravelCE, introduced various exhibitors through a collection of live Facebook videos.
"There are so many exciting new technologies and innovations in ocular surface disease management and myopia control," said Dr. Lee. "It was a wonderful opportunity to interview the exhibitors at Vision Expo West and to share their latest advances on social media for others to see."
Vision Expo was also the destination for exclusive events celebrating the energy and effort influencers put into their social media platforms to promote the optical industry. 
For example, the first-ever EyeStyle Influencer Event hosted by Sheena Taff of @optician.about.town and Dr. Arian Fartash of @GlamOptometrist, sponsored by Marchon and VSP, gathered 30 social media influencers from the vision community. 
In a featured panel discussion, influencers discussed trends and topics that drive their social media efforts as well as their hopes of bringing more eyecare providers into the social networking arena.
"The EyeStyle Influencers Event brought together social media influencers in the vision community that go above and beyond to promote the optical industry," Taff said. "Social media is so dynamic in today's world and using it allows influencers to step outside of their day-to-day business to put the eyecare industry in front of the public eye."
Several social media influencers were also invited by Show organizers to a trip in the High Roller Observation Wheel, located more than 500 feet above the Las Vegas Strip, for an opportunity to network and sample eyewear products provided by members of The Vision Council.
Vision Expo East 2019 is set to take place March 21–24 at the Javits Center in New York City, while Vision Expo West 2019 will return to the Sands Expo Sept. 18–21.
Don't miss any event news! Sign up for any (or all) of our e-newsletters HERE & engage with us on Twitter, Facebook, LinkedIn & Instagram!
Partner Voices
The Schaumburg Convention Center is the powerhouse meeting facility in the Midwest with abundant free parking. This sophisticated 100,000 square foot state-of-the-art Convention Center features column-free space, 30-foot ceilings, 120 feet of covered dock space and 750 MB Wi-Fi access through-out. Adjacent is an additional 48,000 square feet of meeting space including a 27,500 square-foot ballroom.