8 Tips For First-time Trade Show Exhibitors
October 4, 2018
Exhibiting at trade shows – how hard can it be? You just show up and talk to people, right? Actually, exhibiting is surprisingly harder than it looks. That said, trade shows still remain very popular (and even keep growing) because they can produce great results when done right.
If you're exhibiting for the first time, we want to help shorten your learning curve with these eight tips you need to succeed:
1. Know what your goals are for exhibiting
Everything you do at trade shows should support your main sales and marketing goal. So, if you don't know why you're exhibiting, there's no way to succeed. Discover or decide if your trade show goals are (most likely) to boost brand awareness, generate sales leads or strengthen key relationships, or something else (good advice, even if you are not a first-time trade show exhibitor).
2. Design your trade show exhibit to achieve your goals
See how important knowing your goals are? Now you can design your booth to support your sales and marketing goals. Design big branding structures and graphics for building awareness, lots of workstations for sales leads and meeting spaces for strengthening reseller, prospect and client relationships. Some exhibitors design booth spaces for all buying phases in one large exhibit.
3. Use promotions to drive traffic and help visitors remember you
Promotions, whether they are interactive activities or giveaways or entertainment, entice attendees to visit your booth, give your booth staffers a way to start a dialog and help attendees remember you after the show. Pick trade show giveaways that are of different value levels to fit each lead's value, can be imprinted with your logo and are useful to your target market.
4. Capture the right attendee lead data
Even for first-time trade show exhibitors, the most valuable outcome of trade shows is the leads they take in their booth. You can make your leads even more valuable when your booth staffers and lead management systems are aligned to capture attendee data that will matter to your sales force.
5. Consider a game to boost trade show results
According to trade show industry research, interactive games are one of the best ways to attract attendees, but one of the least used – giving you an opportunity to outshine your competitors. A trade show game can increase booth traffic, help booth staffers start conversations, generating more leads and sales, and boosting your trade show ROI.
6. Plan for technology and its content in your booth
It's official: Millennials are the largest generation in the United States workforce. That's perhaps the most compelling reason why most trade show exhibitors integrate technology into their exhibit design and attendee engagement. So, take some time to plan how you will use tech in your booth and how you will create content to run on that technology. Just make sure you don't use tech for tech sake, but instead choose tech that is easy for staffers and attendees to use and enhances your in-booth conversations.
7. Follow up fast on your trade show leads
Your trade show leads are worth more than their weight in gold and quickly lose their value over time, so follow up on your leads quickly! It's easily the biggest mistake exhibitors make, new or veteran. Quickly get the materials appropriate to each lead post-show and quickly get your best leads into the hands of the right salespeople.
8. Measure and report your trade show results to management
Trade shows cost a lot of money – they can often be the largest marketing expense for a B2B company. Your boss and your Chief Financial Officer are eager to hear how well your first show (and all subsequent shows) produced results, so you need to measure if you met your trade show goals, and then give your boss a short report with easy-to-understand charts and pictures.
I am excited for you as first-time trade show exhibitors. There is nothing like the rush you will get from meeting face-to-face with a stream of customers and prospects over several days. Do the show right and you will create significant value for your company. Good luck!
Don't miss any event news! Sign up for any (or all) of our e-newsletters HERE & engage with us on Twitter, Facebook, LinkedIn & Instagram!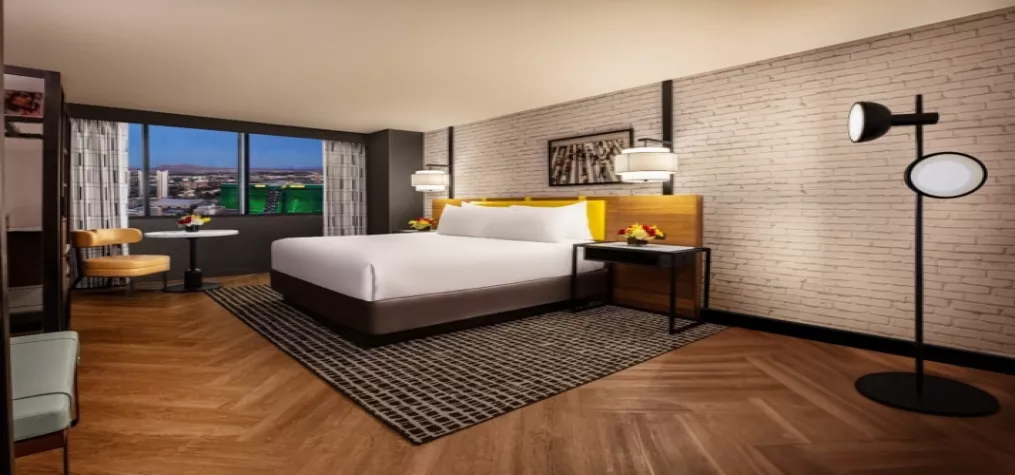 Just when it seems like Las Vegas can't get any bigger, brighter or more exciting for groups, MGM Resorts raises the bar again. The company continues to invest and innovate across its portfolio of Las Vegas resorts, with new attractions and upgraded experiences for attendees of all interests.  Remodeled Guest Rooms MGM Grand is the largest single hotel in the world with over 5,000 guest rooms and an 850,000-square-foot conference center. It is home to the newly remodeled MGM Grand Studio Tower—700 reimagined guest rooms with a fun mid-century vibe. Nearby, the iconic New York-New York Las Vegas Hotel & Casino recently completed a $63M redesign and remodel of its 1,830 guest rooms and 155 suites. Down the street, Bellagio Las Vegas is sporting renovated rooms in the Spa Tower with sunrise-inspired decor and luxurious soaking tubs in Premier King rooms after a $110-million transformation. Reinvented Luxury Experiences The Luxury Meetings District, made up of Bellagio Las Vegas, ARIA Resort & Casino, Vdara Hotel & Spa, The Cosmopolitan of Las Vegas, Park MGM and NoMad Las Vegas, is now more connected than ever before. A new interior walkway opened this October for a seamless attendee experience – connecting Vdara, Bellagio, and The Cosmopolitan of Las Vegas, guests can now walk from Park MGM to Bellagio in around 15 minutes. New on the scene in the Luxury Meetings District is Cathedrale at ARIA, TAO Group's upscale establishment specializing in exquisite French-Mediterranean cuisine offering elevated private dining experiences that opened in May. Heralded by World's Best 50 Restaurants, GQ and VOGUE, LPM at The Cosmopolitan of Las Vegas is opening this fall and will deliver its signature spontaneity and imaginative celebration of France's Mediterranean cuisine, art, and culture to the unique luxury resort in impeccable fashion.  A "New Wave  for Mandalay Bay A new wave of enhancements and experiences has arrived at Mandalay Bay Resort and Casino, including Flanker Kitchen + Sports Bar, an 8,445-square-foot restaurant that opened this June, perfect for pre- and post-game eats and drinks. Event planner's favorite, Chef Michael Mina's StripSteak, received a full renovation and now includes one of the largest private dining rooms on The Strip. Retro by Voltaggio debuts a one-year residency with a fun take on pop culture of the 80s and 90s with classic American dishes. An exciting addition planned for 2024 is Swingers, a 40,000-square-foot oasis of street food, miniature golf and art at Mandalay Bay. Most exciting for meeting planners, the 2.1 million-square-foot Mandalay Bay Convention Center  is undergoing a complete refresh, with lightened space, added eye-catching art, and improved technology infrastructure for even more flexible space. Energy-efficient digital signage now leads the way with faster internet speeds and new AV options. From renovated guest rooms and meeting spaces to celebrated dining options and dedicated teams, MGM Resorts is dedicated to delivering exceptional and innovative meeting experiences.