Enjoy #Expochat recaps!
TSNN was a Proud Sponsor of #Expochat
Where: On Twitter. Using hashtag #Expochat...
What was #EXPOCHAT? Click image below to view a short video, or read on...
After ten terrific years we are signing off - but please view recaps below and thank you!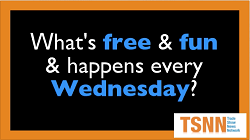 Expochat was a Twitter-based conversation on topics related to the trade show industry. It took place Wednesdays at 1:00 p.m. Eastern Time and tackled a single topic each week - a recurring pain point, innovative ideas, evolution of the industry, best practices, and what worked. Expochat was alternately moderated by industry thought leaders: Stephanie Selesnick (International Trade Information, Inc.), Elizabeth Johnson (glee Content Marketing), Marlys K. Arnold (ImageSpecialist), Bill McGlade (Victory Productions), Rich Vallaster (Personify) and Stephan Murtagh (The Exhibition Guy).
Missed #Expochat? No problem! 

Check out our past chats:
Nov. 17, 2021: The Gratitude Chat 2021
Nov. 10, 2021: Staffing Strategies for the Events Industry!
Nov. 3, 2021: Developing a Post-Pandemic Event Strategy
Oct. 27, 2021: A Halloween Celebration!
Oct. 20, 2021: Critical Considerations in Planning for your 2022 In-Person or Hybrid Events 
Oct. 13, 2021: The Net Zero Carbon Events Initiative
Oct. 6, 2021: Keys to Creating Community
Sept. 29, 2021: Every Cloud Has a Silver Lining; Don't Fear Failures/Setbacks - Embrace Them! 
Sept. 22, 2021: Effective Attendee and Exhibitor Communications Strategy
Sept. 15, 2021: Now What? Live is back what about other revenue streams?
June 16, 2021: Dealing with Uncertainty for #EventProfs
June 9, 2021: Creating Hybrid Events that Work for Everyone 
June 2, 2021: The Great Reset ~ Global Exhibitions Day!
May 26, 2021: Cross Selling in the Exhibition and Events Industry across shows, platforms and different media
May 19, 2021: Let's Talk Event Revenue
May 12, 2021: Digital Transformation: How Business Is Changing On and Off the Trade Show Floor
May 5, 2021: Psychology of Wanting to Belong to Communities
April 28, 2021: The Questions Exhibitors Will Ask Us On The Return to Live Events
April 21, 2021: How can we improve the client experience at in-person events?
April 14, 2021: Health Safety at In-Person Events 
April 7, 2021: Tools to Get the Job Done 
March 31, 2021: Thinking Like an Exhibitor Brings Bigger Rewards for Everyone
March 24, 2021: An #Expochat Conversation about Hybrids and Omnichannel Events 
March 17, 2021: 1 Year Lockdown-a-versary - A Look Back - A Look Forward! 
March 10, 2021: A Discussion on Hybrid Exhibitions
March 3, 2021: Exhibition Value in a Post Covid World
Feb. 24, 2021: Business Relationship Best Practices for Event Professionals 
Feb. 17, 2021: Bring On The Fun at Events! 
Feb. 10, 2021: Clubhouse – hype or the next big thing?
Feb. 3, 2021: The 2021 Event Marketing Reboot  
Jan. 27, 2021: Show Me the Money: Increasing the Perceived Value of Virtual Trade Shows in 2021
Jan. 13, 2021: What Does the Future of Virtual Hold for Expos? 
Jan. 6, 2021: Trends, Predictions and Guesses for 2021 
Dec. 16, 2020: Wrapping Up 2020 & Preparing for 2021
Dec. 9, 2020: A View from the IAEE Expo! Expo! Virtual Floor!  
Dec. 2, 2020: Making Virtual Networking Work
Nov. 18, 2020: The Gratitude Chat: 2020
Nov. 11, 2020: What Does Re-Opening our Expos Look Like? 
Nov. 4, 2020: Virtual Engagement - Event Specific or Year Round?   
Oct. 28, 2020: Data Privacy 
Oct. 21, 2020: Virtual Event Emergency Planning 
Oct. 14, 2020: Future Forecasting
Oct. 7, 2020: Good Vibes about Virtual
Sept. 30, 2020: Advocacy - Month's Later - What Now? 
Sept. 23, 2020: Take Care of Yourself & Your Team
Sept.16, 2020: Attendee Experience in a Digital World: How UX/UI Can Make or Break Virtual and Hybrid Events
Sept. 2, 2020: Leadership in Challenging Times
August 26, 2020: Retaining Revenue with Virtual Events: How to Maximize ROI for Exhibitors and Sell More Sponsorships
August 19,2020: 5 Months Later: Lessons Learned from the Trenches of Virtual Events
August 12, 2020: Decision Making
August 5, 2020: What Do Events and Event Organizers Look Like Today? 
July 29, 2020: Should I Pay or Should I Go? Exploring the Challenges of Paid vs. Free Virtual Events 
July 22, 2020: Marketing Events in an Uncertain World
July 15, 2020: A Stroll Down Main Street, USA
June 24, 2020: Staying Connected with Exhibitors and Attendees
June 17, 2020: #Eventprofs - How Do YOU Define Community?
June 10, 2020: Are Hybrid Events the Future? 
May 27, 2020: What Does the Future of Events Look Like? 
May 20, 2020: Marketing Your Virtual Events - How Do We Increase Buzz?
May 13, 2020: Where's the Beef? A Discussion on Industry Initiatives 
May 6, 2020: Keeping Your Connections Close
April 29, 2020: Best Practices for Virtual Events 
April 22, 2020: Should We Stand Still or Move Forward? 
April 15, 2020: A Season of New Beginnings 
April 8, 2020: A Time for Positivity - Sharing #Eventprof Stories 
April 1, 2020: Working From Home for #EventProfs
March 25, 2020: The Ins and Outs of Virtual Events
March 18, 2020: Now What? A Forward-Thinking Discussion On the Events Industry
March 11, 2020: Exhibitor ROI and Retention - the Truth Behind the Real Value of Trade Shows
March 4, 2020: What's Trending In Event Sponsorships?
Feb. 26, 2020: Leveraging Content Marketing for Trade Shows and Conferences
Feb. 19, 2020: The Coronavirus and Its Impact on Exhibitions and Events
Feb. 12, 2020: 2020 Event Predictions: Must-Have Trends vs Fads
Feb. 5, 2020: Contingency Plan: Events In the Face of Crisis
Jan. 29, 2020: Data Standardization In the Trade Show Industry
Jan. 22, 2020: All About Event Marketing in 2020
Jan. 15, 2020: Recapping CES 2020
Jan. 8, 2020: What Are Your Trade Show Resolutions?
Dec. 11, 2019: Let's Talk IAEE Takeaways!
Dec. 4, 2019: Live from Expo! Expo!
Nov. 20, 2019: What Are You Grateful For? The Gratitude Chat
Nov. 13, 2019: Forecasting the Future of the Trade Show Revenue Model
Nov. 6, 2019: Facilitating Better Relationships Between Buyers and Suppliers
Oct. 30, 2019: Trade Show Ghost Stories
Oct. 23, 2019: Effective Market Research: Before, During and After Your Trade Show
Oct. 16, 2019: The Power of Video for Trade Show Marketing
Oct. 9, 2019: Psych! The Science Behind the Attendee Experience
Oct. 2, 2019: Is Our Exhibition Workforce Future-Ready?
Sept. 25, 2019: Selling In a Slowing Economy
Sept. 18, 2019: It's a Matter of Trust
Sept. 11, 2019: Leveraging Technology to Drive Attendee Engagement
June 26, 2019: Improving Exhibitor Retention and Appreciation
June 19, 2019: Facial Recognition for Events?
June 12, 2019: Would Your Event Benefit from a Formal Matchmaking Program?
June 5, 2019: Spreading the Word About the Value of the Trade Show Industry
May 29, 2019: Revisiting the Use of Virtual in the Events Industry
May 22, 2019: Connecting Your Event, Venue and Brand to Wellness
May 15, 2019: What Do Corporate Exhibitions Have That Association and For-Profit Exhibitions Don't?
May 8, 2019: Putting Your Event's Economic Impact to Good Use
May 1, 2019: What's the Global Impact of Expos? Now We Know!
April 24, 2019: Exhibition Industry Sustainability: The Dark Side of Green
April 17, 2019: Making Events More Accessible
April 10, 2019: One Mission: Leverage Your Events to Maximize Association Membership
April 3, 2019: Creative Sponsorships for Events
March 27, 2019: The New Rules for Building a Community Around Your Show or Business
March 20, 2019: How to Attract International Visitors to Your Trade Show
March 6, 2019: Building a Brand for Your Event
Feb. 27, 2019: What Women Really Want from Exhibitions
Feb. 20, 2019: Is It Time for a Chief Attendance Officer (CAO) at Our Trade Shows?
Feb. 13, 2019: Tidying Up Your Trade Show the Marie Kondo Way
Feb. 6, 2019: Fyre Festival: An Event Professional's Nightmare
Jan. 30, 2019: How to Make More Money on Your Trade Show
Jan. 23, 2019: Career Development for Event Professionals
Jan. 16, 2019: Key Take-Aways from the UFI & Explori Global Visitor Insights Study 
Dec. 12, 2018: Live from IAEE's Expo! Expo! 
Dec. 5, 2018: Leveraging Sponsorships & Influencers for Attendee Growth
Nov. 28, 2018: Freelancers and Side Hustlers In the Exhibition Industry
Nov. 14, 2018: Why Personalization Marketing Matters for Events
Nov. 7, 2018: Tips on Choosing the RIGHT Speaker
Oct. 31, 2018: Cannabis and Trade Shows
Oct. 24: Why Ensuring Exhibitor Value Matters 
Oct 17, 2018: Live from IMEX America 2018
Oct. 10, 2018: What Events Can Learn About Experience Design from the College of Extraordinary Experiences
Oct 3, 2018: How to Create Year-Round Event Marketing 
Sept. 26, 2018: Is the U.S. Still Attractive to the International Market?
Sept. 19, 2018: Unpacking Supplier Relationships – What's Working, What's Not
Sept. 5, 2018: The Art of Attendee Retention
June 27, 2018: Trade Shows by Amazon
June 20, 2018: Getting the Most Out of Your Trade Showfloor 
June 13, 2018:Negotiation Skills for Event Professionals
June 6, 2018: Love Letter to Trade Show Industry: Let's Celebrate! 
May 23, 2018: It's All About #ExhibitionsDay on June 6! 
May 16, 2018: Giving Buyers What They Want
May 9, 2018: What Would a Standalone Event Technology Trade Show for Exhibition Organizers Look Like?
May 2, 2018: Integrating Influencer Marketing into Event Strategies 
April 25, 2018: Re-Hashing ASAE's XDP Conference, Co-Creation and Experience Design for Events and Trade Shows 
April 18, 2018: Are You Engaging In Sustainable Event Management? 
April 11, 2018: How the Consumer Experience Is Changing the Expectation of Trade Shows
April 4, 2018: The Impressive Gen Z and What It Means for Events
March 28, 2018: Maximizing Operational Logistics 
March 21, 2018: Putting an End to Manels
March 7, 2018: The Evolving Art of Collecting Data Before, During and Post Event
Feb. 28, 2018: Developing the Sponsor/Planner Relationship
Feb. 21, 2018: Revisiting Social Networks 
Feb. 14, 2018: What's Old Is New Again – Or Is It?
Feb. 7, 2018: To Exhibit or Not to Exhibit…That is the Question! 
Jan. 31, 2018: Understanding & Addressing GDPR 
Jan. 24, 2018: How to Take Advantage of Digital Data and Analytics 
Jan. 17, 2018: Remedies for the Exhibition Industry's #MeToo Moments 
Jan. 10, 2018: #CES2018 and Its Impact on Trade Shows
Jan. 3, 2018: 2018 Predictions & Resolutions for the Exhibitions Industry 
Dec. 13, 2017: Crowdsourcing the Best and/or Worst of Expos & Events in 2017 
Dec. 6, 2017: The Pros and Cons of Using Technology at Events
Nov. 15, 2017:  Non-Traditional Methods and Strategies for Attendee Growth 
Nov. 8, 2017: Free Advice for Trade Show Professionals: What to Keep, Start and Stop! 
Nov. 1, 2017: What Could/Should Machines Do in the Trade Show Environment? 
Oct. 25, 2017: Current Political Attitudes and Their Impact on U.S. Exhibitions 
Oct. 18, 2017: Leadership, Diversity and Career Goals
Oct. 11, 2017: Experience Design: Is Your Trade Show Ready? 
Oct. 4, 2017: Digital Transformation in the Global Exhibition Industry
Sept. 27, 2017: Disruption in the Event Industry 
Sept. 20, 2017: What's on Tap for IAEE's Expo! Expo! in San Antonio?
Sept. 13, 2017: Hosted Buyer Events 
Sept. 6, 2017: Disaster Preparedness and Recovery 
July 26, 2017: Growing Engagement & Partnership Strength Through Technology APIs 
July 19, 2017: Taking advantage of O2O – Online to Offline
June 28, 2017: Exhibition Re-Design…Are You Ready?
June 7, 2017: #Exhibitions Day and #GED17 – Celebrating Trade Shows!
May 31, 2017: Taking Risks With New Event Formats
May 17, 2017: Transportation and Logistics at a Trade Show
April 26, 2017: Tricks of Attendee Acquisition for Events
April 19, 2017: Creating Education that Excites
April 12, 2017: Is Your Event Technology Secure?
April 5, 2017:  Is the Old Conference/Educational Session Model Dead?
March 28, 2017: How Attendee "Personas" Impact Trade Shows & Events
March 22, 2017: Trends In Exhibition Sponsorships
March 8, 2017: Taking Your Brand Overseas 
March 1, 2017: Trade Shows and the Gig Economy
Feb. 22, 2017: Bringing Up Baby: How to Prepare the Next Trade Show Industry Workforce
Feb. 15, 2017: How "Green" is the Trade Show Industry, Really? 
Feb. 8, 2017: Are You Leaning In?
Feb 1, 2017: The Impact of Travel Bans
Jan. 25, 2017: How Are Shows 'Giving Back?'
Jan. 18, 2017: Using Hackathons to Re-Invent & Grow Your Trade Show 
Jan. 11, 2017: Review of #CES2017 & What Expos Can Learn from It 
Jan. 4, 2017: New Year's (Event Technology) Resolutions
Nov. 30, 2016: Is the Trade Show Industry Ready for Artificial Intelligence?
Nov. 9, 2016: What Makes a Good Leader in Today's Environment? 
Nov. 2, 2016: TSNN Awards: Education, Inspiration, Celebration
Oct. 26, 2016: Matchmaking: Can Technology Bring Exhibitors More/Better Matches and Leads?
Oct. 12, 2016: All There Is to Know About IAEE's Expo! Expo!
Oct. 5, 2016: How Can You Build Community on the Showfloor?
Sept. 28, 2016: How Can We Increase International Attendance at Our Shows?
Sept. 22, 2016: Does Gamification Work for B2B Trade Shows?
June 8, 2016: De-Bunking Myths of Attracting Millennials
June 1, 2016:  #GED16 – Global Exhibitions day with UFI MD Kai Hattendorf
May 11, 2016: Exhibitions Day June 8! It's Up to ALL of Us!
May 4, 2016: The Sharing Economy & Impact on Exhibitions 
April 13, 2016: Focus on IAEE's Women's Leadership Forum (WLF) 
March 30, 2016: Overcoming the Arduous Tasks of Exhibiting
March 2, 2016: Networking on the Trade Show Floor 
Feb. 17, 2016: The Pros & Cons of Co-Locating B2B and B2C Trade Shows
Jan. 27, 2016: Health & Wellness for Trade Shows & Events
Jan 13, 2016: Content Marketing – Not the Same old, Same Old 
Dec. 16, 2015: Understanding Supplier Relationships
Oct 28, 2015: Attendee Marketing 
Oct. 21, 2015: Trends In Exhibitor Sales & Sponsorships
Oct. 7, 2015: Collecting Attendee Data: How Much Is Too Much?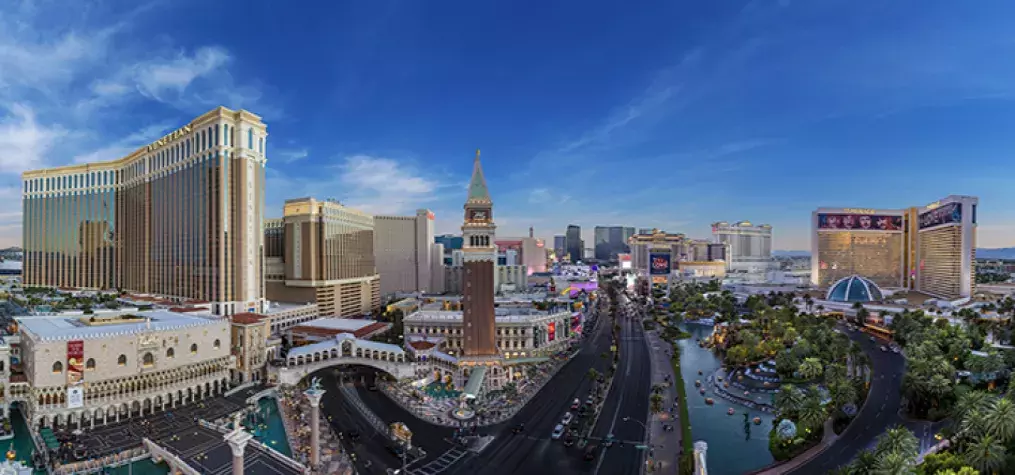 Less than six months ago, Lisa Messina joined the Las Vegas Convention and Visitors Authority (LVCVA) as the first-ever chief sales officer after leading the sales team at Caesars Entertainment. A 12-year Las Vegas resident, Messina is a graduate of Cornell University's School of Hotel Administration and serves on MPI International's board of directors. TSNN had a chance to catch up with this dynamic leader and talk to her about her vision for the new role, current shifts in the trade show industry, creating more diversity and equity within the organization, and advice to future female leaders. Lisa Messina, Chief Sales Officer, LVCVA With Las Vegas becoming The Greatest Arena on EarthTM, what are some of the things you're most excited about in your role? Our team was at The Big Game's handoff ceremony earlier this month, and I couldn't help but think, "We're going to crush it next year!" These high-profile events and venues not only drive excitement, but also provide unmatched opportunities for event planners. Allegiant Stadium hosts events from 10 to 65,000 people and offers on-field experiences. Formula 1 Grand Prix will take place in Las Vegas in November, after the year-one F1 race, the four-story paddock building will be available for buyouts and will also offer daily ride-along experiences that will be available for groups. And, of course, the MSG Sphere officially announced that it will open in September, ahead of schedule, with a U2 residency. It's going to be the most technologically advanced venue as far as lighting, sound, feel, and even scent, and it will be available for buyouts and next-level sponsorships inside and outside. There's no ceiling to what you can do when you're doing events in Las Vegas. Allegiant Stadium As the trade show and convention business returns to the pre-pandemic levels, what shifts are you noticing and how do you think they will impact the industry going forward? Our trade show organizers are very focused on driving customer experience. Most of our organizers are reporting stronger exhibitor numbers and increased numbers of new exhibitors, with trade shows proving to be almost or above 2019 levels. Now our organizers are really doubling down on driving attendance and focusing on the data to provide that individualized, customized experience to help attendees meet their goals and get the best value. Some companies continue to be cautiously optimistic with their organizational spend when it comes to sending attendees, but I think it will continue to improve. As the U.S. Travel Association makes more progress on the U.S. visa situation, we also expect a growing influx of international attendees. What are some innovative ways the LVCVA helps trade show and convention organizers deliver the most value for their events? We focus on customer experience in the same way that trade show organizers are thinking about it. We got rave reviews with the West Hall Expansion of the Las Vegas Convention Center (LVCC), so over the next two years, we will be renovating the North and the Central halls, which will include not just the same look and feel, but also the digital experiences that can be leveraged for branding and sponsorship opportunities. Vegas Loop, the underground transportation system designed by The Boring Company, is also a way we have enhanced the customer experience. Vegas Loop at the LVCC has transported more than 900,000 convention attendees across the campus since its 2021 launch. Last summer, Resorts World and The Boring Company opened the first resort stop at the Resorts World Las Vegas , with plans to expand throughout the resort corridor, including downtown Las Vegas, Allegiant Stadium and Harry Reid International Airport. The LVCVA also purchased the Las Vegas Monorail in 2020, the 3.9-mile-long elevated transportation system that connects eight resorts directly to the convention center campus. This is the only rail system in the world that integrates fares directly into show badges and registration. For trade show organizers, these transportation options mean saving time, money and effort when it comes to moving groups from the hotels to LVCC and around the city. Also, the more we can focus on building the infrastructure around the convention center, the more it supports the customer experience and ultimately supports our trade show organizers. Scheduled to debut in Q4, Fontainebleau Las Vegas will offer 3,700 hotel rooms and 550,000 square feet of meeting and convention space next to LVCC. What are some of the plans for advancing DEI (diversity, equity and inclusion) within your organization? We're currently partnering with instead of working with a leading consulting firm, to lay the foundation and create a solid DEI plan and be the leader when it comes to DEI initiatives. The heart of that journey with the consulting firm is also talking to our customers about their strategic approaches to DEI and driving innovation in this space. What are your favorite ways to recharge? My husband and I have an RV and we're outdoorsy people. So, while we have over 150,000 world-class hotel rooms and renowned restaurants right outside our doorstep, one of my favorite things to do is get out to Red Rock Canyon, the Valley of Fire, and Lake Mead. Five of the top national parks are within a three-hour drive from Las Vegas, so there's a lot you can do. We love balancing the energy of Las Vegas with nature, and we're noticing that a lot of attendees add activities off the Strip when they come here. Valley of Fire What advice would you give to women following leadership paths in destination marketing? I think it's about being laser-focused on what you want to accomplish; building a team around you that lifts you and helps you achieve your goals; and being humble and realizing that you do it as a group. No one gets this done alone. Thankfully, there are a lot of women in leadership in this organization, in our customers' organizations, and in this city that we can be really proud of. We're a formidable force that is making things happen. This interview has been edited and condensed. This article is exclusively sponsored by the Las Vegas Convention & Visitors Authority. For more information, visit HERE.