What to Look for in Your Next Keynote Speaker
May 17, 2015
Much like the headliner at a major music festival, the keynote speaker at a trade show may influence many attendees and exhibitors as they make the final decision on whether to make the trip at all.
When narrowing down the list of qualified applicants to dazzle an exhibition, here are some standard practices a trade show manager should abide by.
When searching for a keynote speaker, it's not just the credentials of the speaker you're looking for – it's their raw appeal and charisma that will make them memorable for attendees.
Event organizers should meet with any potential keynote speaker prior to confirming their involvement with the trade show, and ensure that the keynote address will inspire, teach, and provide attendees with a positive outlook for the remainder of the exhibition.
• Credibility. Does the speaker work for Google or hold a position of high esteem? Have they had enormous success? Examples include: military, professional or Olympic athletes and coaches.

• Authority. What makes them an authority on the topic? Perhaps they have written a book on the topic, or been interviewed on TV, featured in the New York Times or even given a TED talk. These are all trust signals.
• Charisma, passion, humor, audience involvement and high ENERGY are all proven winners. Think Gary Vaynerchuk. He has an incredible personal story and audiences can feel his passion.
• Call to Action and a key message. What does the speaker want your audience to do next? Make sure there is a clear next step offered in the speech. The best speakers inspire their audience to make positive change.
Visit potential speakers' websites to view video clips and testimonials. Check out their social media profiles -- a big following is a good sign. You might want to look into securing a guest speaker (ideally a big name within the industry) to break up the event calendar and draw more attention to the show.
Above all, trust your judgment and know your brand – a keynote speaker sets the tone for a trade show, and the power is in your hands!
Ever wish hiring a keynote speaker was easier? Download the Event Organizer's Guide to Keynote Presentations here.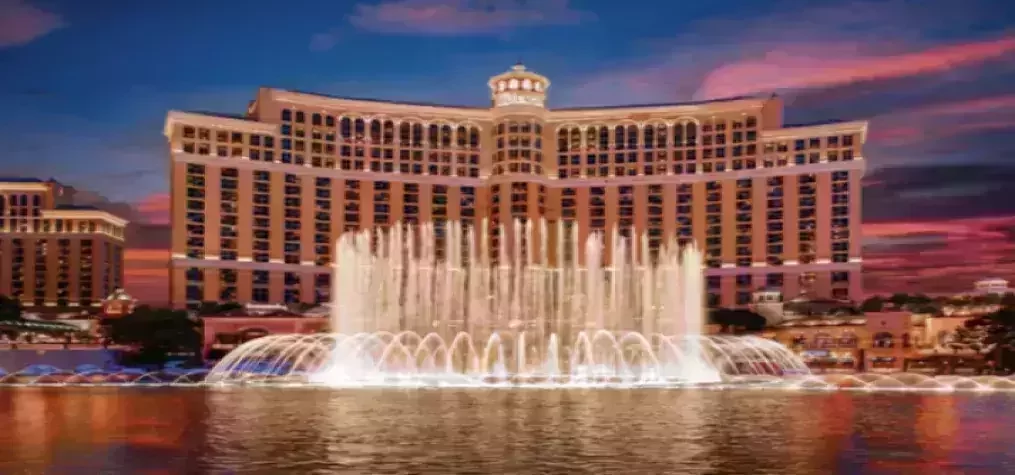 HERE, hosting responsible meetings and caring for our communities are top priorities. Through its 'Focused on What Matters: Embracing Humanity and Protecting the Planet' philosophy, MGM Resorts commits to creating a more sustainable future, while striving to make an impact in the lives of employees, guests, and the communities in which it operates. Water Stewardship Efforts MGM Resorts understands the importance of using water efficiently, especially in the desert destination of Las Vegas. Conserving water has always been part of the mission, but MGM Resorts has expanded its ambition into water stewardship. In 2022, MGM Resorts President and CEO Bill Hornbuckle signed the CEO Water Mandate—a UN Global Compact initiative mobilizing business leaders to advance water stewardship. MGM Resorts International was the first gaming company to take this important step. MGM Resorts replaced 200,000 square feet of real grass with drought-tolerant landscaping in Las Vegas. MGM Resorts pledges to reduce water withdrawal intensity by 33% by 2025 and by 35% by 2030. From 2007-2021, use of more than 5.6 billion gallons of water was avoided because of conservation efforts. Caring for One Another MGM Resorts' Food Donations Program collects and preserves unserved food from conventions held at MGM Resorts properties, then safely donates to food insecure people in the community. Since the program's launch in 2016, more than 3.7 million meals toward a 2025 goal of 5 million meals have been donated into the community. Donations include: Unserved perishable prepared foods from events Perishable unprepared food from MGM Resorts' kitchens Nonperishable food items from minibars and warehouses The collaboration with Southern Nevada's primary food bank, Three Square, has developed the infrastructure needed to safely collect, transport, and store food from MGM Resorts properties in Las Vegas, reducing food waste while serving the community. Fostering Diversity and Inclusion To MGM Resorts, a diverse and talented workforce is essential to success. By cultivating innovative strategies that consider multiple perspectives and viewpoints, the company creates an inclusive workplace culture that benefits its employees and community. MGM Resorts takes pride in being a welcoming home for veterans, individuals with disabilities, people from diverse backgrounds, LGBTQ+ community members, and more. This commitment to inclusion is reflected in the company's recruitment and hiring practices and its social responsibility initiatives. From the workplace to the community, MGM Resorts' commitment to diversity, equity and inclusion remains unwavering, and its efforts continue to create a more equitable and sustainable world for all. MGM Resorts understands its responsibility to contribute to the social and economic progress of the communities in which it operates. HERE, we embrace humanity.