The New Normal In Event F&B, According to Thrive Meetings & Events CCO Tracy Stuckrath
June 30, 2021
Like many key aspects of events, food and beverage is having a moment of adaptation as the industry looks to a post-COVID future. For example, buffets aren't gone completely, but they will look a little different for a while, with health and safety expected to remain a major concern at events for the foreseeable future. But pandemic or no pandemic, F&B remains one of the most discussed aspects of an event, according to Tracy Stuckrath, chief connection officer at Thrive Meetings & Events. She believes that smart planning can help planners turn a complicated event feature into a golden opportunity to foster greater attendee engagement. Here, Stuckrath shares her predictions for F&B as live events start happening again.
What kinds of changes will we see in food and beverage?
The changes we should expect include one-sided buffets, distanced seating (3-4 people at a 72" round), more staff (if available), outdoor F&B events as much as possible, pre-packaged /boxed meals or plated meals versus buffets, staggered meal times, nothing pre-set, plexiglass in some locations and minimized menu offerings.
As an aside, not all of that happened at an event I recently attended. For breakfast and dinner, the buffet was plated by servers as we walked down the aisle. Dessert for the dinner was on a table for anyone to take, water and tea were pre-set and there were six people per table. The lunch was boxed, but the seating was still six per table. 
What pandemic-related trends will stick and which won't?
The ones I see sticking are an increased concern about food safety practices, making sure cleaning [is done] out in the open, planners asking more about food safety and vendors sharing their practices. I think creative food presentations and service styles will stick, such as different types of boxes for meals. The pandemic gave us the opportunity to think outside of the standard buffet and boxed meal – that should continue. I hope the minimized menu offerings stick, as it saves on waste and adding to our wastes.
How many is too many sitting at a banquet table? Or do you think we'll be going back to old times?
If following the 6' distancing guidelines, really only three or four people should be at a 72" round. I do see those planners and venues wanting to maximize space seating 6-8 people, leaning more toward six. This will still require having more space for meal functions, unless they can stagger them (schedule different meal times), but it could accommodate more people. A positive around this is that it makes for a more intimate opportunity for relationship and business building. It's hard to chat with an entire table of 10-12 people. Better conversations will be had and it won't be as noisy, as in many multiple conversations. 
Are buffets gone forever? If not, what modifications need to be made to make them safer?

 
The traditional two-sided buffet is gone for at least a while. If someone uses buffets, they will be single-sided with servers serving the food. There may be plexiglass in front of the buffet and/or the chafing dishes will be turned so the lid (if it has an attached one) will be between the food and the attendee. A benefit to this set-up is smaller portion sizes, which saves food and money (open buffets require more food since you don't know what everyone will eat). A challenge will be staffing, as in will the caterer or venue have enough staff to serve the food?
Do you believe that this will all change as more people get vaccinated?
Yes and no. We still need to be cognizant that some [attendees] are going to be hesitant to get too close to others. While some events may [want to know] whether you have been vaccinated, they should not be sharing that information with the whole group and some people may not want to share whether they have been or not. 
Are you seeing a change in menu and snack option trends due to the pandemic or could/should they have happened anyway? 
More and more people are looking to eat healthier, including plant-based and intermittent fasting, so our menu and snack options need to lean toward that trend.
In a September 2020 survey, the International Food Information Council's "Food Safety: Consumer Trends, Habits, Attitudes," reported that: 
45% are concerned about eating food away from home

43% follow a specific diet or eating pattern

60% consider their health when deciding what to eat and drink
[These changes] should have already been happening. Another statistic is that 10% of U.S. adults have a food allergy, so the management of this needs to be incorporated into the menu design. 
Boxed lunches and snacks are great for health and safety but not for the environment. What other container alternatives are out there that don't cost a lot extra?

 
Use standard plates and silverware, and experiment with mason jars, bento boxes or maybe have fun with school food trays.
How can planners work better with their venue's catering team to create an on-trend and safe dining experience for attendees?
Talk to them well in advance to plan the menus. F&B is the largest expenditure, so spend time designing menus that meet the needs of your attendees – it should not be an afterthought. Know your food and beverage history, specifically what attendees like to eat and not eat. Ask the venue about their capabilities in your RFP so you know if they can and do provide options that meet different needs. Also, make sure to inquire about their staffing levels in both front- and back-of-house, since a lot of places are having trouble with staffing, which could impact safety protocols for serving.
Don't miss any event-related news: Sign up for our weekly e-newsletter HERE and engage with us on Twitter, Facebook, LinkedIn and Instagram!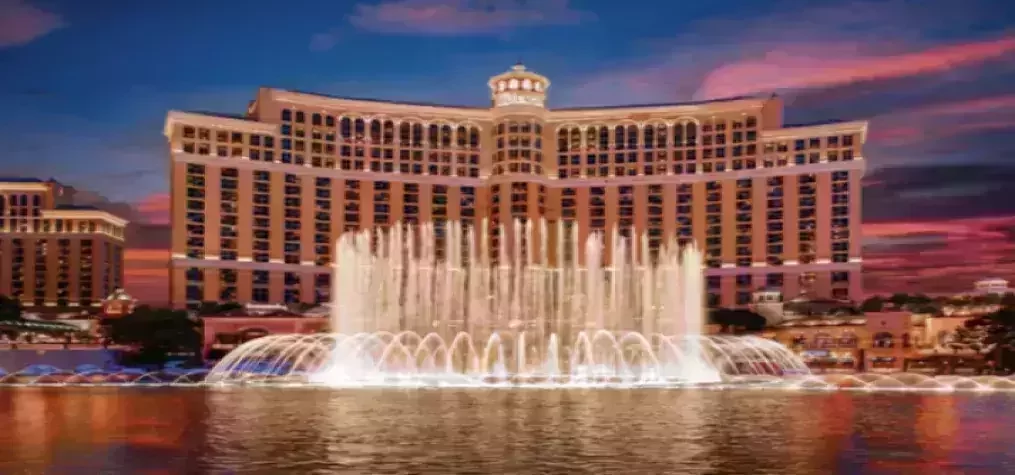 HERE, hosting responsible meetings and caring for our communities are top priorities. Through its 'Focused on What Matters: Embracing Humanity and Protecting the Planet' philosophy, MGM Resorts commits to creating a more sustainable future, while striving to make an impact in the lives of employees, guests, and the communities in which it operates. Water Stewardship Efforts MGM Resorts understands the importance of using water efficiently, especially in the desert destination of Las Vegas. Conserving water has always been part of the mission, but MGM Resorts has expanded its ambition into water stewardship. In 2022, MGM Resorts President and CEO Bill Hornbuckle signed the CEO Water Mandate—a UN Global Compact initiative mobilizing business leaders to advance water stewardship. MGM Resorts International was the first gaming company to take this important step. MGM Resorts replaced 200,000 square feet of real grass with drought-tolerant landscaping in Las Vegas. MGM Resorts pledges to reduce water withdrawal intensity by 33% by 2025 and by 35% by 2030. From 2007-2021, use of more than 5.6 billion gallons of water was avoided because of conservation efforts. Caring for One Another MGM Resorts' Food Donations Program collects and preserves unserved food from conventions held at MGM Resorts properties, then safely donates to food insecure people in the community. Since the program's launch in 2016, more than 3.7 million meals toward a 2025 goal of 5 million meals have been donated into the community. Donations include: Unserved perishable prepared foods from events Perishable unprepared food from MGM Resorts' kitchens Nonperishable food items from minibars and warehouses The collaboration with Southern Nevada's primary food bank, Three Square, has developed the infrastructure needed to safely collect, transport, and store food from MGM Resorts properties in Las Vegas, reducing food waste while serving the community. Fostering Diversity and Inclusion To MGM Resorts, a diverse and talented workforce is essential to success. By cultivating innovative strategies that consider multiple perspectives and viewpoints, the company creates an inclusive workplace culture that benefits its employees and community. MGM Resorts takes pride in being a welcoming home for veterans, individuals with disabilities, people from diverse backgrounds, LGBTQ+ community members, and more. This commitment to inclusion is reflected in the company's recruitment and hiring practices and its social responsibility initiatives. From the workplace to the community, MGM Resorts' commitment to diversity, equity and inclusion remains unwavering, and its efforts continue to create a more equitable and sustainable world for all. MGM Resorts understands its responsibility to contribute to the social and economic progress of the communities in which it operates. HERE, we embrace humanity.