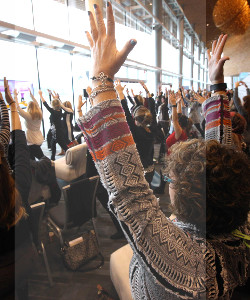 Become a Conference Wellness Superstar!
Wellness is the hot, new buzzword today in the meetings and exhibitions industry. Conferences can take their toll on participants through lots of sitting, standing, and information to take in.
Wellness programs give participants a needed mental and physical break. Discover how wellness on the exhibit floor and in open learning lounges provides a healthy and memorable experience, and attracts sponsorship revenue.
The session will focus on wellness lounges, wellness challenges and activities to keep attendees motivated during and after the conference. The webinar will conclude with a discussion of the future of conference wellness.
Attendees will come away with insight on:
How food and inactivity impact the brain and body during conferences
Why sitting is a health hazard and deemed "the new smoking"
Healthy and time efficient ways to boost energy throughout the conference/trade show day
Wellness spaces and activities to engage participants, secure sponsorship, and integrate into conferences and trade shows
Recording Available Here
---